The rocket exploded before reaching the earth bank which ran alongside the outer west wall of the factory, leaving a small crater, 12 feet across by 6 feet deep. The explosion devastated a large area of Hoffmann's, demolished properties in Henry Road, damaged hundreds of others in the town, and caused Chelmsford's greatest loss of life from a single war-time incident.
Official figures put the total fatalities from the incident at 39 dead and 138 injured, including 47 seriously so. Thirty of the dead were workers on the night shift at Hoffmann's, while nine others died in Henry Road, including 38 year-old Stanley who was killed by falling masonry when 9 Henry Road was hit by the blast from the explosion. HIs body was removed to the wartime emergency mortuary established at the former race course grandstand at Galleywood Common. At the time of his death Stanley was five feet eight inches tall, blue-eyed and had a slight build.
Emily Maud Everitt was also killed at 9 Henry Road, but her pregnant daughter, trapped in a Morrison shelter was rescued by two postmen who heard her screams for help.
The other fatalities in Henry Road were Pamela Christine Howse at number 6, Phyllis Joan Webb at number 7, Eva Joan Turp at number 10, Edith Hull at number 11, and Dulcie C. M. Baxter, Frank Benjamin Baxter, and Mabel Minnie Baxter all at number 12.
Five houses were demolished in Henry Road (numbers 8, 9, 10, 11 and 12), whilst either side of them numbers 5, 6, 7, 13, 14, 15 and 16 were damaged beyond repair. A dozen small fires were started in residential properties, but all were quickly dealt with by Fire Guards. Contents and debris from the houses were strewn all over the road.
At one house a child sleeping in a cot escaped injury when a wardrobe became wedged above it and sheltered the child from tons of debris. Another worker at home at the time was in bed when the side of her house was demolished by the blast and caved in on her. She was unhurt, as was a year-old baby daughter in the same house, who escaped despite half a ton of masonry crashing on the end of her bed. Mrs. Reeve and her young daughter also had a narrow escape - they had moved from 5 Henry Road to Dovercourt the day before the rocket struck. Another young child was to spend some 16 months in Orsett Hospital in plaster recovering from her injuries caused by the collapse of her house onto her as she slept in her cot. Subsequently it was discovered that four gas meters from damaged houses had been opened and approximately £2/6/0 stolen from them.
In the morning following the incident the scene was inspected by Regional Commissioner, accompanied by the Mayor and County A.R.P. Controller. They gave the highest praise to all those who took part in the difficult, hazardous and harrowing task of rescuing the casualties and removing the remains of the victims of the V-2.
On 20th December 1944 Kathleen De'Ath, who is thought to have been living at 8 Henry Road when the rocket struck, wrote to Mrs. Reeve, formerly of 5 Henry Road, to tell her about the incident:
"Dear Mrs. Reeve, Just a few lines to you hoping that you are getting settled well down. I've some very bad news to tell you. A rocket dropped five gardens away from me and it was awful. I shall never forget it. Little Pam Howse was killed and [illegible] and Mrs. Howse are in hospital. Mrs. Lucking's mother and her lodger were killed also. Mrs. Webb, Mrs. and Mrs. Dulcie Baxter were killed, and Mr. & Mrs. Holding are in hospital. Mrs. Hull also died and the poor girls in Hoffmann's at the back of us, the scenes were awful. There was a terrible fire. We are all homeless. All the road. How I and the children escaped death I don't know. The roof came in on our bed but thank god we managed to get out all right. If you had been here your Pam would have been killed to pieces. The room where she slept came right in. Thank god you got out in time. I wonder I did not go mad. I've lost nearly all my stuff but I'm alive and the children and that's all that matters isn't it? The war office is giving my husband leave so I'm expecting him home any time. I'm staying with my mother-in-law. Do write back won't you. All the children have had cuts and bruises. They send their love to you and hope you are getting on all right. Well dear I wish all of you the best for Christmas."
In a second letter Kathleen, by then relocated to Sussex, wrote:
"Just a line or two in answer to your letter. Well as you will see by the above address Percy has brought us right away from Chelmsford to forget everything which wants some doing. Well I don't know how I got out I'm sure. I was sleeping in the shelter for the first time months. Had I been sleeping with [illegible] I should have been killed as our house was the worst one of the lot. The rocket only fell down the bottom of [Illegible]'s garden and we got the full blast. I had the house all on top of the shelter. It came for Stan went as well as poor old Lyam and Joan got killed and well as poor old Mrs. Turp is still in hospital. Miss Wyatt is out of hospital now and is ok and her baby. Well I always said we should get a rocket and always had that fear I would lose my home. The Hulls are at at 105 London Road...Well I am glad my house is right down as I would never have gone back again and I pity all the others that do go back as it is only a death trap road. I was only bruised badly. Still I am feeling fine now I have got over the shock well. I don't know where I shall make another home but I shall guess later on. Perce had 17 days off. What a Christmas and what a lovely birthday present for me as it happened on the 19th and my birthday was the 20th. I shall never forget it."
News of the V-2 incident was reported by the Essex Chronicle in its edition on 22nd December 1944:
"Singing girls among V-Bomb victims. Americans give grand rescue aid.
Christmas decorations, a teddy bear, a shattered doll, and part of a Christmas tree were among the pathetic assortment of articles that were left strewn about the roads after a V-bomb had fallen in a town in Southern England recently.
The bomb dropped on a building in which, only a quarter of an hour before, men women, and girls had been singing Christmas carols to the accompaniment of a Salvation Army Band. The band had left the building when the crash came, but they returned and helped with the rescue work/ Many people were still humming the familiar Christmas tunes. Everybody was happy. Then came chaos.
Stanley Richard HARRHY, Civilian
Killed by a V-2 rocket at Henry Road, Chelmsford. Aged 38
People were trapped and several were killed. Several houses and buildings were damaged. One of the girls who escaped had been living in the area where the bomb fell for only a week. 'We were singing' she said, 'when the place was filled with flames. Debris was falling everywhere, and all the lights went out. I remember I was singing the line 'You make me happy'. 'In the confusion I also remembered where I had left my torch. It was still there, although the lathes and all the workshop fittings had been blown all over the place. I grabbed two friends who were working beside me, and somehow we scrambled out if a gap in the wall which had once been the entrance to the shop.' The girl's eyebrows and hair were singed from the heat of the blazing rafters which had crashed and were setting fire to the oil on the workshop floor. 'The heat was the most terrifying thing as we scrambled out. I don't really remember hearing a bang when the bomb exploded. I am certain we got out only because we were working at the end of the shop nearest the entrance. Behind us we could hear the other girls screaming for help as they tried to scramble through the flames.'
Ambulance and Civil Defence Services operated promptly, and American soldiers helped in the rescue work. Some of them took homeless people to their camps in jeeps. Much gratitude is being expressed to the Americans. Two American soldiers were seen by a warden inside a burning house, part of which was in danger of collapsing. They had obtained a stirrup pump from somewhere, and were trying to put out the fire. they would not give up.
A little girl taken to hospital with her parents, asked first, after she had been put to bed, 'Have they saved my Christmas tree?'.
Rescue work went on for several hours aided by searchlights. The work was greatly hampered by a fire which broke out soon after the bomb had fallen.
One girl owes her life to the death of her father. He died the morning before, so the girl stayed at home with her mother. In ordinary circumstances she would have been in the building with her friends, one of whom was killed and the other seriously injured.
A man who was twice bombed out at Deptford and removed himself and his family to the town, was expecting all his relatives from London for 'a nice quiet Christmas'. On the afternoon after the bomb fell he was searching in the ruins of his house for his Christmas dinner, Ruefully he said: 'I had chickens and all in there. I was going to give them a slap-up do. But I saved the beer.' Triumphantly he held up half a dozen quart bottles covered with dust, their labels torn off, but their contents intact. 'Perhaps this will put a little life in us' he said.
An assistant who worked in the building, but had not gone on duty that night had a narrow escape, She was is bed when the side wall of the house caved in on her, She was got out unhurt.
A domestic argument saved two inhabitants. 'I had a premonition that I should not sleep upstairs that night', said the husband. 'My wife said it was all nonsense. and we were still arguing where we should sleep when the bomb fell. We were in the front room downstairs.' That room is all that remains of their home.
For some time after the incident children in some houses were still trying to salvage toys and Christmas presents. Ten year-old Joyce Green and her brother John were searching for a powder compact. 'We saved our pocket money for two months to buy it for mummy for Christmas. and now it has gone', Joyce said.
While search went on in the wrecked shop for missing workers work continued as usual in the other departments.
Rest centres were opened in different parts of the town and W.V.S. and officials from the Food Office provided food on the spot, A number of people were 'bombed-out' for the third time, 'No Christmas at home for us this year', said one of them, Mrs. Radley. ' We had our two Army sons and a daughter who is in the W.A.A.F. home with us. We were going to have a jolly time. Now it won't be so jolly.'"
A memorial service was held at Chelmsford Cathedral four days later for the victims of the V-2 rocket. It attracted a large congregation including representatives and survivors from Hoffmann's, the Home Guard, Police, Civil Defence Services and local dignitaries.
Stanley was buried at Chelmsford Borough Cemetery (grave 5919) on 23rd December 1944.
A Chelmsford newspaper reported:
"THE FUNERAL took place on Saturday of Mr. Stanley Harrhy, of Henry Road, who died suddenly at the age 38. Mourners were: Messrs. Cliff, Ivor. Gonville, and Leslie Harrhy. brothers; Mr. B. Jones, Mrs. Ivor Harrhy, Mrs. Leslie Harrhy, brother-in-law and sistersin-law; Mr. J. Rolfe, Mr. V. Havens, Mr A.'Wilson. Others present included Messrs. G. Stock. T. Hance. D. Boyce. P. Carter, A Baincs, A. Harris. J. Simpson, J. Collis. Wreaths were sent by Ivor and Winnie; Cliff; Bill and Dorothy, and Trevor: Leslie and Marjorie and Gonville and Edna; Friends and Colleagues at Marconi's: Marconi Athletic and Social Club; and Waterhouse Lane Works."
On 29th December 1944 the Essex Chronicle included the following notice of thanks from Stanley's family:
"The family of the late Mr. S. Harrhy wish to thank all friends for their sympathy in their sad loss and for floral tributes sent - 38 Navigation Road, Chelmsford."
Stanley's widow remarried in 1946 and died in 1959.
110815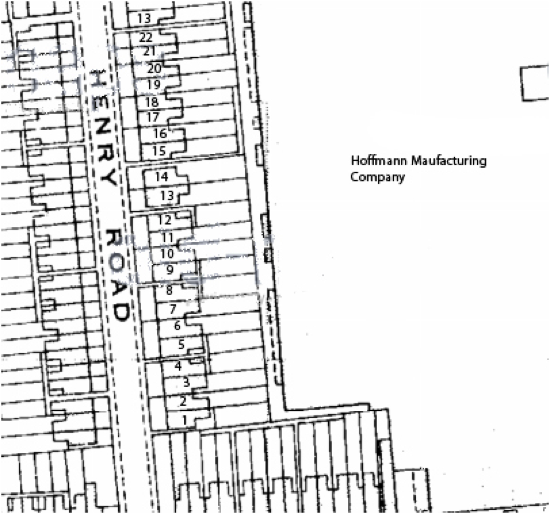 Stanley Richard Harrhy was a Welshman who arrived in Chelmsford by 1933 when he married, later producing a son. By December 1944 Stanley was working at Hoffmann's bearings factory in Chelmsford and living nearby in Henry Road. In December that year a German V-2 rocket exploded behind his house, devastating a large part of the factory and a large number of the houses in Henry Road. Stanley was killed in the incident by falling masonary while at home.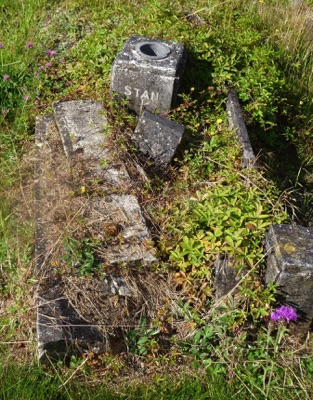 Stanley was born in Wales in 1906, the son of William Harrhy. His siblings included Clifford Harrhy, Dorothy E. Harrhy, Ivor Harrhy (1899-1956), Gonville B. Harrhy (1900-1966), and Philip T. Leslie Harrhy (1902-1945).
In 1933 Stanley married Agnes E. Jipson in Chelmsford. The couple had a son, born the following year.
By late 1944 Stanley was working as an instrument maker for Hoffmann's, the ball-bearings manufacturers who had a large factory in Chelmsford. The factory was a prime target for German air raids and factory workers had been killed there in two separate air raids in 1942. He was living at 9 Henry Road in Chelmsford, a house on the eastern side of the road backing onto Hoffmann's.
At 1.28 a.m. on 19th December 1944 a German V-2 rocket struck the extreme western edge of the roof of Hoffmann's C Factory's Cage & Assembly Department, which fronted Rectory Lane, approximately level with the garden of 11 Henry Road which runs off the northern side of Rectory Lane.