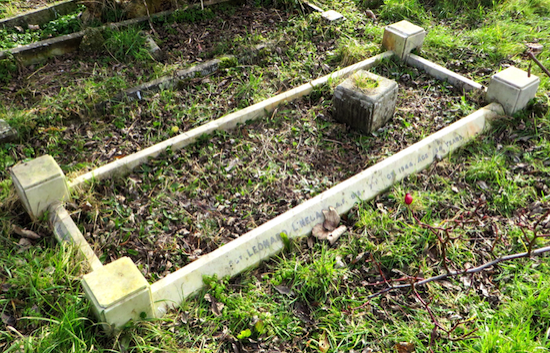 Leonard Linegar was the Surrey-born son of a farm servant. He joined the army by 1911, when he was in India, and survived service during the First World War. He married in Chelmsford in 1919 and had three children by 1926. After 34 years' service he left the army and worked at the Hoffmann's bearings factory in Chelmsford. Over the age of 50 he joined the R.A.F. in September 1942. He died in his sleep at his Sandford Road home in October 1944.
Leonard was born in Witley, Surrey in 1889, the son of Allen Linegar (1853-1916) and Fanny Linegar (nee White) (1857-1918). His parents had married in Surrey in 1874.
Leonard's siblings included George Linegar (1876 -1941), Walter Linegar (born in 1877), Blanche Linegar (1884-1902), and Lilian Annie Linegar (1886-1957).
In 1891 the census found Leonard, aged one, living with his mother, father (a farm servant), and four siblings at Manor Farm in Frensham, Surrey. A decade later the census recorded 12 year-old Leonard with his parents and two sisters at Westbrook in Elstead, Surrey. His father was a general labourer.
By the time of the 1911 census Leonard had joined the army. That census listed him, aged 22, serving as Gunner 28939 with the Royal Garrison Artillery (in 77 Company) at Katapahar near Ghoom in India.
In 1919, having survived the First World War where he saw service in Salonika, Leonard moved to Essex and married Dorothy Diamond Gifford on 2nd August 1919 at Chelmsford. She had been born in 1887, the year of Queen Victoria's Diamond Jubilee, hence her middle name and was the youngest daughter of Mr. A. J. Gifford and the late Mrs. Gifford of Baddow Road, Chelmsford. The couple went on to have three children in 1920, 1922 and 1925 respectively.
At the baptism of his eldest child in November 1920 Leonard was a storeman, living at 48 Baddow Road. By the time of the second child's baptism in December 1922 he was once again a soldier livig at 6 Hill Road in Springfield.
In 1920 the Edinburgh Gazette announced the award of Gold Medal for Valour (the 'Serbian Gold Medal') to "28939 Gunner Signaller Leonard Linegar 84th Battery, RGA (Chelmsford)".
After 34 years in the army Leonard left and worked in the electrician's department of the Chelmsford-based ball-bearings firm Hoffmann's.
At the outbreak of the Second World War he became a Sergeant in the Special Constabulary, and in September 1942 he joined up once more to serve as Sergeant 1629059 in the Royal Air Force Volunteer Reserve.
On 7th October 1944 whilst home on leave Leonard died in his sleep at 74 Sandford Road, aged 54. He had come home on pass to see his only son who was on leave from Italy where he was serving with the R.A.F. Leonard was subsequently buried in Springfield Holy Trinity Churchyard.
150326
Leonard LINEGAR, Sergeant, Royal Air Force Volunteer Reserve
Died in Sandford Road, Chelmsford. Aged 54