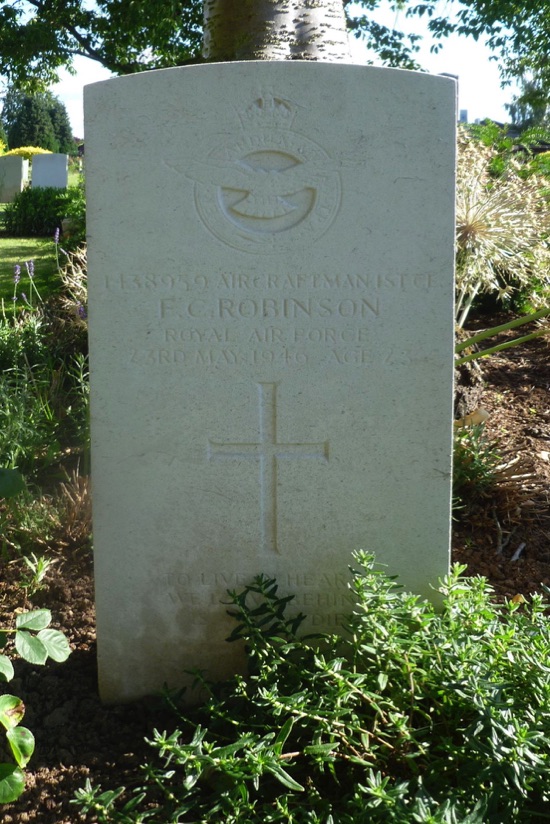 Frank Chamberlain Robinson worked for Chelmsford-based Marconi's before joining the R.A.F. He served overseas in Canada and the Bahamas where he contracted a tropical disease. He returned to England, but succumed to the disease in May 1946. His home was in Corporation Road.
Frank was born in Essex in 1923, the second son of Hugh Shaw Robinson (1881-1959) and Katie Robinson (nee Stanford) (1886-1960).
His parents had married at St. Mary's Church in Maldon on 23rd December 1915. At that time Frank's father was aged 34, employed as an ironmonger; his bride was five years his junior and lived at 157 High Street, Maldon.
Frank's siblings were John Stanford Robinson (1917-1970) and Mary Robinson (born 1923).
During the Second World War Frank served as Aircraftman 1st Class 1438959 in the Royal Air Force. He died, aged 23, on 23rd May 1946 at Broomfield Hospital having contracted a fatal disease whilst serving overseas. He had served in the R.A.F. for around two and a half years and had been based in Canada and the Bahamas. Prior to joining up he had been employed in the test room at Marconi's.
At the time of his death Frank's parents were living at 59 Corporation Road in Chelmsford. He was buried in grave 5831 at Chelmsford Borough Cemetery on 28th May 1946, the service being conducted by the Very Rev. W. E. R. Morrow (Provost and chaplain to the British Legion).
Frank left an estate valued at £265 17s. 7d.
120319
Frank Chamberlain ROBINSON, Aircraftman 1st Class, Royal Air Force Volunteer Reserve
Died from illness at Broomfield Hospital, Chelmsford. Aged 23