Alice Barnes was born and brought up in Chelmsford and was a school governess. She married a cabinet maker in 1885 and had five children, of which died in infancy, another when aged 15. Alice was widowed in 1926 and subsequently went to live with her widowed youngest daughter in Goldlay Road. Both were killed there in May 1943 during the 'Chelmsford Blitz'.
Alice SNOW (nee BARNES), Civilian
Killed in an air raid at Goldlay Road in Chelmsford. Aged 84
Among the dead was 84 year-old Alice and her daughter Elsie Ida Gledstone, killed when a 500 kg high explosive scored a direct hit on 45 & 46 Goldlay Road. Next door at number 45 the bomb claimed the lives of George William Sims, Florrie E. M. Sims and Lily Harriet Lidbetter.
Alice was buried in her husband's grave (number 3246) at Chelmsford Borough Cemetery on 19th May 1943.
150128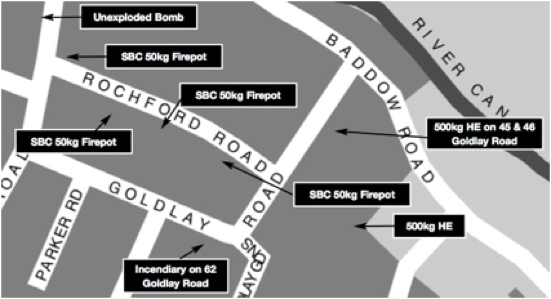 Alice was born in Chelmsford in 1859, the daughter of Ingatestone-born John William Barnes (c1831-1902) and Ellen Barnes (nee Rolph). Alice's Chelmsford-born siblings included: Louisa Barnes (born c1849), Joseph Barnes (born 1852), William John Barnes (born 1857), Harriet Ellen Barnes (born 1861), Walter Alfred Barnes (born 1862), Thomas Charles Barnes (born 1864), John Frederick Barnes (born 1867), Ellen Ada Barnes (born 1868), George Henry Barnes (born 1870), and John Alfred Barnes (born 1872).
In 1861 two year-old Alice was recorded by the census living with her parents, four siblings and her maternal grandfather in Upper Bridge Row (today's Upper Bridge Road) in Chelmsford. Her father was a shoemaker. A decade later 12 year-old Alice was found by the census living with her parents and eight siblings in Moulsham Street, Chelmsford. Her father was then a boot and shoe maker. In 1881 the census listed 22 year-old Alice with her parents and six siblings at 171 Moulsham Street. Alice was a school governess, her father a bootmaker.
Four years later, on 26th August 1885, Alice married Harry Miles Snow at St. John's Church, Moulsham. At the time she was aged 26 and lived in Moulsham. Her husband, who had been born in Great Waltham in 1862 was a cabinet maker of Great Waltham. The couple went on to have five children: Walter Ernest Snow (1886–1971), Florence Agnes Snow (1887-1887), Alice Maud Snow (1888-1903), Flora Emily Snow (1889-1974) and Elsie Ida Snow (1891–1943).
In 1891 the census found Alice, aged 32, living with her husband (a cabinet maker) and four children at 10 Roman Road in Chelmsford. Alice was aged 42 when recorded by the 1901 census living with her husband (still a cabinet maker) and four surviving children at 14 Hall Street in Chelmsford.
Her daughter Alice died in 1903 aged 15. The Essex Chronicle reported:
"Sad Death of Girl. —The death occurred suddenly, on Sunday, of Alice Maude Snow, aged 15, daughter Mr. and Mrs. Harry Snow, Hall-street. The girl had been suffering irom a painlul malady for about a year, but she was able to keep about until the day her death."
In 1911 the census recorded 52 year-old Alice living with her husband and three surviving children remaining at 14 Hall Street in Chelmsford. Her husband and sons were cabinet makers. Her daughters worked at a drapers.
Alice's husband died at 28a (now 74) Baddow Road, Chelmsford in 1926. He left an estate valued at £2130 1s. 11d. with probate granted to Alice and their son Walter who had carried on his father's cabinet maker profession. The Essex Chronicle reported:
"Death of Mr. H. M. Snow. — Mr. Harry Miles Snow, of Baddow Road, a well known and much-respected cabinet maker, died on Tuesday, aged 64. He was born at Great Watlham, came to Chelmsford 40 years ago and had been in business for hiimself for 30 years. He leaves a widow, one son, and two daughters. The funeral takes place tomorrow, interment in the Borough Cemetery being preceded by a service at St. John's at 1.30."
By 1943 Alice was living with her widowed daughter Elsie Ida Gledstone at 46 Goldlay Road in Chelmsford. In the early hours of 14th May that year Chelmsford experienced what was to prove to be its heaviest air raid of the war. In a sharp attack that lasted for just over an hour, the German air force, the Luftwaffe, dropped a large number of high explosive, incendiaries and parachute landmines which caused extensive damage to residential, commercial and industrial properties in the town, and led to the deaths of more than 50 people.