George Jeremiah Alderton was an Ipswich-born printer, married with two daughters, who lived in Primrose Hill. He joined the army and died in the latter stages of the Battle of the Somme in October 1916. His widow lived in Primrose Hill.
George was born in Ipswich, Suffolk in 1879, the son of James Alderton and Jane Alderton (nee Howgego). His father had been born 1845; his mother in 1848. They had married in 1868 in Suffolk and three years later had been living in St. Pancras, London.
George's elder siblings included Ernest William Alderton (born in 1868), William James Alderton (born in 1869) and Jessie Elizabeth Alderton (born in 1876). He had a younger brother Edward Charles Alderton (born in 1883). The whole family were Ipswich-born.
The 1881 census found 2 year-old George resident with his family at 78 George Street, Ipswich, Suffolk. George's father was a coach body maker, his mother a machinist. Ten years later the next census recorded George as a 12 year-old scholar with his parents and two siblings at St John's Hill, Woodbridge, Suffolk. At the 1901 census George was living with his brother, Ernest William, and Ernest William's wife and young child at 50 Hampton Road, Ipswich. George was a printer's compositor. His parents were living at Castle Street, Woodbridge, Suffolk with his younger brother Edward.
George is thought to have come to the Chelmsford area to continue his work in printing. On 27th January 1909 he married 25 year-old Elizabeth Gilder at Hatfield Peverel. She was the daughter of Charles Gilder, a dealer, and had been born in Hatfield Peverel in 1883. At the time of the marriage both George and his wife were living in Hatfield Peverel. Aged 30, he was employed as a compositor. They had two children; Nancy Maud Alderton (born on 27th October 1909 in Chelmsford) and Jessie Alice Gilder Alderton (born on 24th January 1916 in Chelmsford).
Street directories for 1910 and 1913 show George resident at 53 Primrose Hill, Chelmsford as does the census of 1911 which listed him there with his wife and daughter Nancy. At the time he was a printer's compositor.
The battalion was evacuated from Gallipoli and arrived back in Alexandria, via Mudros, on 15th January 1916. After a spell in the Egyptian desert the battalion sailed from Alexandria for Marseilles on 16th March 1916 on the S.S. Transylvania. Having travelled up through France it took its place on the Western Front, initially at Louvencourt, on 4th April 1916.
On the opening day of the Battle of the Somme, on 1st July 1916, the battalion participated in an unsuccessful attempt to capture Beaumont Hamel. The remainder of the summer and the autumn saw the battalion continue to be involved in action.
On 15th November 1916 George's battalion was south-east of Meaulte; two days later was at Trones Wood. A further three days later saw George killed in action while serving as Private 30633.
Today George lies at Guards' Cemetery, Lesboeufs, Somme, France, some 16 miles north-east of Albert (grave: XII. F. 2). His was one of many bodies brought in to the cemetery from the battlefields and small cemeteries around Lesboeufs after the Armistice.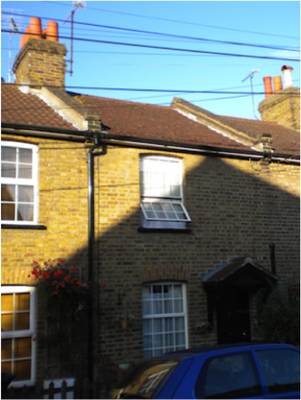 His death was recorded in the Essex Weekly News on 8th December 1916:
"Pte. G. Alderton, Essex Regt., whose home was at 53, Primrose-hill, Chelmsford, was killed in action on Oct. 20. He leaves a widow and two children. He was formerly employed by Mr. John Dutton, printer, Chelmsford."
George is commemorated on the Civic Centre Memorial, Chelmsford and by the Chelmsford Parish Great War Memorial in Chelmsford Cathedral.
The 1918 register of electors showed his widow still living at 53 Primrose Hill (pictured above). His father died in Suffolk in 1923, aged 78. His mother died 10 years later, aged 85.
In 1921 his widow remarried.
140327

George enlisted at Chelmsford and served with the 1st Battalion of the Essex Regiment. The battalion had been overseas in Mauritius when the war started, and returned to England in December 1914. In January 1915 the battalion, which formed part of the 88th Brigade of the 29th Division, moved from Harwich to billets in Banbury, Oxfordshire, and then on to others in Warwick, Warwickshire in February 1915. The following month it was reviewed by King George V at Dunchurch, Warwickshire.
On 21st March 1915 the battalion, then just under a thousand-strong, embarked at Avonmouth Dock on S.S. Caledonia. Those men arrived in Alexandria, Egypt, where disembarkation began on 3rd April 1915. The battalion sailed for Mudros on the S. S. Aragon on 14th April 1915 and arrived there two days later. On the evening of 24th April 1915 troops left Mudros for the overnight voyage to Gallipoli. There they disembarked into smaller craft and successfully landed, although opposed, on beaches near Cape Helles. The battalion lost 18 men killed that day. The 1st Essex then participated in fierce fighting in Gallipoli throughout the remainder of the year.
ALDERTON, GEORGE JEREMIAH,
Private, 1st Battalion, Essex Regiment