Joseph W. Inglis served in the army during the war, He was severely wounded and brought to England for treatment, and was sent to the Hylands Auxiliary Military Hospital. He died there from his wounds in May 1917. He was buried at Chelmsford Borough Cemetery in Writtle Road.
INGLIS (WATT), Joseph W.*,
Private, 1st/4th Battalion, Gordon Highlanders
Joseph was entitled to the Victory Medal and the British War Medal.
The auxiliary military hospital at Hylands House had established in the first few weeks of the war in August 1914 when the owner of the Hylands Estate, Sir Daniel Gooch, Bart., offered the building to the Red Cross. Initially it was used for soldiers of the South Midland Division which was billeted in the Chelmsford area in the early months of the war. Hylands became the headquarters of the 2nd and 3rd South Midland Field Ambulance.
Over 500 patients had been through the wards by October 1914 when the military transferred from Hylands to a hospital established at Oaklands Park, Chelmsford, making way for Belgian wounded. Later that month the hospital received its first British Expeditionary Force eases who had arrived in Harwich. The hospital continued to take ail the heaviest oases from the Middlesex War Hospital, Clacton-on-Sea, and the General Military Hospital, Colchester. The hospital was closed in April 1919.
140317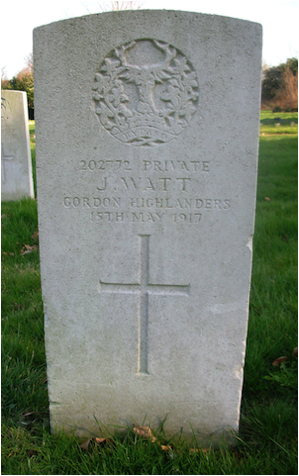 Joseph was born around 1891, probably in Scotland.
During the First World War Joseph enlisted at Hamilton and served as Private 202772 in the 1st/4th Battalion of the Gordon Highlanders, under the surname Watt rather than Inglis.
He was severely wounded in both thighs and repatriated to England for treatment, being sent to the auxiliary military hospital at Hylands House in Widford.
Joseph succumbed to those wounds at Hylands on 15th May 1917. He was 26 years old.
Joseph's funeral service at Chelmsford Borough Cemetery was conducted with full military honours by the Methodist Minister Rev. Charles Buck on Friday 18th May 1917. Wreaths were sent bu Sir Daniel and Lady Gooch of Hylands House, the staff and patients at Hylands. Several of the Hylands' patients followed the cortege and there were those with crutches met at the graveside.
Joseph was buried in grave C.157, which already contained the remains of George Hewitt who had been buried there in 1904 after dying aged 85.