Herbert Sydney Rutland was a Londoner who was billeted in Chelmsford in the early part of the war. He was fatally wounded at the Cherry Tree Inn in the town's Writtle Road in March 1915 when revolver accidentally fired as it was passed amongst a group of soldiers.
RUTLAND, HERBERT SYDNEY*,
Corporal 1st/4th Battalion, Royal Berkshire Regiment
Immediately the latter took hold of it the weapon fired and the bullet struck Herbert, who was less than a yard away, in the right chest. He collapsed and some members of the Royal Army Medical Corps at once applied temporary bandages while medic aid was sought. Herbert seemed to rally and was removed to the nearby military hospital at Oaklands where he died shortly before midnight that evening.
He was a single man. At the time of his death he was billeted at 96 Upper Bridge Road in Chelmsford.
Herbert's funeral was conducted with full military honours at Chelmsford Borough Cemetery on 30th March 1915 by Rev. W. J. Selby, Senior Chaplain to the South Midland Division. Herbert's battalion supplied a band, firing party and bugles. There was a large attendance by men from his battalion and E Company of the 6th Essex (National Reserves). Many members of the public were also present as was Herbert's father and other relatives. After the committal the customary three volleys were fired and the 'Last Post' sounded by the bugles.
Today Herbert lies in grave 96. A previous burial in the same grave was Rebecca Hannah Franklin, a 55 year-old who had been laid to rest there on 14th April 1893.
140310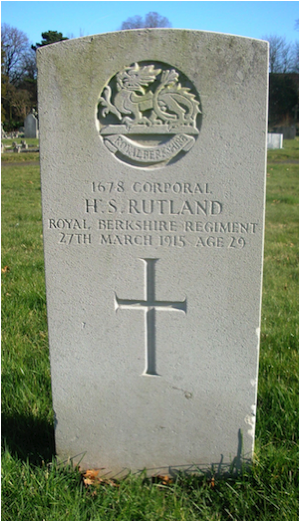 Herbert was born in 1886 in Hampstead, London, the son of Joseph Rutland and Sarah Rutland (nee Pryke) (1849-1886). His mother died shortly after his birth.
Herbert was christened at Christ Church, Hampstead on 28th Mar 1886. At the time his father was a baker living in Hampstead.
In 1891 the census recorded five year-old Herbert staying with his aunt and uncle, John Chapman Glass and Mary Glass at Letcombe Bassett in Berkshire where his uncle was a shoemaker. A decade later he was still with the couple and had also started work as a shoemaker, presumably for his uncle. In 1911 the census listed Herbert still living in the village with John and Mary, and then working as a gamekeeper.
During the First World War Herbert served as Corporal 1678 in the 1st/4th Battalion of the Royal Berkshire Regiment. In the early part of the war the battalion was billeted in the Chelmsford area.
On the afternoon of Saturday 27th March 1915 Herbert was in the Cherry Tree Inn in Writtle Road, Chelmsford with his comrades and some members of the National Reserve. A friendly conversation was in progress and this turned to the subject of revolvers. He produced one, a small five chambered one, which he handed to a Private in his battalion, which he then gave back. Afterwards the weapon, which Herbert had stated was unloaded, was handed butt-first to Corporal Lodge of E Company 6th Essex (National Reserve) who had asked to look at it.