Frank Baker was Chelmsford born and bred, lived in Rainsford Road, and served in the army. He died from wounds fighting the Turks in Gallipoli in September 1915.
Frank was born in Chelmsford in 1882, the son of Alfred Baker and Mary Ann Baker (nee Lanham). Frank's father had been born c1837 in Chelmsford; his mother in 1847 in Felsted. They had married on 25th October 1862 in Felsted, at which time Frank's father was an engineer living in Chelmsford, the son of John Baker, a butcher. Frank's mother was resident in Felsted, the daughter of Isaac Lanham, a labourer.
Frank's 14 siblings included Charlotte Baker (born in 1864), Alfred John Baker (born in 1865), Rosetta Baker (born in 1867), William Henry Baker, (born in 1871), Elizabeth Baker (born in 1872), Ernest Baker (born in 1874), George Baker (born 1876), Mary Baker (born c1880), Minnie Baker (born in 1884) and Florence Armes Baker (born in 1886). All were born in Chelmsford, but four had died by 1911.
At the time of the 1891 census Frank was living with his family at 4 Park Terrace, Rainsford Road, Chelmsford (they had been at Park Terrace in 1871 and 1881). Frank's father was employed as a stationary engine driver at Messrs. Beach, as he had been in the two previous censuses. An 1894 street directory shows the family at 6 Park Terrace. The 1901 census found Frank at Colchester Garrison where he was a corporal in the infantry (militia). Street directories of 1910 and 1913 showed Frank's father at 33 Rainsford Road (today's number 190), while the 1911 census recorded 29 year-old Frank at that address with his parents, sister Rosetta Kampf and her four children. Frank was a machinist at Hoffmann's ball-bearings factory in Chelmsford. His father was a stationary engine driver.
xxxxxxxxx
BAKER, FRANK,
Private, 1st Battalion, Essex Regiment (formerly 2nd Battalion, Essex Regiment)
Commission so he is commemorated on a Special Memorial in Twelve Tree Copse Cemetery, one kilometre south-west of Krithia. The Cemetery was created after the Armistice when graves were brought in from isolated sites and small burial grounds used during the Gallipoli campaign.
On 8th October 1915 the Essex County Chronicle reported, erroneously:
"6716 Pt. F. Baker, 1st Essex Regt., officially reported missing, is not missing, a letter having been received from him at Chelmsford as recently as Friday, Sept. 24."
The following week the paper confirmed that he had in fact died. On 15th September 1916 the Essex County Chronicle carried the in memoriam notice above, left.
Frank was entitled to the 1914-15 Star, British War Medal, and Victory Medal.
Frank Baker is commemorated on the Civic Centre Memorial, Chelmsford and by the Chelmsford Parish Great War Memorial in Chelmsford Cathedral.
The 1918 register of electors recorded Frank's widowed mother at 33 Rainsford Road (today's number 190) (pictured). She died on 29th October 1922.
Frank's sister Miss Elizabeth Baker, a midwife, was killed in October 1929 when the car in which she was a passneger collided with a lmp post in Baddow Road, Great Baddow. She was later buried at the London Road Cemetery in Chelmsfor. Her gravestone contains a commemoration of Frank (with a date of death of 22nd September 1915).
151006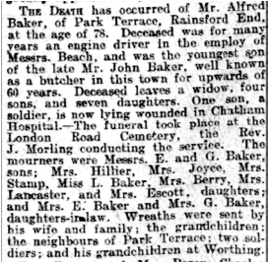 Frank lived and enlisted at Chelmsford before the war into the Essex Regiment and saw service with the regiment's second battalion on the western front, reaching France on 14th September 1914.
Frank's father died on 22nd October 1914, aged 78.
Frank joined the 1st Battalion of the Essex Regiment as Private 6716, arriving in Gallipoli, Turkey as a reinforcement. The battalion was one of four that formed the 88th Brigade in the 29th Division and had landed in Gallipoli on 25th April 1915 at Cape Helles, the opening day of the ill-fated campaign.
Frank died from wounds at Krithia in Gallipoli on 16th September 1915. His remains were recovered for burial; however, after the war his grave could not be positively identified by the Imperial (later Commonwealth) War Graves