Willie George Bearman was born and raised in Chelmsford, served more than 21 years in the navy and was killed when his ship, H.M.S. Aboukir, was sunk in the North Sea in September 1914. His family lived in Burgess Well Road.
Willie was born at Chelmsford in 18th September 1874, the son of the corn-miller Henry Bearman and Selina Rebecca Bearman (nee Hart). His father had been born c1836 in Bocking; his mother c1837 in Colne Engaine. They married in 1861 and later that year had been living in Felsted; in 1871 they were living at Burgess Place in Burgess Road, Chelmsford and on both occasions Willie's father was a journeyman corn-miller, working for Messrs. T. D. Ridley & Sons.
Wille was baptised at what is now Chelmsford Cathedral on 10th January 1875 - at that time his father was a miller living at Burgess Place.
His siblings included; Walter Charles Bearman (1863-1917), Ada Elizabeth Bearman (1864-1949), William Louis Bearman (born 1866-1925), Charles Samuel Bearman (1867-1946), Alice Maud Bearman (1870-1945), Ernest John Bearman (1871-1958), Herbert Edwin Bearman (1877-1949) and Henry William Bearman (born in 1881). All had been born in Chelmsford, apart from Henry who originated in Felsted.
The 1881 census found six year-old Willie living with his parents and eight siblings at 3 Burgess Place, Viaduct Road, Chelmsford. His father was a journeyman miller; his eldest brother, a printer-compositor. A decade later Willie was no longer resident with his parents, who were now at 4 Burgess Place, Burgess Well Road, Chelmsford. However, the 1901 census recorded Willie back at 4 Burgess Place, along with his parents and brothers Walter (a bricklayer) and Charles (a builder's carman). His father was a corn-miller. By then Willie had served in the Royal Navy for about eight years.
In 1911 the census recorded Willie, aged 36, serving as a Leading Seaman on H.M.S. Bacchante in Malta. Meanwhile Willie's elderly parents and brothers Walter and Charles were listed at 14 Burgess Well Road. His father was a retired journeyman flour-miller. His brother Walter was a bricklayer; brother Charles was a labourer at a market garden.
BEARMAN, WILLIE GEORGE,
Leading Seaman, H.M.S. Aboukir, Royal Navy
The Essex County Chronicle of 9th October 1914 reported:
"Wm. G. Bearman, who was a well-known Chelmsford man, and whose aged mother lives in Burgess Well Road, had just about completed his full term of 21 years in the Navy at the time of the disaster. He was about 40 years of age."
Willie's father died in the summer of 1912. A 1913 street directory recorded Willie's widowed mother still at 14 Burgess Well Road.
Willie was killed on 22nd September 1914 while serving as Leading Seaman 155050 on H.M.S. Aboukir, Royal Navy when the vessel was torpedoed and sunk within half-an-hour by the German U-boat 9 in the North Sea – one of three cruisers sunk in the same incident within an hour. 62 officers and 1397 ratings were killed. Another Chelmsford man, Alfred Stokes, was killed in the action when his ship H.M.S. Hogue was sunk. Willie was aged 40.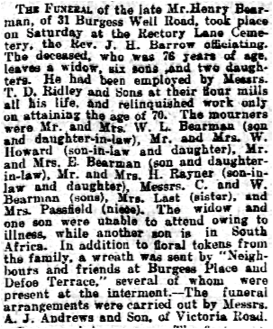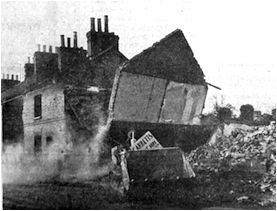 Willie is commemorated on the Chatham Naval Memorial in Kent (memorial reference: 1), on the Civic Centre Memorial, Chelmsford and by the Chelmsford Parish Great War Memorial in Chelmsford Cathedral.
Willie's nephew, Ernest John Bearman died whilst serving with the Royal Engineers three days before the Armistice.
Willie's mother died in the summer of 1918, aged 81. That year's register of electors recorded Willie's brother Walter remaining at 31 Burgess Well Road - most of the houses in the street were demolished in 1964 which was when this photograph was taken.
130818