BIRCH, JAMES FRANCIS AUGUSTUS,
Private, 13th (Service) Battalion, Royal Welsh Fusiliers (1st North Wales)
James Francis Augustus Birch was born in rural Essex, arrived in Springfield by 1891, and later worked in London. He joined the army and was killed in action in February 1917 near Ypres. His mother lived at Phillip's Cottages in Springfield.
James' father died in 1897 and was buried at Holy Trinity churchyard on 28th July that year. Four years later the 1901 census found James living with his widowed mother and youngest sister at 19 Phillip's Cottages. James, then known as 'Francis' was a 22 year-old general labourer, while his mother was a charwoman and monthly nurse.
In 1911 the census James was lodging at 19 Colville Place in St. Pancras, London. Aged 32 and unmarried, he was employed as a porter at a restaurant. Meanwhile his mother remained in Springfield at 19 Phillip's Cottages.
James enlisted at Holborn, London and served in the 13th (Service) Battalion of the Royal Welsh Fusiliers (1st North Wales). The battalion had been formed at Llandudno in 1914 and James landed with the battalion in France in on 3rd December 1915. James was killed in action on 18th February 1917 while serving as Private 22783. He was aged 38. He is buried at Bard Cottage Cemetery, Ypres, West-Vlaanderen, in Belgium (grave: II. C. 17). James was entitled to the 1914-15 Star, British War Medal, and Victory Medal.
James is commemorated on the Civic Centre Memorial, Chelmsford and on the Springfield Parish Memorial at All Saints' Church (the latter of which omits 'James').
James was born at Great Bardfield in 1878, the son of the tailor James Birch and Isabella Birch (nee Orger). He was christened at Great Bardfield on 23rd September 1879 (omitting the name James). At the time his father was a tailor resident at Great Bardfield. James' father had been born in Bishop's Stortford, Hertfordshire in 1849; his mother in Great Hadham, Hertfordshire in 1848.
The couple had married on 24th October 1869 at the church of St. John of Jeriusalem in South Hackney, London, at which time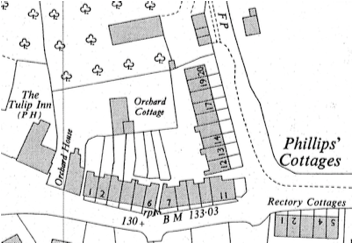 James' father was a tailor and both bride and groom were resident in that parish. Two years later they had been resident in East Street, Saffron Walden, Essex, and from there they had moved to Great Bardfield around 1872.
James' siblings were: Ada Laura Annie Birch (born in Saffron Walden in 1871, died in 1923), Charles Christopher Birch (born in Great Bardfield in 1873, died in 1915), Percy James Birch (born in Great Bardfield in 1874, died in 1915), Philotheia Mabel I. Birch (born in Great Bardfield in 1882, died in 1958), and Primula Violet Victoria Birch (born in Great Bardfield in 1887, died in 1949).
James appeared in the 1881 census as 'Francis Birch', aged two, living with his parents and three elder siblings at High Street in Great Bardfield. His father was still a tailor. By the time of the next census a decade later the family had moved to 19 Phillip's Cottages off Church Lane in Springfield. James, then known as 'Frank' was aged 12 and a scholar. His father was still employed as a tailor.
After the war James' mother was still resident at 19 Phillip's Cottages in Springfield - the cottages, built in 1859, were situated on the northern side of Church Lane in the form of an l-shape. Number 19 was the cottage penultimate to the end of the row, furthest from Church Lane. On the afternoon of 5th April 1933 a fire broke out in her home and spread to others in the row, completely gutting four of them and badly damaging two others. Fortunately no one was hurt. A trunk containing a large number of silver and gold coins and Treasury notes, to a value of nearly £200 in all was rescued from number 19. Those made homeless, including James' mother, were rehoused by Chelmsford Borough Council in properties on the Springfield Park Estate, then recently taken over by the Council.
James' mother eventually died in 1943, aged 95.
130804