George Bloomfield arrived in Chelmsford from Rayne by 1901, married with two children, and worked in a Chelmsford brewery. He joined the army in 1916, survived the war, but died in a Carlisle hospital in December 1918 in the flu epidemic. His home was in Townfield Street.
BLOOMFIELD, GEORGE,
Private, Labour Corps (formerly of the Middlesex Regiment and Essex Regiment)
George's mother died in 1905, aged 56; his father died in 1908, aged 62.
The 1911 census listed 34 year-old George living with his wife and two children at 4 Townfield Street in Chelmsford. He was employed at a brewery as a tub washer.
George's army attestation papers dated 18th May 1916 and completed at Chelmsford show that he was still resident at 4 Townfield Street, aged 38 and employed as a brewer's labourer at Gray and Sons. He was described as being five feet five inches tall, of good physical development, with an expanded chest of 36.5 inches and weighed 134 pounds. His next of kin was his wife Alma Bloomfield at 4 Townfield Street. His religion was Church of England.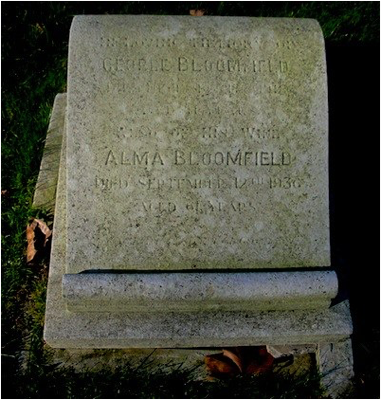 George was born in 1877 in Rayne, the son of William Bloomfield and Phoebe Bloomfield (nee Lancaster). He was baptised at All Saints' Church in Rayne on 16th November 1877 at which time his father was a maltster.
His father had been born in 1846 in Stebbing; his mother in 1848 in Rayne. The couple had married at All Saints's Church in Rayne on 1st October 1869 and two years later had been resident at Felsted.
George's siblings included Harry Lancaster (born 1867 in Rayne, died 1937), Emily Sophia Bloomfield (born 1870 in Felsted, died 1936), Susannah Bloomfield (born 1872 in Felsted, died 1931), Kate Bloomfield (born 1873 in Rayne), Ellen Bloomfield (born 1875 in Rayne, died 1943), Edith Emma Bloomfield (born 1879 in Rayne), Arthur Bloomfield
(born 1881 in Rayne), James Bloomfield (born 1883 in Rayne, died 1967) and Percy William Bloomfield (born 1888 in Rayne, died 1893).
The 1881 census listed George, aged three, living with his parents and six siblings in The Street, Rayne. His father was a maltster. A decade later 13 year-old George was living with his parents and eight siblings at The Cock in The Street, Rayne. George was a farm labourer. His father was a malting labourer and inn-keeper. Sister Emily was a barmaid, sister Susannah was a silk mill hand, while sisters Kate and Ellen were silk winders.
George was aged 24 when recorded by the 1901 census living with his uncle, George Judd, near the canal basin in Springfield. He was employed as a bricklayer's labourer.
Within months of the census George married Alma Pudney at Little Saling, on 5th August 1901. She had been born in 1875 in Great Saling. The couple had two Chelmsford-born children, Percy William Bloomfield (born on 16th August 1902) and Victor George Bloomfield (born on 16th March 1904).
On 24th June 1916 he was posted to the 6th (Reserve) Battalion of the Middlesex Regiment as Private 23677. He later transferred to the 2/5th Battalion of the Essex Regiment on 27th June 1917 and subsequently joined 536 Agricultural Company of the Labour Corps in Carlisle as Private 431157.
George was admitted to Fusehill War Hospital, Carlisle on 2nd December 1918 and died there from influenza and bronchial pneumonia on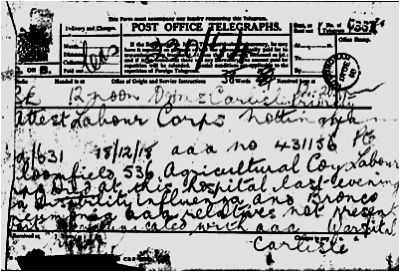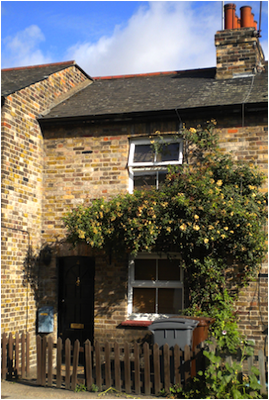 the evening of 17th December 1918. He was 42 years old. No relatives were present when he died.
He was buried in grave C2387 at Chelmsford Borough Cemetery in Writtle Road on 24th December 1918. He was described in the cemetery records as a brewer's labourer of 4 Townfield Street, Chelmsford (pictured). The service was conducted by the Rev. John Thomas, Curate of Chelmsford Cathedral.
George is commemorated on the Civic Centre Memorial, Chelmsford.
The 1918 register of electors listed George and his widow, Alma, at 4 Townfield Street.
In 1920 George's siblings were reported to be brothers Arthur and James (both then resident in Rayne) and sisters Emily Andrews (resident at the Crooked Billet), Susan Bearman (resident at Braintree), Ellen Richardson and Kate Turner (both resident at Rayne).
George's widow, Alma, was buried in the same grave as her husband, on 16th September 1936, having died at the aged of 61.
130806