William George Broyd (sometimes 'George William') worked at Hoffmann's and lived in Rectory Lane. He joined the army underage in 1914, but was discovered and discharged. He rejoined at the end of the following year, went to Egypt in the summer of 1917 and died there from dysentery in September 1917.
BROYD, WILLIAM GEORGE, Private,
211th Company, Machine Gun Corps (Infantry) (formerly of Essex Regiment and Norfolk Regiment)
Chelmsford Cathedral and on the Hoffmann Manufacturing Company's War Memorial at Chelmsford Cathedral (pictured).
On 13th September 1918 the Essex County Chronicle carried the following in memoriam notice for William.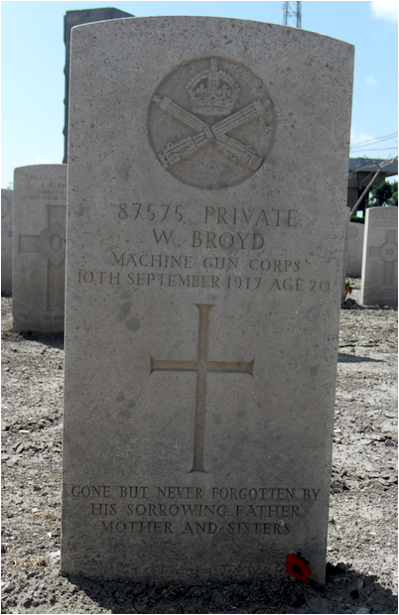 He was born in Chelmsford on 1st September 1897, the only son of George William Broyd and Caroline 'Carry' Broyd (nee Bye). Both parents had been born in 1870: his father in Chelmsford; his mother in Challow, Berkshire. The couple had married in at St. Dionis' Church in Parsons Green, Fulham, London on 30th August 1896. At that time both were living at 55 Pancras Cross Road, with George employed as a carman.
William's three siblings, all Chelmsford-born, were twins Violet Rose Broyd (1900-1962) and Ivy May Broyd (1900-1970), and Marjorie Louisa Broyd (1904-1971)
His education began at Moulsham Infants School in Moulsham Street, Chelmsford on 4th September 1900 at which time his family lived at 6 Roman Road, Chelmsford.
The census of 1901 found William, his parents and two sisters at the same address, with William's father employed as a general carman.
A decade later the 1911 census listed 13 year-old William living with his parents and three sisters
at 45 Moulsham Street in Chelmsford. The premises were also home to Edward and May Hillier and their two children, and two boarders. William's father was the caretaker at the County Roller Skating Rink off New London Road, Chelmsford.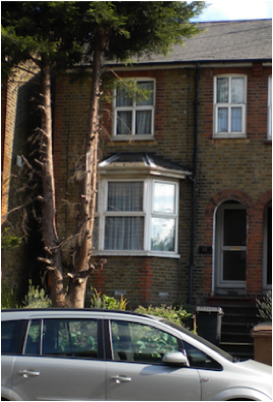 William enlisted into the 9th Battalion of the Essex Regiment at Chelmsford in 1st September 1914, claiming to be 19 years and one month old and employed as a gardener. He was five feet six inches tall, weighed 126 pounds, had a chest of 36 inches, a fresh complexion, brown eyes and hair, and was a member of the Church of England. His next of kin was his father of 18 Rectory Lane, Chelmsford. He was posted five days later as Private 12451 in the 9th Service Battalion of the Essex Regiment.
However, after 37 days he was discharged from the army on 7th October 1914 having been found to have been 17 years-old and having made a mis-statement as to his age on enlistment.
Unthwarted, he tried once again the following day. His attestation papers dated 7th December 1915 and completed at Chelmsford show that he was resident at 18 Rectory Lane in Chelmsford, aged 18 years and 2 months and employed as a viewer at the nearby Hoffmann Manufacturing Company. He was unmarried, but had seen previous military service with the 9th Essex Kitchener's Army. He was five feet seven inches
tall. Of good physical development, weighed 135 pounds and had an expanded chest of 35.5 inches. His religion was Congregationalist.
He was put on the army reserve next day and not mobilized until 1st January 1917. Eleven days later he was posted as Private 27281 to the 3rd Battalion of the Norfolk Regiment, and then subsequently transferred to the Machine Gun Corps on 6th March 1917. He remained in the U.K. until 16th June 1917.
William was then sent overseas with the 2nd Battalion of the Machine Gun Corps and arrived in Alexandria, Egypt on 6th July 1917. After a period at a base depot he joined his unit, the 211th Company, on 22nd July 1917. Just over a month later, on 26th August 1917 he went to hospital and was subsequently admitted to the 17th General (British) Hospital at Alexandria on 30th August 1917 suffering from dysentery. The following day he was reported to be 'dangerously ill' and died there on 10th September 1917 from Bacillary Dysentery. He was buried in grave A66 at Alexandria (Hadra) War Memorial Cemetery on 17th September 1917.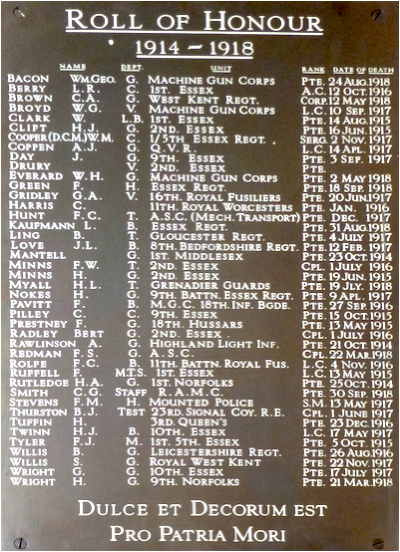 The Essex Weekly News of 14th September 1914 reported:
"News was received at Chelmsford yesterday of the death from dysentery of Pte. William Broyd, Machine Gun Corps. only son of Mr. and Mrs. T. W. Broyd, Rectory-lane. Deceased, who was 20 years of age, joined the colours last January. Prior to that he worked at Hoffmann's."
A week later the Essex County Chronicle carried almost identical news of William's death:
"News was received at Chelmsford on Sept. 13 of the death from dysentery of Pt. William Broyd, Machine Gun Corps, only son of Mr. and Mrs. T. W. Broyd, Rectory Lane. Deceased, who was 20 years of age, joined the Colours last January, Prior to that he worked at Hoffmann's."
William is commemorated on the Civic Centre Memorial, Chelmsford, by the Chelmsford Parish Great War Memorial in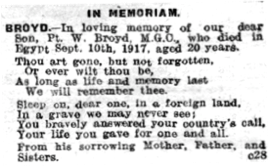 The 1918 register of electors listed William's parents still at 18 Rectory Lane (the property was renumbered as 25 Rectory Lane in 1925).
In 1920 his father was recorded living at the same address and employed as an attendant at the Empire Picture Place in Springfield Road, Springfield, where he had worked since its opening in 1912.
Previously he had run a furniture removal business in Moulsham Street, Chelmsford. He died in 1932, aged 60, and was buried at the Borough Cemetery.
William's mother remained at 25 Rectory Lane until 1936 when she moved in with her daughter Ivy in Hampshire. She died there, aged 67, in 1938, and was later buried in her husband's grave.
140419