Ernest Ambrose (sometimes 'Ambrose Ernest') Calver came to Chelmsford from Ipswich as a boy and became a bricklayer like his father. In 1915 he joined the army, married and went to France, where he was killed in action in April 1916. His home was in Belle Vue.
CALVER, ERNEST AMBROSE,
Private, 9th (Service) Battalion, Essex Regiment
News of his death first appeared in the local press in the Essex Weekly News of 28th April 1916:
"Pte. A. Calver, Essex Regt., has been killed in action. His home was at Belle Vue-cottages, Upper Bridge-road, Chelmsford. He joined one of the new Battalions in January 1915, and had been at the front about eight months. Calver, who was well known as a football player, was for many years foreman to Messrs. Johnson and Hawkes, builders. In a letter of sympathy which the widow received from Lieut. Henderson, the officer commanding the deceased's company, the writer stated that Calver was a bomber and received a fatal wound while on duty in a sap. The company were occupying a very important position and had been complimented by the General and Colonel for their work."
The Essex County Chronicle of 5th May 1916 reported:
"Pt A. Calver, Essex Regiment, killed in action, lived at Belle Vue Cottages, Upper Bridge Road, Chelmsford. He was a well-known football player, and was formerly foreman to Messrs Johnson and Hawkes builders. He received a fatal wound while on duty in a sap as a bomber. The company had been complemented by General for their work."
Ernest is commemorated on the Civic Centre Memorial, Chelmsford, (which transposes his initials) and the Moulsham Parish Memorial, St John's Church, Moulsham.
On 3rd May 1918 the Essex County Chronicle mentioned Ernest in a report on his brother:
Ernest was born in Nacton, Suffolk in 1891, the son of bricklayer Jerimiah Calver and Sarah Ann Calver (nee Aldous). His father had been born in 1857 in Otley, Suffolk; his mother in 1867 in Ipswich, Suffolk. Ernest's parents had married in Suffolk in 1890.
Ernest's ten siblings were: Laura Hannah Grace Calver (born i1888), Sarah Edith Calver (1892-1977), John Douglas Calver (1894-1988), Mabel Annie Calver (1896-1918), David Henry Calver (1898-1987), Percy Robert Calver (1900 -1980), Walter Bertie Calver (1903-1903). Frederick George Calver (1904), Albert Patrick Calver (1909-1997), and Alfred Charles Calver (1909-1997).
Those before Percy were born in Nacton, Suffolk, suggesting the family moved to Chelmsford around 1899. Albert and Frederick were both christened at St. John's Church, Moulsham on 4th May 1909 at which time Ernest's father was a bricklayer of 9 Grove Road, Chelmsford..
At the 1901 census Ernest was nine years old and living with his parents and siblings at 37 Regina Road, Chelmsford. His father was employed as a bricklayer. A decade later the 1911 census saw 19 year-old Ernest boarding at 42 Upper Bridge Road, Chelmsford, home of the widow Mary Ann Smith and her son Frederick Smith, a bricklayer's labourer (today's number 51). Coincidentally Frederick Smith was also to lose his life in the war and be commemorated at Chelmsford. The 1911 census recorded Ernest as having taken up his father's profession as a bricklayer. At the time his parents and siblings were still living at 9 Grove Road in Chelmsford.
Ernest married 20 year-old Emma Winifred Perkins on 3rd April 1915 at St John's Church, Moulsham. She had been born in Chelmsford in 1894 and at the 1901 census had resided with her uncle and aunt, Mark and Florence Jarvis at 145 Moulsham Street, Chelmsford. At the time of their marriage the couple were both living at 7 Belle Vue Cottages in Chelmsford (pictured). Ernest was a soldier by that time, having enlisted at Chelmsford earlier in 1915.
Ernest served as Private 16571 in the 9th (Service) Battalion of the Essex Regiment. The battalion was part of the 35th Brigade in the 12th (Eastern) Division, one of six Divisions which together formed the first part of 'Kitchener's Army' from August 1914. The battalion formed in initially at Shornecliffe in Kent. After training it went to France at the end of May/start of June 1915, entering the front line in July 1915 near Ploegsteert Wood, Belgium, close to the French border, a comparatively quiet

On 10th April 1916 Ernest's battalion went into the line in the Quarry Sector, to the north of Lens in the Pas de Calais, France. SIx days later Ernest died from wounds received whilst on duty in a sap. He was aged 24. Today he lies at Vermelles British Cemetery, some 10 kilometres north-west of Lens, (grave: II. L. 37). He is buried in a section of the cemetery that was created after the Armistice by bringing in graves from the battlefields to the east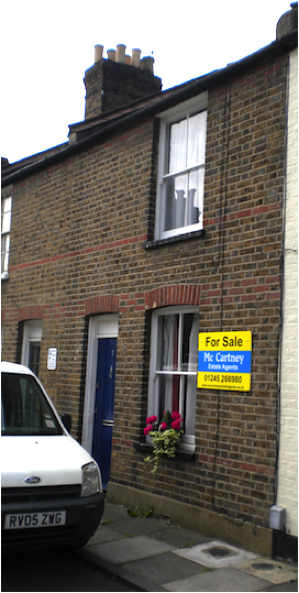 "Mr. and Mrs. Calver, of 9 Grove Road, Chelmsford, have been informed that their third son, Pt. H. Calver, Norfolk Regt., is in hospital in France with gunshot wounds. Mr. and Mrs. Calver have had one son killed, and another is serving."
On 5th November 1918 Ernest's sister, Mabel, died from pneumonia following infuenza, one of millions who died in the pandemic at the end of the war.
Ernest's widow, who lived at 7 Belle Vue Cottages, Upper Bridge Road, married Arthur R. Keeble in 1925. She died in 1969, aged 74. Ernest's father died in 1937, aged 80. His mother died in 1941, aged 73.
131231