Charles Vivian Cecil Cant came to Chelmsford from Good Easter and joined the army in 1916. He was killed in action in October 1918. His parents' home was in Rectory Lane.
He was born at Good Easter on 17th September 1897, the son of the baker Frederick Cant and Ellen Cant (nee Buck). He was christened at Good Easter on 21st November 1897, at which time his father was described as a baker of Tye Green, Good Easter. His father had been born in 1866 in Steeple; his mother in 1874 in Good Easter.
Charles' parents had married at Good Easter on 15th February 1896, at which time Charles' father was a 28 year-old baker, living in High Easter, the son of Elijah Cant, also a baker. Charles' mother was aged 21, living in Good Easter, and the daughter of John Buck, a grocer.
Charles' six siblings, all born at Good Easter, included Claude Cant or Buck (born in 1895), Edward Allen Cant (1900-1979), John Cant (1901-1989), Myrtle Cant (1903-1996), Alice Cant (1907) and Stanley Cant (1908-1999).
The 1901 census found three year-old Charles living with his parents, two siblings and a servant at Tye Green. His father was still employed as a baker. A decade later the 1911 census recorded 13 year-old Charles living with his parents, five younger siblings and a servant at Tye Green in Good Easter. Charles was a houseboy, while his father was a baker.
Charles lived at Chelmsford, enlisted at Warley in May 1916 and served as Private 21224 in the 8th Battalion of the East Surrey Regiment.. His battalion was one of those of the New Armies and had been formed at Kingston-upon-Thames, Surrey in September 1914. It was attached to the 55th Brigade in the 18th (Eastern) Division. The battalion landed at Boulogne in July 1915 and Charles is assumed to have been one of many replacement drafted in to replenish the battalion's numbers.
The start of October 1918 found Charles' battalion fresh out of action at Vendhuile, a village in the north -western corner of Picardie, France some 19 kilometres north of Saint Quentin. It was relieved on 2nd October 1918 and spent the period up to 17th October in rest and training and reorganising at Béhencourt ready for its next action. On the evening of 17th October the battalion began its movement north-eastwards when it caught an overnight train from Heilly to Roisel, arriving at 6 a.m. the following day. It then proceeded by route march to Longavesnes, then Beaurevoir before arriving at Elincourt about 11 a.m. on 19th October 1918.
The following day Charles was killed in action by a machine gun. The battalion war diary for the day adds little:
"The day was spent making preparations for the forthcoming operations [in the Bousies-Robersart area north-east of Le Cateau-Cambresis], bombs, S.A.A. and all necessary stores being issued to companies."
CANT, CHARLES VIVIAN CECIL,
Private, 8th Battalion, East Surrey Regiment
On 8th November 1918 the Essex Weekly News reported:
"Pte. C. Cant, East Surrey Regt., who met his death by a machine gun bullet on Oct., 20, was the son of Mr. and Mrs. Cant, Rectory Cottages, Rectory-lane, Chelmsford, aged 21. he joined up in May, 1916, and had been at the Front two years. His officer, to whom he acted as batman, in a sympathetic letter to Mrs. Cant, says deceased was one of the best boys in the company, always willing and ready to do whatever was required. Rev. Ernest Sandford, C. F., writes that it was the wonderful devotion to duty and self-sacrifice of men like deceased which enabled the battalion to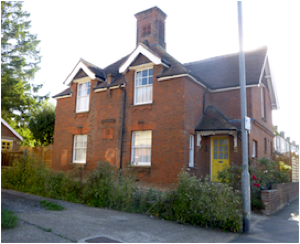 win a most glorious and important victory on the day he was killed."
Charles has no known grave and is commemorated on the Vis-En-Artois Memorial, Pas de Calais, France, midway between Arras and Cambrai. The memorial bears the names of over 9,000 men who fell in the period from 8th August 1918 to the date of the Armistice in the Advance to Victory in Picardie and Artois, between the Somme and Loos, and who have no known grave.
He is also remembered by the Civic Centre Memorial, Chelmsford and by the Chelmsford Parish Great War Memorial in Chelmsford Cathedral. Charles was entitled to the Victory and British War medals.
The 1918 register of electors listed an absent Charles and his absent brother Frederick (then serving in the army) and their parents at 2 Rectory Lodge, Rectory Lane, Chelmsford (left in picture above). The property was later numbered 50 Rectory Lane. Their father died in 1956, aged 89. His mother had reached the age of 92 when she died in 1966.
When Charles' sister, Myrtle, married George Easton at Chelmsford Cathedral in 1925 she carried a sheaf of lillies which was afterwards placed on the Civic Centre War Memorial in remembrance of Charles.
140322