Charles Carter arrived in Chelmsford in the 1900s, worked as a carter, married in 1912, and had a child that died in infancy. He joined the army and survived the war, but died of pneumonia following influenza in Germany in February 1919. His home was in Manor Road.
CARTER, CHARLES,
Corporal, Royal Engineers
The Essex Chronicle of 7th March 1919 included the following 'Roll of Honour' notice:
"Carter - In affectionate remembrance of Charles (2nd Cpl. Army Troop, R.E.), beloved husband of Florence Carter of 43 Manor Road, Chelmsford, who passed peacefully away on Tuesday February 18th 1919, at Cologne from pneumonia followed by influenza, aged 31 years.
'Oh for the touch of a vanished hand, and the sound of a voice that is still.'
Not gone from my memory or from my love, but gone to a heavenly home above."
The same paper carried a short report on his death:
"The death of 2nd Cpl. Charles Carter, R.E., took place on February 18th, at Cologne from pneumonia following influenza, at the age of 31 years, Cpl. Carter leaves a widow, who lives at 43 Manor Road, Chelmsford."
Charles is commemorated on the Civic Centre Memorial, Chelmsford and on the Moulsham Parish Memorial, St John's Church, Moulsham. He was entitled to the 1914-15 Star, British War Medal, and Victory Medal.
The 1918 register of electors listed an absent Charles, and his widow at 43 Manor Road, Chelmsford (pictured left).
His widow died in 1948.
100410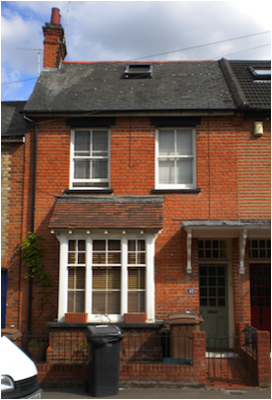 Charles was born in 1888 in East Hanningfield, the son of Frederick George Carter and Mary Ann Carter (nee Spurgeon).
The couple had married at St. Catherine's Church Wickford on 16th April 1882. Charles' father had been born in Wickford in 1857; his mother c1854 at Mundon.
Charles' siblings included Laura Carter (born c1875 in Southwark, London), Adelaide Carter (born c1883 at Wickford), George Frederick Carter (born c1886 at Wickford), Charlotte L. Carter (born c1887 at Wickford), Tom Carter (born in 1890 in Downham) and Frederick Carter (born c1893 in Downham).
Charles was recorded by the 1891 census at Blind Pond Cottage in Downham, living with his parents and five siblings. His father was an agricultural labourer. in 1901 the next census recorded the family at Downham Road in Downham. Charles' father was a horseman on a farm.
A decade later Charles was recorded by the 1911 census, aged 22, employed, appropriately bearing in mind his name, as a carter for the town council, boarding with Alfred Double and his family at 87 Moulsham Street in Chelmsford.
Charles married Florence Maud Holloway on 26th May 1912 at St. John;s Church, Moulsham. By
then he was aged 24, employed as a carman and still living at 87 Moulsham Street, Chelmsford. His bride was seven years older, lived at 85 Moulsham Street, and was the daughter of Henry Holloway, a house decorator. She had been born in Springfield in 1880. The couple had one child, a son, Thomas C. Carter, born in 1913, who died in infancy.
Charles landed in France on 28th September 1915. He died on 18th February 1919 at Cologne in Germany from pneumonia followed by influenza. while serving as 2nd Corporal 90540 of 145th Army Troop Company of the Royal Engineers. He was aged 31. Charles was buried in Grave II. E. 4 at Cologne Southern Cemetery.