Alfred William 'Fred' Cattle, who was born and bred in Chelmsford, joined the army in 1917. He was wounded in August 1917 returned to England where he died from complications associated with his injuries in August 1921. His home was in Springfield Road. A brother also also lost his life during the war.
CATTLE, ALFRED WILLIAM,
Private, 10th (Service) Battalion, Essex Regiment
Fred is commemorated on the Civic Centre Memorial, Chelmsford and by the Chelmsford Parish Great War Memorial in Chelmsford Cathedral. His brother Arthur is also commemorated on the two memorials. Fred was entitled to the Victory and British War medals, but is not commemorated by the Commonwealth War Graves Commission.
Fred's father, Arthur Charles Cattle (pictured), died on 29th July 1922 aged 61 and his mother Maria Jane Cattle died on 3rd June 1928 aged 70. Both are buried at Holy Trinity Church in Springfield.
130831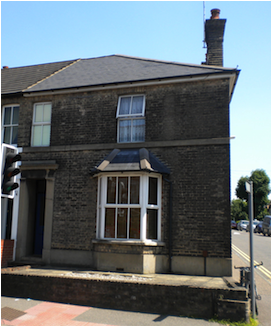 Fred was born in Chelmsford 12th April 1899, the son of the tailor Arthur Charles Cattle and Maria Jane Cattle. Fred's father had been born in 1861 in Langport, Somerset; his mother c1858 in Bruton, Somerset. The couple had married in Somerset in 1888 and came to live in Chelmsford within the next year or two and in 1891 were living in Grove Road.
Fred's five siblings were Arthur John Cattle (born in 1889 in Bruton, died 1915), Lionel Charles Cattle (born in 1890 in Chelmsford, died 1964), Helen Mary Cattle (born on 25th September 1893 in Chelmsford and christened at Springfield Holy Trinity Church on 20th December 1893), Alan Frederick Cattle (born on 19th May 1897 in Chelmsford, died 1968), and Gertrude Madge Cattle (born on 16th January 1901 in Chelmsford and christened at Springfield Holy Trinity Church on 15th May 1901 along with Fred and Allen).
The 1901 census found Fred, aged one, and resident with his parents and five siblings at 1 Garfield Terrace (later 38 Springfield Road, now number 144) in Springfield - the house is situated at the northern corner of the junction of Trinity Road with Springfield Road. His father was a tailor's cutter. A decade later 11 year-old Fred was listed by the census living at the same address, with his parents and three siblings. His father was a tailor. A decade later the 1911 census listed 11 year-old Fred living with his parents and three siblings at the same property. His father was a tailor, while his 17 year-old sister Helen also worked in tailoring.
Fred's brother, Arthur John Cattle, died on 25th November 1915 while serving as Driver SI/1022 in No. 2 Advanced H.T. Depot of the Army Service Corps.
Within two years Fred enlisted and served as Private 42970 in the 10th (Service) Battalion of the Essex Regiment. He served in France and was wounded in the summer of 1918, an event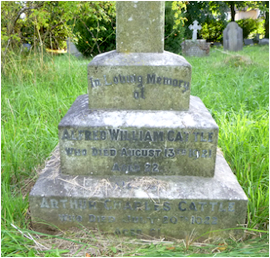 that was reported by the Essex County Chronicle on 20th September 1918:
"Pt. A. W. Cattle, son of Mr. A. C. Cattle of Chelmsford, is wounded in the leg and in hospital in Mere, Wilts."
A similar reported appeared in the following week's Essex Weekly News:
"Pte. A. W. Cattle, Essex Regt.,son of Mr. A. C. Cattle, of Chelmsford, is in hospital at Mere, Wiltshire, suffering from a wound in the leg. He is only 18 years of age, and is going on well."
The 1918 register of electors listed Fred's parents still at 38 Springfield Road.
After discharge from the Army he spent period of time in hospital and finally died on 13th August 1921 at the Royal Sea Bathing Hospital in Margate, Kent. He was 22 years old.
Fred was buried at Springfield (Holy Trinity) Churchyard.
The Essex County Chronicle of 19th August 1921 carried the following death notice:
The paper also carried a further report on Fred's death:
A similar report appeared in the day's Essex Weekly News:
"YOUNG MAN'S SAD DEATH - The death of Mr. Alfred William (Fred) Cattle, youngest son of Mr. Arthur C. Cattle of Springfield-rd., occurred at Margate on Saturday. Deceased , who was only 22 years of age, assisted his father in his business in Market-rd. prior to joining the Army. He saw considerable active service during the war and was shot through the foot in France. Having been invalided home he apparently recovered from his wound, but owing to the signing of the armistice he was not sent overseas again. Some months afterwards hip trouble developed, and deceased was sent to the Middlesex Hospital. About twelve months ago he entered the Royal Sea Bathing Hospital at Margate, where he passed away as stated. - Yesterday the funeral took place at Holy Trinity Church, Springfield, the Rector, Rev. F. S. Paynter, R.D., officiating. The mourners were as follows: - Mr. Arthur C. Cattle, father; Messes. Lionel and Alan Cattle, brothers; Mrs. Batten and Miss Madge Cattle, sisters; and Mr. T. E. Bradridge, friend. Others present included Messrs. J. Chapman, L. Oveasy, and J. White; and Mesdames Bedford, Rashleigh and F. Ward."