Charles James Cook was born and raised in Springfield, and joined the army in the late 1890s. He married, had at least three children, one of whom died in the war. Charles died from wounds near Ypres in September 1917.
Charles was born in 1867 in Springfield, the son of James Cook and Sarah Cook (nee Rolfe). His father had been born c1846 in High Easter; his mother in 1845 in Springfield. His parents had married on 27th July 1867 at St. Mary's Church, Chelmsford (today's Cathedral). At the time Charles' father was a wheelwright, living in Springfield, the son of a labourer Charles Cook. His mother was also from Springfield, and the daughter of Daniel Rolfe, a labourer.
Charles' four siblings, all Springfield-born, were Florence Anna Cook (born in 1870, Fanny Louisa Cook (born in 1872), Leonard George Cook (born in 1875) and Ada Sarah Cook (born in 1881).
The 1871 census found three year-old Charles living with his parents and sister at Springfield Street in Springfield (now Springfield Road). his father was a wheelwright. A decade later the next census recorded Charles living with his parents and four younger siblings at 1 Springfield Street, Springfield. His father remained a wheelwright. Charles was listed by the 1891 census working as a carpenter and boarding with the Kent family at Gladstone Terrace in Epping. Meanwhile the rest of his family were living at 6 Springfield Street, Springfield and his father still worked as a wheelwright.
Charles is thought to have joined the regular army around 1896 and was probably overseas at the time of the 1901 census which found his parents still in Springfield Street and his father still employed as a wheelwright.
COOK, CHARLES JAMES,
Private, Labour Corps (formerly of the Essex Regiment and the Northamptonshire Regiment)
"Obituary. - The death of Mrs. Cook, widow of Mr. James Cook, of Springfield, occurred on the 18th inst. at the age of 70. Deceased had resided in Springfield all her life, and was esteemed by all who knew her. She leaves two sons and three daughters, one of the latter being and invalid. - The funeral took lace on Tuesday at Holy Trinity Church, the Rev. M. W. Manthorp officiating. The chief mourners were: - Mr, and Mrs. L. Cook, son and daughter-in-law; Mrs. McPhail, daughter; and Mr. and Mrs. W. Tunstill, son-in-law and daughter. A number of floral tributes were received."
Charles died from wounds on 11th September 1917 while serving as Private 89516 Cook in the Labour Corps. He was buried at Gwalia Cemetery in Ypres, West-Vlaanderen, in Belgium (grave reference: II. A. 8.). He had formerly served with the Northamptonshire Regiment and as 5136 in the Essex Regiment.
On 21st September 1917 the Essex County Chronicle reported:
"Mrs. E. Cook, of 97 Springfield Street, Chelmsford, has received official intimation that her husband, Pt. Charles Cook, Labour Corps, died of wounds received in action in France on Sept. 11. Before joining up Pt. Cook had served 21 years in the Regular Army, and during that time served as Wheeler-Staff-Sergt. in the A.S.C. Deceased was well known and highly respected in Springfield and district, and was a bell ringer at All Saints' Springfield. Much sympathy is felt for Mrs. Cook, who lost one son, E. Cook, Essex Regt. Mrs. Cook has another son, Trooper R. F. Cook, serving in the Household Battalion (late Life Guards), who was severely wounded in France this year during the 'big push'."
A week later the Essex Weekly News carried the following family announcement:
"Cook, - Killed in action on Sept. 11th, 1917, Charlie, our dearly-loved brother, eldest son of the late Mr. and Mrs. James Cook, Springfield-st., Chelmsford, aged 50 years - Tower House, Tower-av., Chelmsford."

Charles' father died in 1903, aged 58. Around that time Charles married a woman named Elizabeth. The couple had three children: Leonard Charles Cook (1903 – 1972), Claude James Cook (born 1906), and Constance Dorothy Cook (1908 – 1987).
In 1911 the census recorded Charles' 65 year-old widowed mother and his sisters Florence (aged 40) and Ada (aged 30) living at 97 Springfield Road, Springfield (later renumbered as 399). Meanwhile Charles, then a 42 year-old soldier, was recorded with his wife and three children at 56 Corporation Buildings, Mouce Square in Devonport, Devon.
Charles enlisted at Chelmsford and served as 38251 in the Northamptonshire Regiment.
His mother died on 18th November 1915, aged 70, an event reported by the Essex Weekly News of 26th November 1915: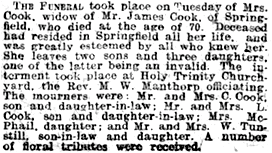 Charles is commemorated on the Civic Centre Memorial, Chelmsford and on the Springfield Parish Memorial at All Saints' Church. He is thought to have been recorded twice on the Civic Centre Memorial - once as 'C J Cook' of the Labour Corps and once as 'C Cook' of the Northamptonshire Regiment.
His son, Edward Charles Cook also lost his life in the war.
The 1918 register of electors listed Charles' widow at 97 Springfield Road, Springfield.