John Albert Cook (sometimes 'Cooke') was born in Great Baddow, raised in Springfield and worked at Hoffmann's. He joined the army early in the war, went to the Front in September 1916 and was killed im action in April 1917. His home was in Sandford Road.
COOK, JOHN ALBERT, Lance Corporal, 1st/9th Battalion, London Regiment(Queen Victoria Rifles) (formerly of the 2/5th Battalion, Essex Regiment)
John enlisted at Chelmsford and served as Private 2540 Essex Regiment. He was killed in action on 14th April 1917 while serving as Lance Corporal 392974 (formerly 6704). He was aged 21. He is buried at Heninel Communal Cemetery Extension, Pas de Calais in France (grave: A. 7).
His death was subject of a family announcement in the Essex Weekly News on 4th May 1917:
"Cook. - Killed in action on April 14th. Lance-Corpl. John Albert (Jack) Cook. Essex Regt., attached London Regt., the dearly-loved youngest son of Mr. and Mrs. A. Cook, 25 Sandford-road, Chelmsford, aged 21 years."
The same edition of the paper reported:
"Lance-Corpl. Jack Cook, Essex regt., attached London Regt., killed in action on April 14, was the youngest son of Mr. and Mrs. A Cook, of 25, Sandford-road, Chelmsford. Deceased joined the Army at the beginning of the war and had been at the Front since last September. In a letter to the deceased's mother Cook's Company Officer states that he was milled instantaneously when leading his section in an attack. The writer adds: - 'Your son behaved splendidly through the attack, and his loss will be greatly felt by everybody n the Company.'"
A week later the Essex County Chronicle reported:
"L.-Cpl. Jack Cook, Essex Regt., attached London Regt., killed in action, youngest son of Mr, and Mrs A. Cook, of 25 Sandford Road, Chelmsford. Deceased joined the Army at the beginning of the war, and had been at the Front since Sept."
John is commemorated on the Civic Centre Memorial, Chelmsford and on the Springfield Parish Memorial at All Saints' Church. He was entitled to the British War Medal and Victory Medal.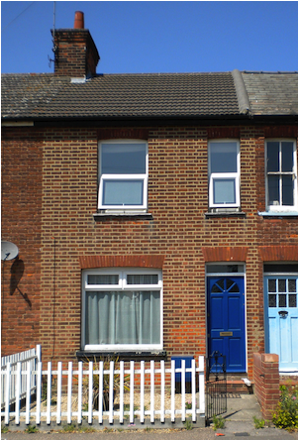 John was born in 1895, the youngest child of the house painter Alfred Cook and Harriet Louisa Cook (nee Dorrington). His father had been born in 1865 in Great Baddow; his mother in 1852 in Ingrave. The couple had wed in 1888 at the Independent Chapel in Billericay.
Harriet had formerly been married to Alfred's brother Charles George Cook (1854-1878) and the couple had produced at least two children before Charles' early death at Arbour Lane, Springfield after a long illness: William Cook (born c1876 in Springfield) and Ellen Cook (born c1877 in Springfield).
John's four siblings, all born in Springfield, were Alfred James Cook (1887-1911), Arthur Cook (1889-1916), Harriet Louisa Cook (born c1891) and Emily Winnie Cook (born (1893-1980). All were privately christened at Holy Trinity Church in Springfield on 16th May 1895.
The 1901 census found six year-old John living with his parents and four siblings at an unnumbered house in Arbour Lane. At the time John's father was a house decorator (as he had been in 1891), while his brother Alfred was a postal errand boy.
By 1908 the family had moved to 3 Gainsborough Terrace in Sandford Road, Springfield (today's number 77), pictured,
and the census three years later found them at that address (then recorded as number 25). John was by then aged 15 and employed at Hoffmann's ball-bearings factory as a machinist, a job his brother Arthur also undertook. Their father and eldest brother Alfred were both house painters.
John joined the 2/5th Battalion of the Essex Regiment soon after the outbreak of the war and went to the Front in September 1916 by which time he had transferred to the 1st/9th Battalion of the London Regiment (Queen Victoria's Rifles).
His brother Arthur died in 1916 and his funeral was reported upon in the Essex Weekly News of 21st July 1916:
"Funeral. - The funeral of Mr. A. Cook, son of Mr. and Mrs. A. Cook., of 25 Sandford-road, took place at Holy Trinity Churchyard on Saturday. The Rev. G. Millington officiated; and the mourners were: - Mr. and Mrs. Cool, father and mother; Pte. J. A. Cook, 2/5th Essex, brother; Mrs. J. Leach, Mrs. T. H. Prince and Mrs E. H. Moore, sisters. Flora tributes were received from the following - Mother, Dad, and Jack, Winnie, Louie, Bob, and Tommy; Bert, Claud, and Mollie; Joe and Lil; George and Clara; Bill and Alice; Nellie; Mr. and Mrs. Peachy his old friends at Springfield; brothers of the City Angling Society; Mr. and Mrs. V. Fennell, Springfield-road; Mrs. Fennell and Beatie, Sandford-road; G. and J. Skingel; Mr. and Mrs. Cole and family; Mr. and Mrs. Moore; friends and neighbours, Sandford-road; Cage, Assembly and Viewing Departments, Hoffmann Ltd., where deceased was employed."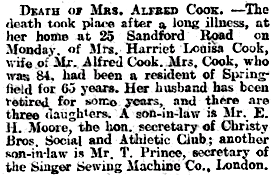 The 1918 register of electors listed John's parents still 25 Sandford Road, (today's number 77). They remained there until their deaths. John's mother died in 1936, aged 84; his father died in 1938, aged 72.
130920