Stanley Evans was Chelmsford born and bred and worked for Hoffmann's before the war. He was mobilised at the start of the war, and saw service in France and Italy, He died from broncho-pneumonia in October 1918 in France. His home was in Navigation Road.
EVANS, STANLEY,
Air Mechanic 2nd Class, 45th Squadron, Royal Air Force (formerly of the Army Service Corps)
On 3rd January 1919 the Essex County Chronicle reported:
"Mr. James Evans, of 43 Navigation Road, Chelmsford, has lost an able and patriotic son by the death in France from broncho-pneumonia of 2/A.M. Stanley Evans, R.A.F., at the age of 21. At the time of mobilisation in 1914 he was in the Territorials, A.S.C. He afterwards transferred to the 45th Squadron R.F.C., went to France in October, 1916, thence to Italy in December, 1917, returning to France last September, and being attached to the R.A.F.
Lt. C. F. King, of whose squadron the deceased was a member, writes to his father: 'Your son was a man who was always most willing and courteous and bore an excellent character, It was a great shock to me when I heard of his death at the 8th Canadian Hospital, Charmes, in the cemetery of which he was buried with full military honours by the officers and men of his squadron. I had the greatest respect for him, and I know that his fellow mechanics were fond of him. He stuck to his post until he felt absolutely too unfit to drive, and so died doing his duty,
By his death the squadron has lost one of the best drivers and oldest members, I know that it must have been a biting blow to you, but I hope that the knowledge that he always did his duty and died honourably will help soothe and comfort you in your great bereavement. I tender you my heartfelt sympathy.'"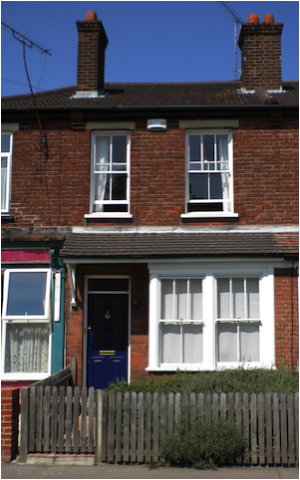 Stanley was born in Chelmsford in 1897, the son of railway signalman James Evans and Emily Evans (nee Luckin). His father had been born in 1858 at Thorpe-Le-Soken; his mother in 1864 at Great Waltham. His parents had married in 1893.
Stanley's five siblings, included Ethel Maud Evans (born in 1894 in Chelmsford, died 1962), Wilfred James Evans (born in 1896 in Chelmsford) and Herbert Evans (born 1901 in Springfield, died 1966). The other two siblings died in childhood.
At the time of the 1901 census four year-old Stanley was living with his parents, two siblings and his paternal grandfather at Ferndale, Wharf Road, Springfield. His father was a railway signalman.
A decade later the 1911 census recorded Stanley, aged 14, living with his parents and three surviving siblings at 43 Navigation Road in Springfield.(pictured) His father remained a railway signalman for the Great Eastern Railway. Stanley worked as a driller at Hoffmann's ball-bearings factory in Chelmsford, also the work place of his brother Wilfred who was a miller there. Their sister Ethel was a dressmaker.
As a Territorial in the Army Service Corps he was mobilised at the start of the war. He later transfered to the Royal Flying Corps and went to France in October 1916, Italy in December 1917, and back to France in September 1918.
Stanley died from illness on 19th October 1918 at the 8th Canadian Hospital, Charmes while serving as Air Mechanic 2nd Class 23074 in the 45th Squadron of the Royal Air Force. He is buried at Charmes Military Cemetery, Essegney, Vosges in France (grave: I. C. 18). He was 21 years old.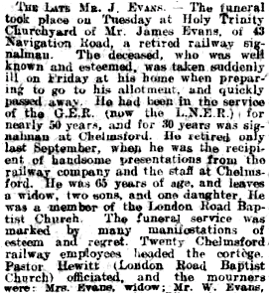 Stanley is commemorated on the Civic Centre Memorial, Chelmsford and on the Springfield Parish Memorial at All Saints' Church.
The 1918 register of electors listed Stanley's parents at 43 Navigation Road, Springfield.
His father died on 30th May 1924, aged 65; his mother on 4th April 1940 aged 74.
131012