Arthur Richard Ginn was a member of a large Springfield family, headed by his father who was a soldier for over a decade. Arthur worked as an errands boy and later joined the army. He was killed in July 1916 near Loos. His home was in George Street.
Arthur was born in Springfield on 30th July 1896, the son of David Henry Ginn and Harriet Rebecca Ginn (nee Hood). His father was born in Chelmsford c1849, his mother in 1870 in Walthamstow. The couple had married on 10th July 1893, at St. Mary's Church in Walthamstow.
Arthur's father had previously married Emma Janes on 25th November 1876 in Springfield. She died in late 1891, aged 36, though the couple had five children by then: David Henry Ginn (1877-1953), Maria Ginn (born in 1879, baptised at St John's Church, Moulsham on 6th March 1880 at which point the family was resident at 10 George Street, Chelmsford, and died in 1968), Ellen Ginn (born on 8th April 1882, baptised at Holy Trinity Church in Springfield on 4th June 1882, and died 1886), George Ginn (born on 7th October 1883, baptised at Holy Trinity Church in Springfield on 4th November 1883, and died in 1948), and Margaret Catherine Ginn (born in 1885, died in 1954). In 1891 Arthur's father had been a fishmonger living at 2 Trinity Terrace (now 136 Springfield Road).
Arthur was baptised at Holy Trinity Church in Springfield on 11th October 1896.
Arthur's other siblings, all Springfield-born, were: Bessie Edith Ginn (born on 16th February 1894 and baptised at Holy Trinity Church in Springfield on 4th November 1894), Edward Charles Ginn (born on 6th August 1897, baptised at Holy Trinity Church in Springfield on 10th October 1897, and died in 1973), Ernest Philip Ginn (born on 18th November 1898, baptised at Holy Trinity Church in Springfield on 22nd January 1899, and died in 1899), Wilfred Thomas Ginn (born on 18th February 1900, baptised at Holy Trinity Church in Springfield on 22nd April 1900, and died in 1958), Frank Hood Ginn (born in 1901, baptised at Holy Trinity Church in Springfield on 20th October 1901, and died in 1967), Constance Caroline Ginn (born on 6th June 1903, baptised at Holy Trinity Church in Springfield on 23rd August 1903, and died in 1965), Hilda Alice Ginn (baptised privately at Holy Trinity Church in Springfield on 15th May 1905, died 1905), Rebecca Ginn (born on 9th May 1906, baptised at Holy Trinity Church in Springfield on 15th July 1906, and died in 2000), Richard Hood Ginn (1908-1978) and Sydney Jack Ginn (1910-1974).
The 1901 census recorded four year-old Arthur with his parents and five siblings still at Trinity Terrace. Arthur's father was an officer in H.M. Prison Chelmsford, while his brother, George, was a baker's assistant. That year his half-brother David served in South Africa with the Essex Regiment.
A decade later the 1911 census listed 14 year-old Arthur living with his parents and nine siblings at 1 Coppin's Yard, Springfield Road, Springfield. Arthur was an errand boy, as was his brother Edward. Their father was described as an army pensioner.
GINN, ARTHUR RICHARD,
Private, 14th (Service) Battalion, Highland Light Infantry
The outcome was that Arthur's father was able to find a place to live, eventually settling in Garden Cottage, George Street.
Arthur enlisted at Chelmsford and served in the 14th (Service) Battalion of the Highland Light Infantry, part of the 40th Division. The division was formed in late 1915 and composed of bantam units and others which had a mixture of regulation-height and shorter men. The division moved to France in early June 1916, and served on the front near Loos between June and late October 1916. Arthur was killed in action on 27th July 1916 while serving as Private 29435 He was aged 20.
At the time his family home was at Garden Cottage in George Street (now demolished).
The Essex County Chronicle of 18th August 1916 provided the following report on Arthur:
"Pt. A. Ginn, killed on the 27th July while on sentry duty in the front line in France, was the son of Mr. D. H. Ginn, of Garden Cottages, George Street, Chelmsford. Capt. Paton, writing sympathetically to Mr Ginn, says, 'Your son was proving himself a very good soldier, and his loss is felt greatly by his Captain and comrades.' The Chaplain of the Regiment, in a letter of condolence to Mr. Ginn, says that 'the deceased soldier suffered no pain, and that he was buried in a cemetery behind the lines, the burial service being read over the grave and that his comrades were putting up a cross with his name, number and regiment upon it. The Colonel, Adjutant, and some of the comrades were present at the service."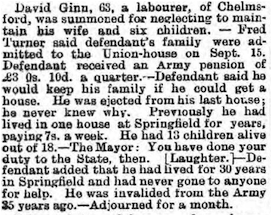 Later that year, in November, Arthur's father was summoned before Chelmsford's Magistrates for neglecting to maintain his wife and children, an event that attracted a report in the Essex County Chronicle and a letter of support for Arthur's father.
"THE CASE OF DAVID GINN, CHELMSFORD PENSIONER'S DILEMMA.
To the Editor. Sir, —That charming type of the country cleric, the Vicar of Wakefield, is the authority for the statement that the honest man who married and brought up a large family did more service than he who continued single and only talked of population. Few will deny the truth of Dr. Primrose's assertion. The worthy
clergyman, however, lived in another age, when large families were not anathema and generally betes noires to landlords. The Vicar of Wakefield mustered six olive branches, one-third of the number owned by David Ginn, the well-known Chelmsford veteran, who was summoned the other day for neglecting to maintain his wife and six of the children.
Ginn's reply was that "he would keep his family if he could get a house." The Mayor, Aid. T. J. D. Cramphorn, holding apparently the views of Dr. Primrose, told the poor fellow that had certainly done his duty to the State. But there is something rotten in the state of Denmark when a veteran, 63 years of age, ex-soldier, who has not only done his duty to his country but is still doing it serving in the National Reserve, is allowed to go homeless and houseless, though quite willing pay rent if he can only get a house for himself and family to live in. And, be it noted, Ginn is not of the come-to-day-and-gone-to-morrow class. He has lived for thirty years in Springfield, and and his family are quite well known. The scandal - for there can be no other word for it - that compels a citizen to pauperise himself and his family by entering the workhouse, points to the fact that some authority, local or Imperial, has not in the past done its duty. It is to be hoped that there will an awakening in this matter of providing houses. It ought not to be said that in peace there is no room for the ex-soldier and present National Reserve man. The authorities will be tumbling over one another to provide a place for him in the event of war. Let us see to it that he has now place in the sun as regards housing, and so at least purge the town and district of what the face of it is, I repeat, a scandal. A FAMILY MAN.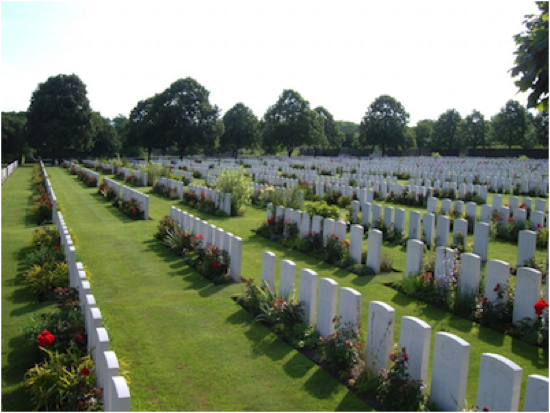 Arthur is buried at Loos British Cemetery, Pas de Calais in France (grave: XVIII. E. 19). He is commemorated on the Civic Centre Memorial, Chelmsford, and the Moulsham Parish Memorial, St John's Church, Moulsham. He was entitled to the British War Medal and Victory Medal.
Arthur's brother Edward Charles Ginn joined the 5th Battalion, Essex Regiment three days after the outbreak of war in 1914. He later served with the Northamptonshire Regiment.
Arthur's parents were listed in the 1918 register of electors at Garden Cottage, George Street. His father died in 1920; an event that was described in the Essex Chronicle as follows:
"Army veteran's death. - A familiar figure has been removed by the death of Mr. David Harvey Ginn. of George Street, aged 71 years. The deceased, who leaves a widow and twelve children, was at work within a week of his death.
He joined the 2nd Queen's Foot Regt. (now the Royal West Surreys) before he was 18 years of age, and spent over ten years in India. Some forty odd years ago he was invalided from the Service on a pension. He was a warder at the old Springfield Prison, and for the last five years, up to a few days of his death, worked at Hoffmann's.
Mr. Ginn was an enthusiastic member of the National Reserve, and took a natural pride in any matter affecting the Services. Four of his sons served in the war, one being killed in action, and another wounded.
The interment at the Borough Cemetery on Monday was preceded by a short service at St. John's Church, the Vicar, the Rev. R. F. Burnett, officiating. In addition to the eighteen family mourners, a number of old acquaintances were present. Two buglers from the K.R.R.C. Cadets sounded the 'Last Post' at the graveside. In addition to the family tributes, wreaths were sent from fellow workmen at Hoffmann's, friends and neighbours and old comrades at the Dolphin."
Arthur's mother died in 1927, aged 56.
131020