Cecil Goldney was born and bred in Northampton and followed his father as a fishmonger. He lived in London, then Surrey where he married in 1914, having three children. By 1915 he was managing a fishmonger's in Tindal Street. He joined the army in 1917 after his call-up was postponed following an appeal by his employer. He was taken prisoner of war in May 1918 and died in captivity from dysentry in August 1918. His home was in Hill Road, Springfield.
GOLDNEY, CECIL,
Private, 50th Battalion, Machine Gun Corps (Infantry) (formerly of the Bedfordshire Regiment
On 2nd August 1918 the Essex County Chronicle reported:
"Mrs. Golding of 23 Hill Road, Chelmsford, has been informed that her husband Pt. Ceil Golding, M.C.G., previously reported missing, is a prisoner in Germany."
In January 1919 the Essex Newman reported:
"Mrs. Goldney, of 23 Hill Road, Chelmsford, has received information that her husband, Pt. Cecil Goldney of the M.C.G., died of dysentery on Oct. 23 in Lamsdif Hospital, Germany, while a prisoner of war. He was taken prisoner on May 27th 1918."
28 year-old Cecil is buried at Berlin South-Western Cemetery in Germany (grave: XVII. B. 6). He is commemorated on the Civic Centre Memorial, Chelmsford (which records his forename initial as 'G') and on the Springfield Parish Memorial at All Saints' Church. He was entitled to the Victory and British War medals.
The 1918 register of electors listed an absent Cecil at 23 Hill Road, Springfield (pictured). His widow later lived at 82 Woodside Green, South Northwood, London.
His mother died in 1928, aged 72.
140302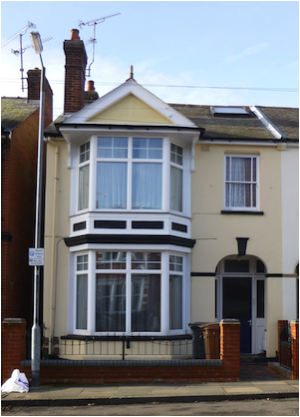 Cecil was born in Northampton, Northamptonshire in 1888, the son of William Goldney and Ellen Maria (Nellie) Goldney (nee Renshaw). His father had been born in 1853 in Aylesbury, Buckinghamshire; his mother in 1856 in Northampton. The couple had married in 1879 and by 1881 were living in Northampton.
Cecil's siblings, all Northampton-born, included , Evelyn Grace Goldney (born in 1882), William G. Goldney (born in 1883, died in 1943), Harry Goldney (born in 1884), Edith Goldney (born in 1886).
Three year-old Cecil was recorded by the 1891 census living with his parents, four siblings and a servant at 49 Hazelwood Road in Northampton. His father was a fishmonger. The 1901 census found 13 year-old Cecil living with his parents and four siblings at 24 Stimpson Avenue, Northampton. His father was still a fishmonger, along with Cecil's brother William. Evelyn was a milliner and Harry a French polisher.
A decade later the 1911 census listed 22 year-old Cecil boarding at 18 Kensington Place, Kensington, London. The head of the household was Arthur Buckland, a grocer's checker. Cecil was a fishmonger's assistant.
He married Julia Alice Carter in 1914 in Surrey. The couple are thought to have had at least three children, Violet A. E. Goldney (born in 1914 in Surrey, died 1993), Cecil John Stephen Goldney (born in 1915 in Chelmsford, died 1971) and William H. Goldney (born in 1917). Violet was born two days after the declaration of war.
By 1915 Cecil was living and working in Chelmsford. He worked as the manager of a fish and poultry business in Tindal Street. In April Cecil's employers sought to defer his call-up at a Military Service Tribunal in Chelmsford. On 27th April 1917 the Essex County Chronicle reported:
"Dean Ltd., applied for Cecil Goldney, Tindal Street, manager of their fish and poultry business there, 29, married, two children. Class A.—Mr. Pibell, one of the directors, said they had two shops in the town and were desirous keeping them open. He realised the difficulty in regard to appealing for young men, and would only ask for eight weeks' exemption.—The Chairman said that a majority the Tribunal would agree six weeks', final.— Mr. Pibell: Thank you of course I it knew would final, ft will probably appear the papers that you have exempted A man of 29, but all I have told you is perfectly true.—The Chairman. Yes; you have at any rate done better here than you would have done the Guildhall."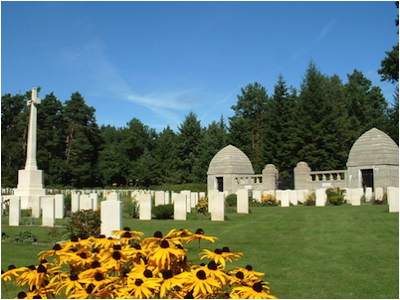 Cecil enlisted at Chelmsford and served as Private 21657 of the Bedfordshire Regiment and was later transferred to serve as Private 117092 in the 50th Battalion of the Machine Gun Corps (Infantry).
On 5th July 1918 the Essex Weekly News reported:
"Mrs. Goldney, 23, Hill-rd., Chelmsford, has received information that her husband, Pte. Cecil Goldney, M.G.C., has been missing since May 27."