Frank Holden was born into a large Springfield family. He was a bricklayer by trade, married in June 1900 and had four children. After joining the army he caught pneumonia and died in Suffolk in May 1917. His home was in Parker Road.
HOLDEN, FRANK,
Private, Depot Battalion, The Queen's (Royal West Surrey Regiment) (formerly of Suffolk Regiment)
Frank lived and enlisted at Chelmsford and saw service as Private 34542 in the Suffolk Regiment. He was buried at Chelmsford Borough Cemetery in Writtle Road (grave: C2282) on 22nd May 1917, having died aged 41 from pneumonia at Bury St. Edmund's Hospital six days earlier while serving as Private 44929 in the Depot Battalion The Queen's (Royal West Surrey) Regiment. His home address was 1 Parker Road, Chelmsford. The funeral service was conducted by Rev. C. Clarke, Chaplin. His gravestone carries the epitaph "Thy will be done."
Three days later the Essex County Chronicle reported:
"Pt. F. Holden, of Chelmsford, W. Surrey Regt., died from pneumonia in hospital at Bury. He leaves a widow and four children."
The same day's Essex Weekly News carried a far more extensive report:
"Military funeral. - Pte. Frank Holden, of the Queen's (Royal West Surrey) Regt., was buried with full military honours at the Borough Cemetery on Tuesday. Deceased, whose widow and family reside at 1, Parker-rd., died in hospital at Bury St. Edmund's from pneumonia on the 16th inst. He was in his 41st year, and joined the Army nearly a year ago. Besides his widow he leaves four children, the eldest being aged 16. A large number of relatives and friends were present at the funeral; and the floral tributes included wreaths from the Hoffmann Company packing and export department and Mr. and Mrs. W. Wood, deceased having been an employee of Mr. Wood for several years."
Frank is commemorated on the Civic Centre Memorial, Chelmsford, and the Moulsham Parish Memorial, St John's Church, Moulsham.
On 17th May 1918 the Essex County Chronicle included the following in memoriam announcement:
"Holden. - In loving remembrance of my dear Husband, Private Frank Holden, of the Queen's (Royal West Surrey Regiment), who died 16th May 1917.
Hw we miss him. oh how sadly, Bleeding hearts alone can tell; Earth has lost him, Heaven has found him; Jesus hath done all things well.
From his sorrowing Wife and children - 1 Parker Road, Chelmsford."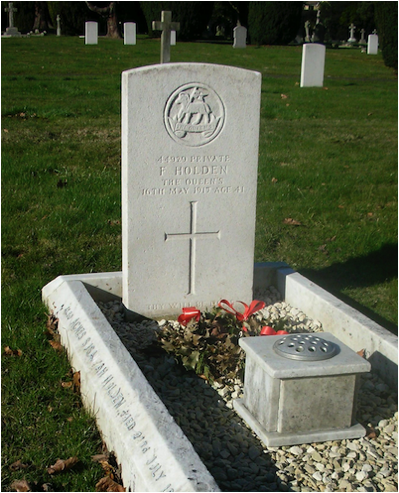 Frank was born in Springfield on 30th August 1876, the son of James Holden and Louisa Holden (nee Joslin).
Frank's father had been born c1826 in Springfield; his mother in 1840 at Great Leighs. They had married in 1863 and in 1871 had been resident at The Wharf in Springfield where Frank's father was a coal porter.
Frank was baptised at Holy Trinity Church in Springfield on 5th May 1878.
Frank's siblings (all Springfield-born except Herbert) included Frederick Joseph Holden (born in 1863), Arthur Joseph Holden (born in 1865), Harry Pryor Holden (born in 1867), Naomi Ellen Holden (1870-1871), Ernest George Holden (born in 1872), Alice Louisa Holden (born in 1874) and Herbert Edgar Holden (1881-1902).
The 1881 census found four year-old Frank living
with his parents and four siblings at 20 New Writtle Street, Chelmsford. Frank's father was still employed as a coal porter. A decade later 15 year-old Frank was working as a bricklayer's labourer and was living with his younger brother Herbert and parents at Chase Cottage, Friars Place, Chelmsford. His father remained employed as a coal porter.
On 11th June 1900 Frank married Agnes Susanna Wade at St. John's Church in Moulsham. At the time Frank was aged 23, employed as bricklayer and still living at Chase Cottage, Barrack Square. His bride was aged 22, the daughter of the labourer Daniel Wade and resident at 3 Goldlay Road, Chelmsford.
The 1901 census found the couple living alone at 1 Pannell's Cottages [now known as 1 Parker Road] in Chelmsford. They went on to have four Chelmsford-born children, Ada Louise Holden (1901-1986), Doris Emily Holden (1904-1993), Reginald Frank Holden (1910-1961), and Jack Ernest Holden (1912-1986).
The 1911 census listed 34 year-old Frank, his wife and three children at 1 Parker Road. He was employed as a bricklayer. Two year his father died at the ripe old age of 87.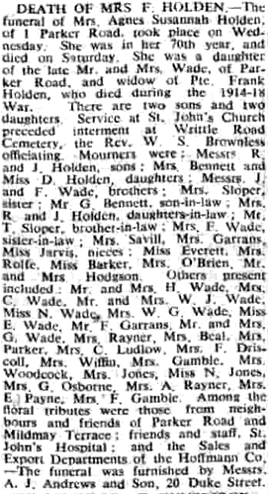 Frank's widow would regularly place in memoriam notices in Chelmsford's papers until her death.
The 1918 register of electors listed his widow still residing at 1 Parker Road. She died in 1946, aged 69, and on 24th July 1946 she was buried in her husband's grave.
Frank's mother died in 1930. 1 Parker Road was demolished around 1954 as part of a slum clearence and rebuilt.
1301102