Frederick 'Fred' Horrex was born and bred in Chelmsford. He worked as a grocer's assistant and as a labourer. He joined the army and was killed in action in December 1916 near Albert in France. His brother was also killed during the war. His home was in Cable's Yard, Moulsham Street.
Fred was born in Chelmsford in 1884, the son of Fred Horrex and Frances Horrex (nee Robinson). Fred's father had been born in 1852 in Sible Hedingham and had been in Chelmsford since at least 1861; his mother in 1853 in Great Baddow. the couple had married at St Mary's Church, Great Baddow on 29th October 1878 and early in 1881 had been resident at 2 Rochford Road in Chelmsford.
Fred's siblings (both born in Chelmsford) were Lilian Elizabeth Horrex (born in 1881 and christened at St John's Church, Moulsham on 20th April 1881, when her father was a tinman and brazier from Mildmay Road, died 1977), and Ernest Horrex (born in 1886).
The 1891 census recorded six year-old Fred living with his parents and two siblings at Angel Yard off Tindal Street, Chelmsford. At the time his father was employed as a tinman.
In 1896 Frederick and his brother Ernest appeared before Chelmsford's magistrates accused of stealing apples at Rainsford End.
HORREX, FREDERICK,
Private, 2nd Battalion, Suffolk Regiment
Fred enlisted at Chelmsford and served as Private 26498 in the 2nd Battalion of the Suffolk Regiment. He was killed in action on 28th December 1916. He is buried at Courcelles-Au-Bois Communal Cemetery Extension, near Albert in Somme, France (grave: D. 14).
Fred is commemorated on the Civic Centre Memorial, Chelmsford, and the Moulsham Parish Memorial, St John's Church, Moulsham. He was entitled to the British War Medal and Victory Medal.
He was brother to Ernest Horrex was killed in 1917. The 1918 register of electors listed Fred's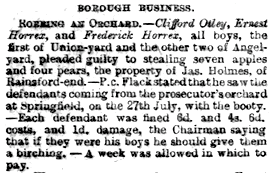 The next census of 1901 found the family still at Angel Yard and Fred's father still employed as a tinman, Fred was a 16 year-old grocer's assistant. His sister worked in a wireless factory and his brother was a house boy.
In 1911 26 year-old Fred was recorded by the census living with his parents, two siblings and a niece at 2 Cable's Yard off Moulsham Street in Chelmsford. Fred and his brother Ernest were labourers; their father was still a self-employed tinsmith. Sister Lilian was a general servant.
parents still at 2 Cable's Yard, off the eastern side of Moulsham Street, between Baddow Road and Hall Street in Chelmsford. The couple were still there according to a 1920 street directory, but one for 1929 only listed Fred's mother, who had been widowed in 1927. In 1938 an order was issued requiring the demolition of the eight cottages in Cable's Yard.