Percy George Hull was born and raised in Chelmsford. He worked for the Co-op, joined the army and landed in France in March 1918. He died from wounds near Albert in France within five weeks of his arrival in the country. His family home was in Mildmay Road.
HULL, PERCY GEORGE,
Private, 7th (Reserve) Battalion, Royal Fusiliers
The battalion took over front line positions at Mesnil, north of Albert, France on 3rd April 1918. Two days later Percy was wounded and he succumbed to those wounds on 20th April 1918 while serving as Private 74621. He is buried at Etaples Military Cemetery some 27 kilometres south of Boulogne, France (grave: XXIX. H. 10A). During the War Etaples was a major hospital centre for the Allied armies and the majority of the ten thousand Allied burials in the cemetery are men who died in those hospitals having been brought there from the front.
On 3rd May 1918 a family announcement in the Essex County Chronicle revealed his death:
"Hull. - On April 20th, Pte. Percy Hull. of the Northumberland Fusiliers, youngest son of Mr. and Mrs. Hull, of Chelmsford, who died of wounds in France received April 5th."
The paper also carried a short report on his death:
"Pt. Percy Hull, Northumberland Fusiliers, youngest son of Mr. and Mrs. Hull of Mildmay Road, Chelmsford, died of wounds on April 20. He was 19 years of age, and had only been in France since March 11 of this year. He was well known in Chelmsford, being employed by the Chelmsford Co-operative Society as a baker's vanman."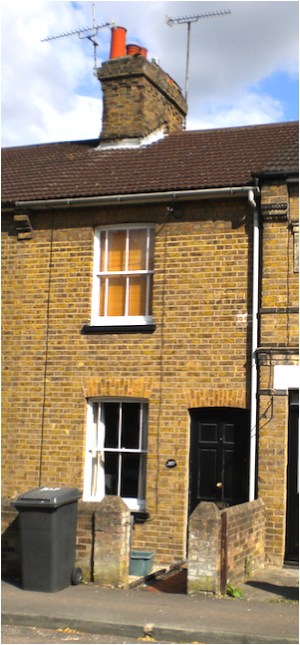 Percy was born in Chelmsford in 1899, the youngest son of David Hull and Emma Hull (nee Spurgeon). His father had been born in 1859 at Inworth; his mother in 1862 at Coggeshall.
They had married at St. Mary's Church, Chelmsford on Christmas Day 1884. At the time Percy's father was aged 25, a carman of Townfield Street, Chelmsford, and the son of David Hull, a maltster. His bride was aged 22, of Railway Square, Chelmsford, and the daughter of James Spurgeon, a stockman.
Percy's siblings (all Chelmsford-born) were Edith Emma Hull (born in 1886), Ernest Edward Hull (1887-1973), Frederick David Hull (1891-1944) and Alice Mary Hull (1893-1977).
In 1891 Percy's parents had been living at 43 Townfield Street, Chelmsford.
The 1901 census found two year-old Percy at 21 South Primrose Hill, Chelmsford (today's number 83), along with his parents and four siblings. His father was employed as a corn merchant's carman.
A decade later the 1911 census recorded 12 year-old Percy living with his parents and four elder siblings at 47 Mildmay Road in Chelmsford (later renumbered as 107, pictured). Percy's father was a brewer's drayman; his brothers Ernest and Frederick were cellarmen; and sister Edith was a domestic servant.
Percy lived and enlisted at Chelmsford and served in the 7th (Reserve) Battalion of the Royal Fusiliers which landed in France in April 1916 and formed part of the 190th Brigade of the 63rd (Royal Naval) Division.
Percy landed in France on 11th March 1918.

Percy is commemorated on the Civic Centre Memorial, Chelmsford, and the Moulsham Parish Memorial at St John's Church, Moulsham Street.
The 1918 register of electors listed Percy's parents at 47 Mildmay Road (today's number 107). His father died in 1940, aged 81. His mother died eight years later, aged 85.
131104