Frederick Charles Hunt was bon in London, brought up in Portsmouth, and arrived in Chelmsford in 1913 where his home was in Gainsborough Crescent. He worked at Hoffmann's bearings factory joined the army and was accidentally killed in France in November 1917.
HUNT, FREDERICK CHARLES,
Private, V Corps Supply Column, Army Service Corps
Frederick is commemorated on the Civic Centre Memorial, Chelmsford, on the Springfield Parish Memorial at All Saints' Church and on the Hoffmann Manufacturing Company's War Memorial at Chelmsford Cathedral.
He was entitled to the British War Medal and Victory Medal.
Frederick's mother, Ella Louisa Palmer and supposed step-father Albert Edward Palmer were listed in the 1918 register of electors at 24 Gainsborough Crescent (now renumbered as 55), in Springfield. It was to remain their home until their deaths - Albert died in 1948, aged 74; Ella followed in 1950, aged 73.
140428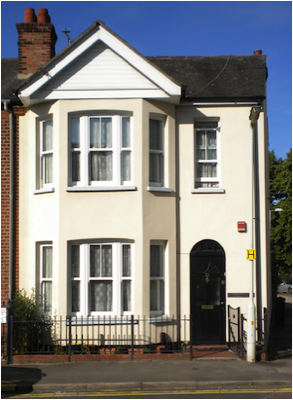 Frederick was born in London in 1898. He was one of four children of Henry James Hunt and Ella Louisa Hunt (nee Crawford). His mother had been born in 1876 in Gravesend in Kent and had married in 1898 in London.
In 1901 two year-old Frederick was recorded by the census with his mother visiting the house of Thomas and Harriett Thornton, 28 Delhi Street in Portsmouth, Hampshire.
In 1911 the census found 12 year-old Frederick living with his mother who was housekeeper to Albert Edward Palmer at 41 Broad Street in Portsmouth. The whereabouts of her husband are unknown. Albert, who had been born c1875 in St. Pancras in London, was a fish salesman. The household also included one of Albert's three surviving children, William Sidney Palmer (born c1900 in Portsmouth), Albert's brother-in-law and two visitors - Harriett Thornton and her son Arthur. Meanwhile Albert's wife of 13 years, Eliza Jane and daughter Gwendoline Gertrude Palmer (born in 1906 in Portsmouth) were resident at 56 Monmouth Road, North End, in Portsmouth.
In 1913 Frederick and his mother subsequently moved to live in Chelmsford with Albert Edward Palmer, though it is unclear
whether the latter two married.
Frederick enlisted at Chelmsford. He was accidentally killed on 2nd November 1917 while serving as Private DM2/165915 in the V Corps Supply Column of the Army Service Corps. He is buried at Arneke British Cemetery, Nord, France, some 50 kilometres south-east of Calais (grave: I. A. 4).
On 7th December 1917 the Essex Weekly News reported:
"Springfield men reported killed include Sergt. Percy Anderson, Essex Regt., son of Mr. and Mrs. Anderson, Chelmer-place; Sergt. W. Cooper D.C.M., adopted son of Mrs. Linnett, of St. Ann's-place; Pte. Stanley W. Ellis, Essex Regt., son of Mr. and Mrs. W. Ells, Chelmer-place; and Pte. F. C. Hunt, A.S.C., Mechanical Transport, son of Mrs. Palmer, Gainsborough-cres., killed in an accident in France."
A week later the Essex County Chronicle carried the following report:
"Springfield men reported killed include Sgt. Percy Anderson, Essex Regt., son of Mr. and Mrs. Anderson, Chelmer Place; Pt. Stanley W. Ellis, Essex Regt., son of Mr. and Mrs. W. Ells, Chelmer Place; and Pt. F. C. Hunt, A.S.C., Mechanical Transport, son of Mrs. Palmer, Gainsborough Crescent."