Ernest Jarvis was born and brought up in Felsted. In 1911 he was living in Chelmsford and working as a grocer's assistant for Luckin Smith's. He married in 1916 and had a daughter. He was killed in action near Arras in April 1917. His wife and child lived in Primrose Hill.
JARVIS, ERNEST,
Private, 1st Battalion, Royal Dublin Fusiliers
Ernest and Edith had a daughter, Beryl Jarvis, born in 1917.
Ernest enlisted at Chelmsford and served as 9342 in the Training Reserve and as 50473 in the Suffolk Regiment. He was killed in action on 24th April 1917 while serving as Private 40413 in the 1st Battalion of the Royal Dublin Fusiliers.
On 26th April 1918 the Essex County Chronicle carried news of his death:
"Pt. Ernest Jarvis, Royal Dublin Fusiliers, formerly of Chelmsford, reported wounded and missing on April 24, 1917, is now reported killed on or about that date. Previous to joining up, he was employed at Messrs. F. Luckin Smith, Ltd., Chelmsford, and was a well-known member of the Conservative Club, a keen sportsman, and had a wide circle of friends, He leaves a widow and one child, who reside at 52 Primrose Hill, Chelmsford."
Ernest has no known grave is commemorated on the Arras Memorial, Arras in France, on the Civic Centre Memorial, Chelmsford, and by the Chelmsford Parish Great War Memorial in Chelmsford Cathedral. He was entitled to the British War Medal and Victory Medal.
He left an estate valued at £179 11s. 6d.
Ernest's brother Arthur served in Canada's Manitoba Regiment.
The 1918 register of electors listed Ernest's parents-in-law at 52 Primrose Hill, Chelmsford. His father died in Chelmsford in 1934, aged 70; his mother followed in 1966, aged 99. His widow died in 1952.
Ernest's daughter married Douglas Alfred George Conybeare, the son of George Robert Thorn Conybeare who is also commemorated by the Civic Centre Memorial, Chelmsford.
140327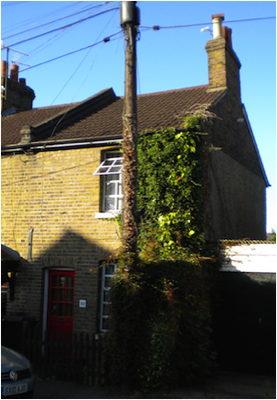 Ernest was born at Felsted, in 1889, the second son of the farm baliff Arthur Jarvis and Lucy Jarvis (nee Livermore). His father had been born in 1863; his mother in 1867 - both in Felsted, and the couple had married on Boxing Day 1887 in Felsted.
At the time Ernest's father was aged 24, was working as a labourer and living in Felsted, and was the son of the labourer Thomas Jarvis. Ernest's mother was aged 21, also living in Felsted, and the daughter of the labourer Moses Livermore.
Ernest's siblings included Albert Jarvis (born in 1888), Alice Maud Jarvis (born in 1892), Ethel Jarvis (born in 1894), Elsie Jarvis (born in 1898), Stanley Jarvis (born in 1900), Winifred Jarvis (born in 1902), Percy Jarvis (born in 1905), and Mabel Jarvis (born in 1908). The entire family were Felsted-born.
In 1891 the census recorded one year-old Ernest living with his parents and elder brother in Bannister Green, Felsted. His father was an agricultural labourer.
The 1901 census found him aged eleven living with his parents and fire siblings on a farm at Bannister Green in Felsted. His father was a farm bailiff and his brother Albert was a stock boy on a farm.
A decade later the 1911 census recorded 21 year-old Ernest living with his aunt and uncle (Harry and Emily Jarvis), and three cousins at 1 Victoria Crescent, Chelmsford. He was a grocer's assistant.
Aged 27, Ernest married Edith May Halls on 30th November 1916 at Chelmsford Cathedral. At the time he was a grocer's assistant living at Boreham. His father was still employed as a farm bailiff. Ernest's bride was aged 23 and the second daughter of Sylvio Eugenis Alphonso Halls and Rose Ann Halls. She lived at 52 Primrose Hill and her father was a clerk. In 1901 she had been living in Elm Road Chelmsford. Her father was a solicitor's clerk at that time.