Douglas James Johnson was born and brought up in Norfolk, arriving in Chelmsford during the war. He was killed in action in March 1918. His home was in Broomfield Road.
JOHNSON, DOUGLAS JAMES,
Rifleman, 1/5th Battalion, London Regiment (London Rifle Brigade)
Douglas enlisted at Chelmsford. He was killed in action on 28th March 1918 while serving as Rifleman 305291 in the 1/5th Battalion of the London Regiment (London Rifle Brigade). He was aged 19.
Douglas is commemorated on the Arras Memorial, on the Civic Centre Memorial, Chelmsford and by the Chelmsford Parish Great War Memorial in Chelmsford Cathedral. Douglas was entitled to the British War Medal and Victory Medal.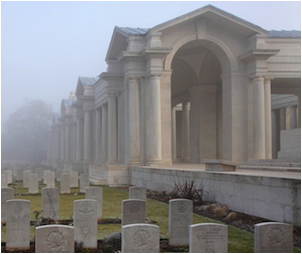 Douglas was born at Terrington St. John, a village between Wisbech and King's Lynn in Norfolk, in 1898, the son of Walter Joseph Johnson and Florey Johnson (nee Badcock). His father had been born in 1860 in Terrington St. John; his mother in 1867 in Holloway, London. The couple had married in 1896.
Douglas' five siblings, all born at Terrington St. John, were Gwendoline Johnson (born in 1897), Violet Millicent Florence Johnson (born 1901), Irene Johnson (born in 1903), Mary Freda Johnson (born in 1904) and Walter Frederick Badcock Johnson (born in 1906).
The 1901 census recorded Douglas, aged two, living with his parents, two siblings and three servants at Belgrave House in
Terrington St. John, where his father was a farmer. A decade later the 1911 census listed 12 year-old Douglas with his parents, five siblings, and two servants in Wisbech, Cambridgeshire. Douglas' father was a retired farmer.
Douglas' family moved to Chelmsford around 1916.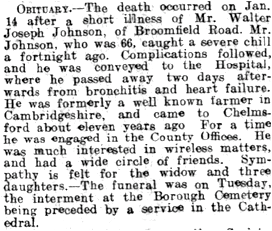 The 1918 register of electors listed his parents at 27 Broomfield Road, Chelmsford (later numbered 52 and now demolished).
In 1923 Douglas' only brother, Walter, died aged 16 in hospital following a short illness and operation. Four years later their father died, aged 58.
131109