Edgar John Lloyd was born in south London and came to Chelmsford in 1911 where he was a postman. He married in 1913 and had a daughter. He joined the army in May 1916 and died from wounds received near Ypres in August 1917. His home was in Nursery Road.
LLOYD, EDGAR JOHN,
Private, 32nd (Service) Battalion, Royal Fusiliers (East Ham)
Edgar enlisted into the army at Chelmsford in May 1916. He served as Private G/37260 in the 32nd (Service) Battalion of the Royal Fusiliers. The battalion had been formed by the Mayor of East Ham in December 1915 and was attached to 124th Brigade in the 41st Division. It landed in France in May 1916, indicating that Edgar was drafted in as a replacement. In September 1916, the battalion participated in the Battle of Flers-Courcelette; and a month later in the Battle of Le Transloy (both parts of the Battle of the Somme). It took a more active part in the successful Battle of Messines in Belgium in June 1917. Between 31st July 1917 and 2nd August 1917 the battalion participated in the British assault on German positions in the Battle of Pilckem Ridge in Belgium; itself the start of the Third Battle of Ypres or 'Passchendaele'.
Two days after the conclusion of the Battle of Pilckem Ridge Edgar succumbed from wounds to his head. He was aged 30. He is buried at La Clytte Military Cemetery, some eight kilometres west of Ypres (grave: II. B. 7).
The Essex County Chronicle of 31st August 1917 reported:
"Signaller Edgar John Lloyd, Royal Fus., whose wife lives at 10 Nursery Road, Chelmsford, and who was a postman in the borough before joining up in May, 1916, died of wounds in the head on August 4. The widow, who is left with one little child, has received a very sympathetic letter from the Chaplain. Deceased would have been 31 in October. He was keenly interested in the Church Lads' Brigade, and held office with the Springfield Company. He was highly esteemed by his fellow workmen. He was the eldest son of Mr. and Mrs, John Lloyd, of 11 Nursery Road."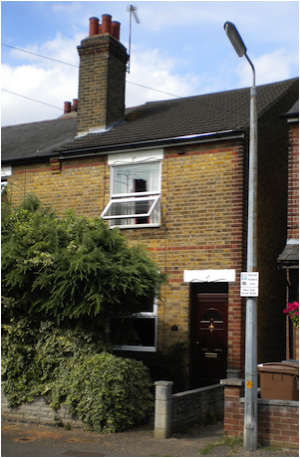 Edgar was born in Camberwell, London in October 1886, the eldest son of the engineer John William and Matilda Lloyd (nee Stockwell). His father had been born in 1856 in Lambeth, London; his mother in 1857 in Camberwell. They had married on 11th December 1881 at Christ Church, Camberwell. At the time both of Edgar's parents were aged 24. His father was then living at 3 Arthur Street, Camberwell, and working as an engineer. His mother lived at 27 Ruby Street, Camberwell.
Edgar was baptised at Christ Church, Camberwell on 28th November 1886 at which time his father was an engineer living at 15 Ruby Street in Camberwell.
Edgar's seven siblings included Beatrice Alice Matilda Lloyd (born in 1883 in Lambeth), Percy William Lloyd (born in 1888 in Camberwell, died in 1942), Eva Dorothy Lloyd (born in 1894 in Peckham, London, died in 1971), Ivy May Gladys Lloyd (born in 1867 in Peckham, died in 1985) and Cyril Ernest Gordon Lloyd (born in 1899 in Peckham, died in 1964). By 1911 two of Edgar's siblings had died in infancy.
The 1891 census recorded four year-old Lloyd with his family at 35 Kincaid Road in Camberwell when his father was employed as an engine fitter.
A decade later the 1901 census found 14 year-old Edgar with his maternal
grandmother, two aunts, an uncle, cousin and boarder at 44 Lower Park Road in Camberwell. Edgar was working for the General Post Office as a telegraph boy. Meanwhile Edgar's parents and four siblings had moved to Chelmsford and were living at 19 Regina Road in Chelmsford, with his father still working as an engine fitter for the laundry engineers Messrs. Glover and Hobson.
In 1911 the census found 24 year-old Edgar living with his parents and three siblings at 11 Nursery Road in Chelmsford and employed as a postman. His 55 year-old father was a fitter (laundry engineering), while his brother Percy was a clerk at Hoffmann's ball-bearings factory in Chelmsford.
Edgar married Winifred Alice Livermore on 29th November 1913 at St. John's Church in Moulsham. At the time Edgar was aged 27, working as a postman and still lived at 11 Nursery Road. His bride was aged 21, resident at 50a Hill Road in Springfield, and the only daughter of William Livermore, a groom. Edgar's brother Percy was best man, and the bridesmaids were Edgar's sisters Eva and Ivy. Among the gifts was a set of cutlery presented by Chelmsford's Postmaster on behalf of the staff at the town's Post Office where Edgar worked.
They made their home at 10 Nursery Road in Chelmsford. The couple had a daughter, Dorothy Beatrice Lloyd who was born in 1916 and died in 1992.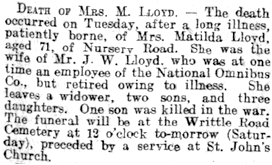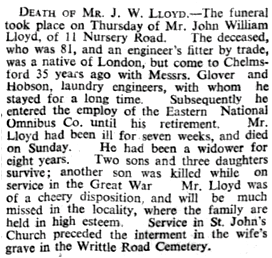 Edgar is commemorated on the Civic Centre Memorial, Chelmsford , and the Moulsham Parish Memorial, St John's Church, Moulsham. He was awarded entitled to the British War Medal and Victory Medal.
The 1918 register of electors listed Edgar's parents at 11 Nursery Road, Chelmsford. His widow later lived at 15 Grove Road, Chelmsford and died in 1967, aged 74. Edgar's mother died in 1929, aged 71; his father died in 1937, aged 81.
1301117