William Charles Lucking was born in Chelmsford and spent the early part of his life there before joing the army in 1895. He served for seven years and participated in the South African War. After working as a waiter he rejoined the army in September 1914 at the age of 37. He landed in France in May 1915 and was died from wounds in July 1916 at the Battle of the Somme. His mother lived in Victoria Road.
LUCKING, WILLIAM CHARLES,
Company Serjeant Major, 2nd Battalion, Royal Scots (Lothian Regiment)
(formerly of the Essex Regiment)
In 1911 the census recorded 36 year-old William, unmarried at Meaanee Barracks in the garrison at Colchester where he was a waiter. Meanwhile his widowed mother and two sisters (Mary and Lilian) and a boarder were listed at 73 Victoria Road, Chelmsford, a detached house (also known as Orchard Cottage) on the south side of the road. Lilian was a domestic servant.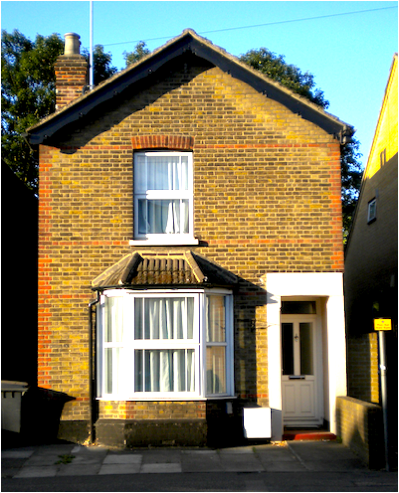 William was born in Chelmsford in 1877, the son of Edwin Henry Lucking and Eliza Lucking (nee Hales). Both parents had been born in Boreham; his father in 1848, and his mother c1853. They had married in London in 1872. William was christened at St. John's Church, Moulsham on 30th September 1877 - at the time his father was joiner of Queen Street, Chelmsford.
Edwin's nine siblings were Annie E. Lucking (born in 1873), Ernest Harry Lucking (1875-1941), Harold George Lucking (born on 4th August 1880, died in 1958), Basil Henry Lucking (1882-1932), Mary Beatrice Lucking (born in 1885), Lilian Hales Lucking (1888-1970), Charlotte Kate Lucking (1890-1948), Alice Elsie Lucking (born in 1892), and Alma Louise Lucking (1895-1985). All were
Boreham-born, except Ernest and Harold who had been born in Moulsham.
When Harold was christened at St. John's Church, Moulsham on 12th September 1880 his father was a carpenter of 14 Queen Street in Chelmsford.
The 1881 census recorded three year-old William living with his parents and three siblings in Queen Street, Chelmsford. His father was a carpenter and journeyman joiner. By the time of the 1891 census William's parents and most of his siblings had moved to Boreham where his father still worked as a carpenter. William remained in Chelmsford and was employed as a page at the Chelmsford Club in New London Road.
On 1st June 1895 William attested at Warley to join the Royal Scots, the oldest regiment in the army, for 'short service' (seven years with the colours and five years in the reserve). His army record shows that he was 18 years and six months old, employed as a carpenter, and was then serving in the 4th Battalion (Militia) of the Essex Regiment. He was medically examined and passed fit at Warley the same day, being described thus: five feet five and a quarter inches tall, weighed 118 pounds, had a chest of 33 and a half inches expanding to 35 inches, a fresh complexion, brown hair and brown eyes, with a distinctive scar on the back of his head. He was a member of the Church of England.
His next of kin were his parents of The Cottage, Boreham, his brother Ernest Harry Lucking of the 4th Hussars at Aldershot, Hampshire, and his brother James Lucking, also of The Cottage, Boreham.
William joined the 1st Battalion of the Royal Scots at Chatham, Kent on 6th June 1895 as Private 5340. He was appointed Lance-Corporal on 19th December 1895 and promoted to Corporal on 10th June 1897. By then. He was appointed Lance Sergeant on 7th April 1898, but deprived of the lance stripe and reverted to Corporal on 7th July 1899. Three months later he returned to Lance Sergeant and was promoted to Sergeant on 29th December 1899.
Having previously been 'at Home' William served in South Africa from 28th April 1900. On 12th September 1900, having been convicted for neglect he was reduced to the rank of Corporal. A few weeks later, on 8th October 1900, he was again convicted for conduct to the prejudice of good order and military discipline and was reduced to the rank of Private. His tour in South Africa concluded on 10th September 1902 and he remained at the rank of Private until discharged as medically unfit on 14th December 1902 at Aldershot, having served for seven years and 197 days. He was entitled to the South Africa Medal with clasps for 1900, 1901 and 1902. After discharge he intended to live at High Road in Boreham.
His brother Ernest had served in the 4th Hussars from 14th June 1892 for 21 years, spending time in India and South Africa as well as the U.K.
The 1901 had census found William's father lodging at a house in Enfield Middlesex and working as a carpenter. He died in 1903 in London, aged 55.

On 8th September 1914 William attested at Doncaster in Yorkshire to join the army reserve (special reservists) one year's service. At the time he was 37 years and six months old, unmarried and employed as a checker at a colliery. He was described in his medical record as five feet six and three-quarter inches tall, weighed 133 pounds, had a chest of 37 and a half inches with normal physical development. He had brown eyes and light brown hair, and was a member of the Church of England. His next of kin was his brother Ernest Lucking, living at Royal Mews in Windsor, Berkshire who served for a second time with the Hussars from 23rd April 1915 to 23rd March 1919.
William was immediately posted to the 3rd Battalion of the Royal Scots as Private 4161, and thirteen days later was appointed Acting Sergeant.
On 31st May 1915 William landed in France as part of the 20th reinforcement and within the week joined the 2nd Battalion Royal Scots (Lothian Regiment) as Sergeant. This was a battalion of the regular army that was stationed in Plymouth at the outbreak of the war, and was part of 8th Brigade in the 3rd Division.
On 15th July 1915 he was promoted to Acting Company Sergeant Major, and was appointed Company Master Sergeant on 29th November 1915.
On 28th January 1916 William reverted to Sergeant upon admission to hospital suffering from tonsillitis. He was discharged to the 205 Convalescent Camp at Wimereux on 12th February 1916. Two weeks later he joined the 3rd Battalion of the Royal Scots at Rouen. News of his illness reached home and on 2nd March 1915 Bessie Lucking wrote back to the Royal Scots acknowledging their notice:
"To the officer in charge of records, Royal Mews, Windsor, Berkshire. Sir I beg to thank you very much for your kind information regarding No. 4181 C.S. M. Lucking of the Royal Scot. I beg to remain yours most respectfully Bessie Lucking."
On 27th March 1916 William was absorbed back into the establishment and returned to the 2nd Battalion in the field on 7th April 1916. He was appointed Acting Company Master Sergeant on 10th April 1916, and on 9th June 1916 was promoted to Warrant Officer Class II and appointed Company Master Sergeant.
His battalion participated in the Battle of the Somme, going into the trenches near Montauban on 7th July 1916. A week later the battalion made successful advances on Bazentin-le-Grand. On 19th July 1916 it was relieved and went to Montauban Alley. The following day it took over captured German positions between Waterlot Farm and Trones Wood. On 22nd July 1916 the battalion carried out a failed assault towards Guillemont - William was killed in action the same day near Longueval. He was 39. He had served for one year and 54 days overseas and 1 year 319 days overall since rejoining the army.
On 25th August 1916 the Essex County Chronicle carried the following family announcement:
"Lucking. - On July 22, Sergt.-Major William C. Lucking, 2nd Batt. Royal Scots, son of the late Henry Lucking, of Boreham, and Mrs. Lucking, Victoria Road, Chelmsford."

William has no known grave and is commemorated on the on the Thiepval Memorial, near Albert, Somme, France, on the Civic Centre Memorial, Chelmsford and by the Chelmsford Parish Great War Memorial in Chelmsford Cathedral. He was entitled to the 1914-15 Star, British War Medal, and Victory Medal.
The 1918 register of electors showed William's mother still living at 73 Victoria Road. On 23rd June 1920 the officer in charge of infantry records for the Royal Scots at Hamilton in Scotland posted to her a memorial scroll and a letter from the King.
William's mother died in 1931.
131117