Harry Mileham was born and brought up in reading where he worked in a biscuit factory. He later worked as an insurance agent in Essex and married in the county in 1907, producing three sons. He also lived in Romford and Ipswich before settling in Chelmsford where he worked at Hoffmann''s bearings factory. After being convicted of a fraud offence he joined the army and died in Italy after an operation in April 1918. His home was in Springfield Road.
MILEHAM, HARRY,
Driver, 1047th H.T. Company, Army Service Corps
On 3rd February 1918 the Essex Newman reported how Harry had appeared at the Winter Assize which had opened at Chelmsford three days earlier before Justice Aviory:
"Robbed Fellow Workman: A Chelmsford Case. Harry Mileham, 33, labourer, pleaded guilty to converting certain sums to his own use and benefit at Chelmsford last August.
Mr. C. E. Jones, prosecuting said this was a very sad case. Prisoner had pleaded guilty to what practically meant robbing his fellow workmates.
Prisoner had been employed at the Hoffmann works , and his employers gave him a most excellent character. He was popular with his fellow workmen. The men ran a holiday and a Christmas fund, into which they paid sums of money, and which, at an agreed time, were shared out. The money was invested, and the interest covered the working expenses, which were otherwise met by the firm, so that the men received back their payments in full. Prisoner was one of the delegates appointed by the men, and he collected sums and paid them to the secretary.
During August he seemed to have got into some difficulty, and did not pay over some of the money he had received; two of the men agreed to let the summer fund money run into the Christmas fund, The amounts on the cards were subsequently altered, and prisoner had not the money to hand over. He went away and wrote very pitiful letters, confessing he had gone wrong and had vainly tried to recover himself by gambling. The total deductions amounted to about 16 guineas. The men themselves were exceedingly sorry for him and wished to recommend him to the mercy of the Court. His employers also spoke well of him.
Prisoner said he would like a chance to redeem his character, He was eligible for the Army and would like to join up.
His Lordship said it was a serious offence to rob fellow workmen. - (Prisoner: Yes, I realise it, and falsify the cards to deceive the auditors. Had it been one case he (the judge) might have listened to prisoner;s appeal. He could not pass a less sentence than three months' hard labour."
Harry lived in Chelmsford and enlisted at Warley. He died on 1st April 1918 while serving as Driver T/364766 in the 1047th Heavy Transport Company of the Army Service Corps. The Commonwealth War Graves Commission recorded his age as 38, though it was likely to have been 39 or 40. Harry is buried at Bordighera British Cemetery in Italy (grave: IV. 13. 4).
On 10th May 1918 the Essex County Chronicle reported:
"Dvr. Harry Mileham, A.S.C., of Springfield Road, Chelmsford, formerly of Hoffmann's died in hospital in Italy after an operation, aged 38 years. He leaves a widow and two children."
Harry is commemorated on the Civic Centre Memorial, Chelmsford and on the Springfield Parish Memorial at All Saints' Church. He was entitled to the British War Medal and Victory Medal.
The 1918 register of electors listed Harry's widow at 156a Springfield Road, Springfield (later renumbered). She died in 1941, aged 61.
Harry's brother Walter lost his life during the First World War in 1916.
140330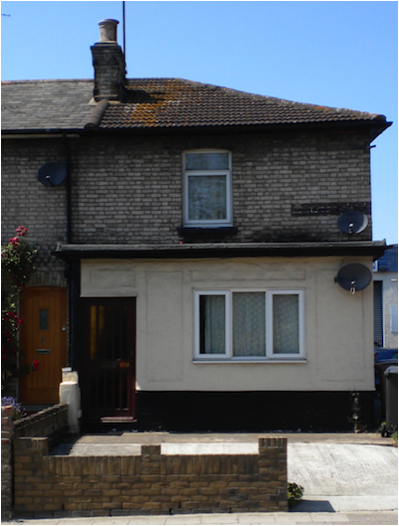 Harry was born in 1878 in Reading, Berkshire, the son of Henry Mileham and Mary Ann Mileham. His father had been born in 1851 in Hurst, Berkshire; his mother c1854 in Lambeth, London. The couple had married in Reading in 1874.
Harry's siblings, all born in Reading, included Alice Emma Mileham (born in 1874), Ruth Mileham (born in 1875), Ernest Sidney Mileham (1880-1938), Walter John Mileham (1882-1916), Bertha Minnie Mileham (born in 1884), Ada Mileham (born in 1886), Kate Maud Mileham (1888-1960), Florence May Mileham (1891-892), and Norah Violet Mileham (1895-1916).
Harry was aged two at the time of the 1881 census which found him living with his parents, two elder sisters and younger brother Ernest at 25 Brunswick Street in Reading. His father was a drainage labourer. A decade later the 1891 census found 12 year-old
Harry living with his parents and six younger siblings at 27 Garnet Street in Reading. His father was a labourer. In 1901 the census recorded Harry, his parents and seven siblings living at Grasmount in Dover Street, Reading. Harry was a labourer in a biscuit factory; his father was a sewer flusher; his brother Ernest was a chainman surveyor while brother Walter was a coach painter.
He married Edith Ada Plastow (occasionally 'Plaistow') on 29th January 1907 at Stisted. - his wife's 27th birthday. She had been born in 1880 in Stisted, the daughter of William and Eliza Plastow. At the time of the marriage Harry was living at Hornchurch, employed as an insurance agent, while his father was described as a corn merchant.

In 1911 the census found the couple and their eldest child, Leslie William Mileham (born c1909 in Romford, died in 1912) at 43 Ann Street, Ipswich in Suffolk. Harry was an insurance agent. Harry and Edith went on to have two more children; Denis C. Mileham (1914-1958) and Neville Claude Mileham (1917-1983)