MILLER, FREDERICK WILLIAM,
Private, 1st Battalion, Bedfordshire Regiment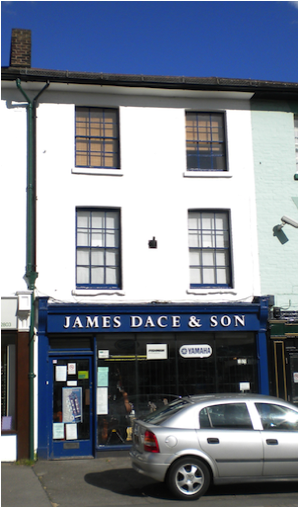 Fred was born in Writtle in 1879 the son of Alfred Miller and Emily Louisa Miller (nee Bailey). His father had been born in Writtle in 1855; his mother in Christchurch, Hampshire in 1859. The couple had marred in 1879.
Fred was one of eight children, one of whom was to died by 1911. His siblings included Melvina Maud Miller (born in 1881 in Writtle, died in 1966), May Emily Miller (born c1884 in Writtle, died in 1965), Alice Miller born in 1888 in Writtle, died in 1888), Lilian Miller (born c1888 in Writtle), Henry (Harry) Miller (born c1890 in Writtle), Eda Miller (born c1893 in Chelmsford) and Marjorie Miller (born c1904 in Chelmsford).
In 1881 the census recorded one year-old Fred living with his parents and sister Melvina at Waterloo Street in Writtle, close to the Cock and Bell Inn. At the time his father was a brewer's labourer. A decade later Fred was listed by 1891 census, aged 11, living with his parents and four siblings in Writtle. His father was still a brewer's labourer.
On 9th August 1897 Fred attested at Chelmsford to join the Essex Regiment. At the time he was 17 years and ten months old, resident in Springfield, and working as a plumber for Mr. Hawkes of Chelmsford. He had previously served for the 2nd Volunteer Battalion of the Essex Regiment, a part-time unit and forerunner to the Territorial Army. Fred was five foot two and a half, weighed 112 pounds, had a fresh complexion with grey eyes and brown hair.
The census of 1901 found Fred's parents
and four siblings at 6 Canal Cottages in Springfield. His father was a gas stoker. At that time Fred is presumed to have been serving with the army in South Africa. He also served in India.
During the First World War Fred served as Provate 7469 in the 1st Battalion of the Bedfordshire Regiment under the his mother's maiden surname Bailey. His battaliion was a regular army unit, which was based in Mullingar in Ireland at the outbreak of the conflict. As part of the 5th Division it left Belfast on the S.S. Oronsa on 14th August 1914 and arrived at Le Havre in France on the night of the 15th August 1914, disembarking the next day.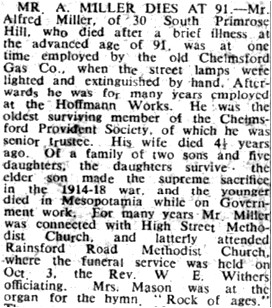 Fred was killed in action on 7th November 1914, and today lies in St. Julien Dressing Station Cemetery six miles from Ypres in West-Vlaanderenone, Belgium. He is one of two men commemorated on the Civic Centre Memorial, Chelmsford to die with the 1st Battalion of the Bedfordshire Regiment that day - the other was Arthur George Theobald. The regimental diary entry for that period records:
6 Nov 1914 - trenches south of Menin Road
Left LOCON 7 a.m. in motor 'buses, & proceeded to near YPRES where we halted. Moved again on foot at 5 p.m. via Ypres, & Hooge to trenches in wood south of road, where remaining two companies of Battn had arrived on previous day. Passed 2nd Bn. Bedf. Regt near BAILLEUL, resting: 1st Battn relieved them in firing line.
7 Nov 1914
Enemy broke through line held by Regt about 200 yards to our left, carrying next Regt & some of our men with them. Our supports were moved to left by self, Capt. Monteith & Adjutant, & assisted in driving enemy back. Qr.Mr. Sergt. Byford (awarded Distinguished C. Medal) collected about 40 men & captured trench held by 21 Germans, killing or capturing all. Pte. Falla (awarded Distinguished C. Medal) ran on in advance, & getting on left of trench enfiladed enemy whilst remainder were rushing the trench. Our casualties about 7 officers & 140 other ranks killed wounded 7 missing.
Frederick William 'Fred' Miller was born in Writtle and after working for a plumber joined the army in 1897 and served in the South African War. By 1911 he was out of the army and working as a grinder. The following year he married a widower in Bedfordshire, and at the outbreak of the war he rejoined the army. He was killed in November 1914 near Ypres. His parents lived in Broomfield Road.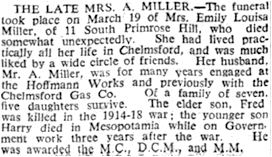 On 4th December 1914 the Essex County Chronicle reported:
"Pt. Fredk. Wm. Miller, 1st Beds. Regt., was killed in action on Nov 7. No intimation has yet been received from the War Office. He was the eldest son of Mr. and Mrs. A. Miller, of 14 Broomfield Road, Chelmsford, and was about 33 years of age. He lived at Luton, where he married a widow lady with four children. Deceased went through the Boer War with the Essex Regt., for which He was entitled to the S.A. medal and was for some time acting Army schoolmaster in India and at Colchester. He was very popular, and his letters from the front were always cheerful and bright. Another son of Mr. and Mrs. Miller is also at the front."
Fred is commemorated on the Civic Centre Memorial, Chelmsford.
The 1918 register of electors recorded his parents still residing at 14 Broomfield Road (today's number 22, pictured).
During the war Fred's brother Harry was awarded the Military Cross, Distinguished Conduct Medal and Military Medal. He ided three years after the war in Mesopotamia while on Government work.
Fred's mother died in 1942, aged 69. His father died in 1946, aged 91.
170124