Frederick 'Fred' Minns was born and raised in the Moulsham area of Chelmsford. He worked as an engineer's labourer, probably at Hoffmann's bearings factory, before joining the army. He was recommended for the Distinguished Conduct Medal and was posthumously awarded the Military Medal. He was shot in the head and killed on the opening day of the Battle of the Somme in July 1916 while tending to a wounded comrade. His home was in Grove Road. A brother was also killed during the war.
MINNS, FREDERICK, Military Medal,
Lance Corporal, 2nd Battalion, Essex Regiment
When the attack was launched at 9 a.m. on 1st July 1916 Fred's battalion emerged from their trenches an hour and a half after an assault from colleagues in the 11th Brigade, to advance past those comrades and capture a portion of the Puisieux to Grandcourt ridge. It was rolling chalky country, overlooked by enemy positions, with the hamlet of Serre on top of the slopes that faced the Essex men. Their line of attack was by the right of Pendant Copse, directly on the church spire at Miraumont, which lay in a hollow on the River Ancre beyond the ridge.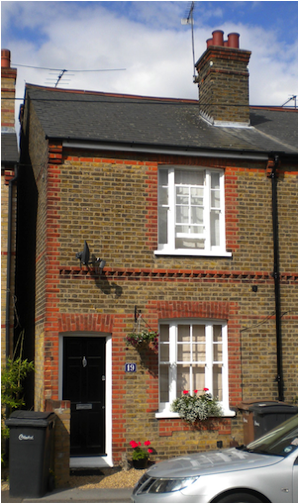 Fred was born in Chelmsford in 1887, the son of the rope-maker Henry Ellis Minns and Mary Ann Minns (nee Newcomb). His father had been born in 1850 in Norwich, Norfolk; his mother in 1857 in Tiptree Heath. They had married in Norwich on 2nd June 1873 and in 1881 had been living at Bodkin's Cottages in Moulsham Street, Chelmsford.
Fred's seven siblings were: Mary Ann Minns, (born in 1874), Rose Eda Minns (c1876-1877), Henry Minns 1878-1915), William Minns (1881-1908), Louisa Minns, (1884-1966), Rosina Minns (1890-1900), and Percy George Minns (1892-1950). All the children were Chelmsford-born.
Fred was aged five and living at 9 George Street, Chelmsford when the 1891 census was conducted. He was accompanied by his parents and five siblings. His father was a rope-maker, his mother a winder at a factory. His brother Henry was a labourer at a rope works, presumably at H. & T. C. Godfrey's works also in Moulsham Street.
The 1901 census recorded 15 year-old Fred with his parents and siblings at Black Horse Yard, off the eastern side of Moulsham Street, Chelmsford. He was employed as a bricklayer's labourer. His father was still employed as a rope-maker. By that time Fred's sister Louisa had married Arthur Rolfe and the couple were also at Black Horse Yard.
Street directories of 1910 and 1913 showed the Minns family living at the back of 168 Moulsham Street. The 1911 census, which
described the address as Minns' Yard, Moulsham Street, recorded 23 year-old Fred living there with his parents and a boarder. Fred was an engineer's labourer at Hoffmann's ball-bearings factory in Chelmsford. His father remained a rope spinner.
In August of the following year Fred appeared as a witness at Chelmsford Petty Session when his brother Henry was before the magistrates accused of being drunk. The Essex County Chronicle reported:
"Henry Minns, a labourer, of Chelmsford, who wore four Army medals, denied a charge of being drunk. P.s. Wood said defendant came out Red Lion Inn, Loudon Road, on the night of Aug. 24th and staggered into the fence, then staggered towards the road, and witness caught him and prevented him from falling. Defendant's brother came up and assisted him home. Witness went into the inn shortly after 10.30 p.m. but could not say that the defendent was there and saluted him. —P.c. Joslin said defendant was helplessly drunk. —Frederick Marshall, called for the defence, said defendant was sober when he left the inn. Defendant's brother went towards the defendant because the sergeant had taken his name.—Defendant said the police were round him like a picket—he thought he was in the Army. (Laughter).- Marshall added that he did not see defendant stagger. —Frederick Minns said he was with his brother in the Red Lion. Defendant left first, and when witness came out he saw several police there and defendant standing the path with his hands in his pockets. Witness, went across and asked his brother what was the matter, and advised him to go away home "to avoid argument." Defendant, was quite sober. Nothing was known against defendant, who was fined 2s. 6d. and 4s. costs."
Fred enlisted at Chelmsford and served with the 2nd Battalion of the Essex Regiment, a regular army unit that was at Sheerness in Kent at the start of the war. The battalion, including Fred, crossed the English Channel from Southampton on the S.S. Corsican, landing in Le Havre early on 24th August 1914.
His battalion saw action at the 1914 Battles of Le Cateau, of the Marne, of the Aisne, of Messines and 1915 Second Battle of Ypres.
Fred's brother Henry Minns was killed in action on 19th June 1915.
At the end of June 1916 Fred's battalion, part of the 12th Brigade of the Army's 4th Division was in Bertrantcourt, to the north of Albert in the Somme region of France. On the evening of 30th June 1916 troops of the battalion left the village and proceeded to assembly trenches, ready to form part of the following day's attack to seize high ground between Puisieux and Grandcourt.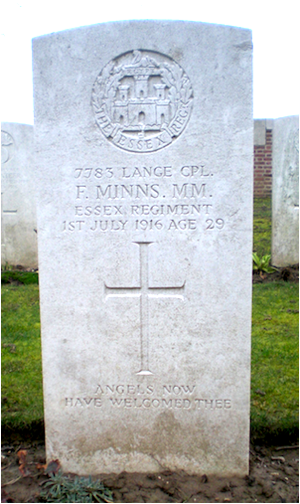 The men of the battalion suffered considerably from shell-fire, but were able to reach and reinforce comrades in the Rifle Brigade and Warwickshire Regiment. Some troops entered the enemy's Munich trench and the western edge of Pendant Copse. From around 11 a.m. they were gradually pushed back in bitter fighting from those locations throughout the rest of the day to a position known as the 'Quadrilateral'. The survivors were replaced by fresh troops around midnight.
At the start of the day 24 officers and 606 other ranks of Fred's battalion had gone into action, and by the evening had been reduced to only two officers and 192 other ranks. Among the dead was Fred who was killed while serving as Lance Corporal 7783. He was aged 29.
Today he lies at Sucrerie Military Cemetery, Colincamps, Somme, France, about 10 miles north of Albert (grave: I. E. 10). His epitaph is inscribed "Angels now have welcomed thee."
The Essex County Chronicle of 21st July 1916 reported:
"Mr. Henry Minns, of Grove Road, Chelmsford, has been informed by the War Office that his son, Pt. Fred. Minns, Essex Regt., aged 28, was killed in action. Mr. Minns lost his son Harry some months ago. Fred. had been at the Front from the beginning, and had previously been recommended for the D.C.M. for rescuing an officer from barbed wire
under heavy fire. He met his death in a tragic way. Returning to his dugout after an advance, he stopped to bind the wounds of another soldier, when he was shot in the head."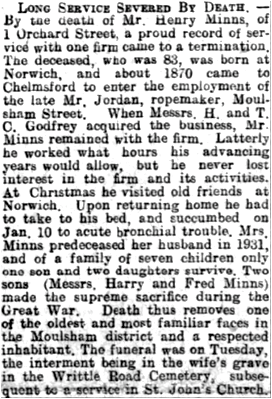 The Supplement to the London Gazette of 19th February 1917 announced the award of the Military Medal to Fred. He was also entitled to the 1914-15 Star, British War Medal, and Victory Medal.
Fred is commemorated on the Civic Centre Memorial, Chelmsford, on the Hoffmann Manufacturing Company's War Memorial at Chelmsford Cathedral, and the Moulsham Parish Memorial, St John's Church, Moulsham.
The 1918 register of electors showed Fred's parents at 19 Grove Road, Chelmsford. Two years later his father was listed in a street directory as a rope maker of the same address. The 1918 register of electors showed Fred's parents at 19 Grove Road in Chelmsford (pictured).
Fred's mother died in 1931, aged 73; his father died in 1934, aged 83.
131129