Cecil Wilfred Neave was born and raised in Chelmsford, becoming an accountant by profession. He married in 1913 in Middlesex and joined the army after the outbreak of war. He was killed in action at thw Battle of the Transloy Ridges in October 1916. His brother lived in Baddow Road.
NEAVE, CECIL WILFRED,
Private, 8th (Service) Battalion. Royal Fusiliers
Although a native of Colchester, he had lived most of his life at Chelmsford. He was a staunch Conservative, and an active worker for that cause. He was also a loyal Churchman, and for a long time was a sidesman at St. Mary's Church.
At one time he was in the employ of Messrs. Gepp and Sons, solicitors, and afterwards served in the County Court Office.
For many years he had been an invalid and great sufferer. He leaves a widow and six grown up children, One son, Reginald, is in the 12th Lancers at the Front."
Cecil attended his father's funeral service on 1st March 1916.
Cecil's battalion saw heavy fighting throughout the Battle of the Somme. On 7th July 1916 it suffered 640 casualties when attacking Ovillers; and in early August 1916 it captured 4th Avenue and Ration Trench. After some weeks in the Arras sector the battalion returned to the Somme at the end of September 1916. On 2nd October 1916 it took over trenches west of Gueudecourt and near Flers,
On 7th October 1916 Cecil's battalion suffered heavy casualties in an attack on Bayonet Trench north-west of Gueudecourt; an engagement which was part of the Battle of the Transloy Ridges, itself part of the latter stages of the Battle of the Somme . A history of the Royal Fusiliers written after the war included the following:
"The Fourth Army operated along the whole front from Les Boeufs to Destremont Farm in support of the French advance on Sailly-Saillisel. The front upon which the Royal Fusiliers were engaged stretched, roughly, between the road running from High Wood to Le Barque and the road running north from Gueudecourt......
The 8th and 9th Battalions on this occasion suffered very heavy losses, and did not reach their objectives. When the attack began at 1.45 p.m. on October 7th everything, from advanced headquarters, appeared to go well. Within half an hour reports came back that this was the case, but in an hour it was known that even the first objective, Bayonet Trench, had not been reached.
The German positions were found to be held in great strength, and it was later discovered that the attack had coincided with a relief. The artillery and machine gun fore were too heavy, and the front companies were mown down. The 9th alone had 15 officer casualties, and about 250 other ranks. They mustered, on relief , 144, with B Company reduced to 12. The 8th had 9 officer casualties and 244 other ranks.
Each of these battalions received from General Boyd Moss the following message: 'Will you please thank all ranks of your battalion for the magnificent gallantry they displayed yesterday. They advanced steadily under a heavy fire which only the very best troops could have faced. Though unfortunately unsuccessful, their gallant conduct added to the fine reputation which you have already won for yourselves.'"
Cecil was killed in action that day while serving as Private 36454. He was aged 28. Cecil has no known grave and is commemorated on the Thiepval Memorial, near Albert, Somme, France, on the Civic Centre Memorial, Chelmsford, and on the Feltham War Memorial. He was not commemorated by the war memorial at St. John's Church, Moulsham.
He was entitled to the Victory and British War medals.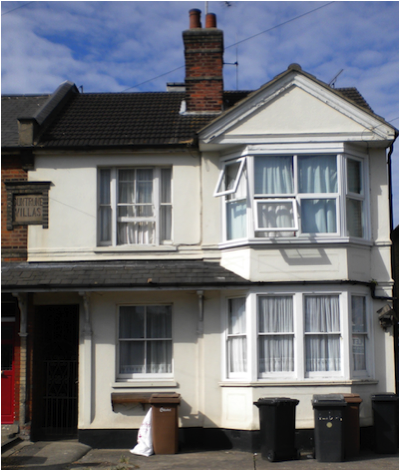 Cecil was born at Chelmsford on 24th March 1885 (his forenames were recorded at the time as 'Wilfred Cecil'), the son of the actuary and accountant Henry William Neave and Mary Ann Neave (nee Polley). He was baptised at St. Mary's Church, Chelmsford (today's Cathedral) on Boxing Day 1885. At the time his father was an accountant of High Street, Chelmsford.
Cecil's father had been born in Colchester in 1838; his mother in Sandon c1843. The couple had married in London in 1864. In 1871 they had been resident in Broomfield Road, Chelmsford, and in 1881 were living at 75 High Street, Chelmsford, the Chelmsford and Dengie Hundred Savings Bank where Cecil's father was an actuary, having been an accountant in 1871.
Cecil's eight siblings, all
Chelmsford-born, were Bertha Neave (1865-1937), Gertrude Neave (1868-1901), Margaret Neave (born in 1870), Beatrice Sophia Neave (born in 1874), Walter Stanley Neave (1879-1960), Reginald Neave (born in 1881), Katherine Helen Neave (born in 1883)., and Richard Henry Neave (1887-1887).
In 1891 five year-old Cecil was recorded by the census living with his parents and four siblings at 75 High Street, where his father remained a savings bank actuary. He was also Chelmsford's first Borough Auditor.
At the time of the 1901 census 16 year-old Cecil was employed as a merchant's clerk and lived with his parents and two siblings in Arbour Lane, Springfield. His father was a self-employed accountant; his elder brother Walter was also a merchant's clerk.
The 1907-8 to 1910-11 registers of electors showed Cecil's father at 3 Hillside Villas in Arbour Lane (later known as number 42). In 1909 Cecil played the organ at his brother's wedding to Minnie Maria Loffler at All Saints' Church, Springfield.
In 1911 the census listed 26 year-old Cecil working as an accountant and living with his sister Margaret Neave (a dressmaker), Alice Annie Nehan (a dressmaker) and Ernest Arthur Nehan (a mathematical apparatus maker!) at 70 The Grove, Ealing in London. Meanwhile Cecil's elderly parents were living in retirement at 39 Goldlay Road in Chelmsford.
Cecil married Florence Emiy Farr on 8th September 1913 at St. Dunstan's Church, Feltham in Middlesex. At the time he was aged 25, employed as a clerk, and live at 29 Queen's Road in Feltham. His bride was also aged 25, the daughter of John Farr, a labourer.
Cecil enlisted into the army at Hounslow, Middlesex, serving with the 8th Battalion of the Royal Fusiliers, a New Army battalion which was formed in Hounslow in August 1914. It formed part of the 36th Brigade of the 12th (Eastern) Division and spent time in Colchester, Hythe and Aldershot in Hampshire and left for France at the end of May 1915. Cecil is thought to have joined the battalion during 1916.
Cecil's father died early in 1916, aged 78. The Essex County Chronicle of 25th February 1916 reported:
"Death of Mr. J. W. Neave. - We regret to record the death of Mr. Henry William Neave, of 76 Baddow Road. which took place yesterday, at the aged of 78.
Until about twenty years ago the deceased was a most prominent figure in the town, and scarcely a movement went on without him taking some part. He was the actuary of the old Chelmsford Savings Bank until it was merged into the Post-office Bank. He was also for a period the secretary of the Hospital, of the Old Town Jury Club. Mr. Neave was also the borough auditor.

After the war Cecil's widow lived at 20 Queen's Road, Feltham, Middlesex. The 1918 register of electors listed his brother and sister in law at 76 Baddow Road, Chelmsford (renumbered as 240 in 1935).
Cecil's mother died in 1935, aged 92. His widow died in Surrey in 1968.
140325