Charles Potter moved to Chelmsford with his family around 1884. Five years later he joined the Royal Navy and he remained with that service until 1913. The outbreak of the war saw his recall to the navy. He lost his life in the Mediterranean in October 1915 when his ship was sunk in an accidental collision with a larger Royal Navy vessel. His next of kin was his sister who lived in Mill Road.
Charles was born at Cranham on 2nd October 1873 (according to his Royal Navy service record), the eldest son of Robert Potter and Emma Potter. HIs father had been born c1848 in Ixworth, Suffolk; his mother had been born in 1849, also in Cranham. They had married at Cranham on 31st December 1870. At the time Charles' father was 24 years old and employed as a sailmaker. His wife was aged 21, and both lived in Cranham.
Charles' siblings included Edith Maud Potter (born in 1876 in Upminster, died in 1923), William George (born in 1879 in Upminster), George Potter (born in 1881 in Romford), Florence Potter (born in 1884 in Chelmsford), Louisa Alice Potter (born in 1888 in Chelmsford, died in 1937), and Nellie Elizabeth Potter (born in 1890 in Chelmsford).
The 1881 census found seven year-old Emma, living with his parents and two younger siblings at Squirrell's Heath, near Romford. His father was a labourer; his sister Edith, a dressmaker.
Around 1881 the family is thought to have moved to Chelmsford. The 1891 census found Charles' family living at 8 Mill Road, a property close to Chelmsford railway station, now redeveloped as part of Townfield Street Car Park. Hs father worked in a factory.
Since April the previous year Charles had seen service with the Royal Navy. He subsequently signed up for 12 years' service on his 18th birthday on 2nd October 1891. At the time he was described as five feet, three and one eights inches tall, with brown hair and eyes and a fresh complexion, and had been employed previously as a labourer. Starting as an Ordinary Seaman, Charles rose to become an Able Seaman in August 1892, a Leading Seaman in July 1897 and a Petty Officer second class in April 1899. Over that period he had served on/at H.M.S. Lion, H.M.S. Vivid I, H.M.S. Calypoo, H.M.S. Cambridge, H.M.S. Defiance, H.M.S. Blanche. H.M.S. Pembroke I, H.M.S. Wildfire I, and H.M.S. Isis, including two or more postings at some of them.
By the time of the 1901 census he had also seen service on/at H.M.S. Vernon and H.M.S. Goliath. That census found Charles' parents and six siblings still living at 8 Mill Road. Charles' father was foreman with the Great Eastern Railway; his sister Edith was a dressmaker; his brother William was a printer; his brother George was a porter for the Great Eastern Railway; and sister Florence was a dressmaker.
Charles' father died in 1902, aged 56, and in June of the following year Charles became Petty Officer first class. On 29th September 1903 he extended his service with the Royal Navy. By then he had grown to five feet, five-and-a-half inches tall. He subsequently saw service with H.M.S. Pembroke I, H.M.S. Vernon, H.M.S. Erebus, H.M.S. Fishguard, H.M.S. London, H.M.S. Vulcan, H.M.S. Actacon, H.M.S. Shannon and H.M.S. St. George, before becoming a Leading Seaman in April 1910. He then served with H.M.S. Pembroke from June 1910.
POTTER, CHARLES,
Petty Officer, H.M.S. Hythe, Royal Navy
Mediterranean Sea in September 1918.
His death was recorded in the Essex County Chronicle on 12th November 1915:
"A.B. C. Potter, who went down with H.M.S. Hythe while engaged in mine sweeping at the Dardanelles, was the eldest son of the late Mr. Robert Potter, of Mill Road, Chelmsford, and was 43 years of age."
Charles' next of kin at the time of his death was his sister Louise Alice Potter, still of 8 Mill Road. Charles has no known grave is commemorated at Chatham Naval Memorial in Kent, on the Civic Centre Memorial, Chelmsford, and by the Chelmsford Parish Great War Memorial in Chelmsford Cathedral.
131219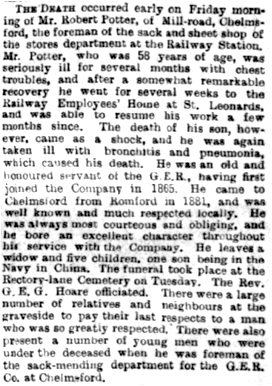 Charles' mother had died in 1909, aged 59, and the census of 1911 found 8 Mill Road home to three of Charles' siblings - George Potter, Louise Alice Potter, and Nellie Elizabeth Potter. The census also recorded 37 year-old Charles, unmarried and serving on board H.M.S. Newcastle, positioned at Hong Kong. he had joined the vessel in September 1910. Charles later served on H.M.S. Gibraltar and H.M.S. Andromache, He became a Petty Officer in March 1913 and finished with H.M.S. Pembroke I on 9th October 1913, retiring to pension.
That retirement was short-lived - with war looming Charles rejoined H.M.S. Pembroke I on 2nd August 1914, before joining his final ship, H.M.S. Hythe on 14th November 1914.
Charles was killed on 28th October 1915 while serving as Petty Officer 1st Class (Pensioner) 155278 on the 509 ton vessel H.M.S. Hythe, Royal Navy when she was run down and sunk by the armed boarding steamer H.M.S. Sarnia off Capes Helles in the Mediterranean Sea whilst working on troop movements in support of the Allies' ultimately unsuccessful invasion of Gallipoli. Charles was one of more than 150 men killed in the incident. H.M.S. Sarnia was later torpedoed and sunk by a German U-boat in the Mediterranean Sea in September 1918.