Private B. Rayner of the Suffolk Regiment is commemorated on the Civic Centre Memorial, Chelmsford.
RAYNER, CHARLES GEORGE,
Private, 2nd Battalion, Suffolk Regiment
The 1881 census found one year-old Charles living with his parents and two elder siblings in Canewdon where his father was a labourer. Ten years later the 1891 census recorded Charles, aged 13, his parents and six siblings living in Great Burstead. Charles' father and brother John were both agricultural labourers. by 1901 Charles' parents had moved to Netteswell, but he was not found with them in the census of that year.
The 1911 census listed Charles aged 31, his parents and two siblings living at 14 Gainsborough Crescent (today's number 35, pictured) in Springfield. At the time Charles was a labourer, while his father and brother Robert were both horsemen on a farm. Charles' mother died on 24th November 1913, aged 65.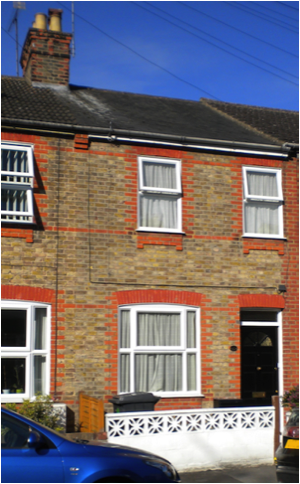 He is believed to be Private 3/9568 Charles George 'George' Rayner of the 2nd Battalion of the Suffolk Regiment who died from wounds on 26th June 1916 and is buried in Boulogne Eastern Cemetery, Pas de Calais in France (grave VIII. B. 49.). He was entitled to the Victory, British War and 1914 Star medals and had landed in France on 7th October 1914.
He was one of seven children of Charles Rayner and Hannah Mahala Rayner (nee Hurrell) and was born in Canewdon in c1880. His father had been born in Dengie or Southminster in 1846; his mother at Canewdon in 1849. The couple had married in 1871.
Charles' six siblings (all Canewdon-born except where stated) were John Robert Rayner (born in 1873 in Mayland, died in 1943), Caroline Ann Rayner (1875-1958), Robert Hurrell Rayner (born on 1st July 1880, died in 1942), Hannah Mahala Rayner (born in 1883), Arabella Rayner (1886-1957), and Lilian May Rayner (born in 1889).

His father later lived at 69 Arbour Lane, Springfield and died on 13th August 1924, aged 78. His brother Robert died on 28th November 1942.
Charles is also commemorated by the Springfield War Memorial at All Saints' Church and by his family's grave in Holy Trinity Churchyard, Springfield
131221