John Arthur Roberts was born and raised in Writtle. By the age of 11 both his parents had died. During the war he served in the army and was killed in action in August 1918. His home was in Waterhouse Street.
ROBERTS, JOHN ARTHUR,
Rifleman, 9th (County of London) Battalion (Queen Victoria's Rifles)
In 1911 the census found John, aged 12, living with his widowed step-mother and a boarder from France at 15 Waterhouse Street in Chelmsford (pictured).
John lived and enlisted at Chelmsford and served as Rifleman 392949 (formerly 6678) in the 9th Battalion of the London Regiment (Queen Victoria's Rifles). In 1918 the battalion was part of the 175th Brigade in the 58th Division. John was killed in action on 25th August 1918.
He is buried at Bronfay Farm Military Cemetery, Bray-Sur-Somme, some eight kilometres south-east of Albert (grave: I. D. 1). The register of electors for that year listed him and his step-mother at 15 Waterhouse Street.
John is commemorated on the Civic Centre Memorial, Chelmsford, but is not commemorated on the war memorial at St. John's Church in Moulsham. He was entitled to the Victory and British War medals.
131228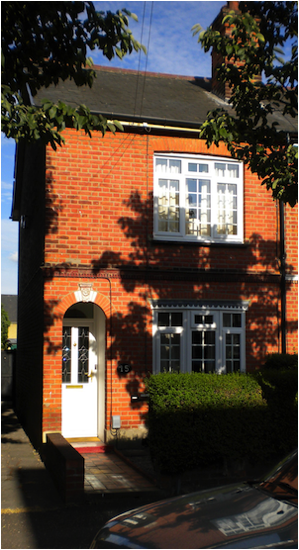 John was born in Writtle on 12th June 1898, the son of the blacksmith Arthur Hennage Roberts and Maria Roberts (nee Shuffill). He was baptised at All Saints' Church in Writtle on 2nd September 1898.
His father had been born in 1864 in Suffolk; his mother in 1864 in Whitchurch, Buckinghamshire. The couple had married on 3rd January 1891 at St' Luke's Church in Chelsea London. At that time his father was a blacksmith living in Writtle, while his mother was resident at 58 Elm Park Gardens in London. Both were aged 36. By the spring of 1891 they were both living in Writtle.
John's siblings, included Ethel Mary Roberts (born in 1892 in Harlington, Bedfordshire), Annie Sabina Roberts (born in Writtle in 1894), Frances Marjory Roberts (born in Writtle in 1896), Eleanor Roberts (born and died in 1901), and Constance Alexandra Roberts (born and died in 1902).
The 1901 census found two year-old John, his parents and three sisters living at Crompton Terrace (now 53 Crompton Street), then part of the parish of Writtle, but part of the Borough of Chelmsford from 1907.
John's mother died in 1902 aged 38. His father remarried on 30th May the following year at All Saints' Church, Writtle to widow Elizabeth Everard (nee Hurrell) who had been born in Roxwell in 1859. At the time both were living at 9 Crompton Terrace and John's father was still working as a blacksmith. However, their marriage was to be a brief one, with John's father dying in 1909 aged 45.