Arthur Rolfe (sometimes 'Rolph') was Chelmsford born and bred. Aged 21, he joined the army in 1890 for seven years. Within a year he married in Chelmsford and went on to have five sons, but was recalled by the army to serve in the South African War between 1899 and 1902. Back in Chelmsford Arthur worked at Hoffmann's bearings factory and as a cab driver. He rejoined the army at the outbreak of the war and towards its end served in the Royal Defence Corps. He died in Oaklands Hospital in 1918. His home was in Coval Lane.
ROLFE, ARTHUR,
Private, 56th Protection Company, Royal Defence Corps (formerly of the Essex Regiment)
He was medically examined three days later at Warley and passed fit. He was described as five feet five and one eighth inches tall, weighed 126 pounds, had a 32 inch chest, fair complexion, blue eyes and fair hair, with distinctive scars on his nose and scalp. He was a member of the Church of England.
Arthur was given the service number 2800, posted as a Private on 15th May 1890, and transferred to the regiment's 2nd Battalion on 7th March 1891 upon arrival in Cyprus, having previously served 'at home'. He was appointed Lance-Corporal on 19th September 1891, and arrived in India on 8th October 1892. He and reverted to Private on 20th August 1894 at his own request. He arrived home pm 6th November 1897 and was discharged to the reserve.
Arthur married India-born Minnie Amelia Carney at Chelmsford Register Office on 6th February 1898. The couple had at least five children: Arthur Basil (usually 'Basil') Rolfe (born on 23rd November 1898, died in 1962), Clifford Patrick Rolfe (1903-1988). John Harold Rolfe (1905-1969), Leslie Rolfe (1907-1908), and Arthur Charles Rolfe (1909-2004). All were Chelmsford-born.
Arthur was recalled to the army on 1st November 1899 and ten days later began a tour of duty in South Africa participating in the campaigns there in 1899, 1900 and 1901. His father died in 1900, aged 66. Arthur returned home on 10th August 1902 and was discharged for a second time on 15th August 1902, having served for 12 years and 218 days.
While he was overseas the 1901 census recorded his wife and son at 2 Compasses Row in Chelmsford. His widowed mother was still living at 45 Townfield Street in 1901, and died in 1907, aged 74. In 1905 and 1907, at the time of the baptisms of two of his sons, Arthur was working as a cab driver.
The 1911 census recorded 41 year-old Arthur living with his wife and four sons at Church Street, off New Street, Chelmsford. Arthur was employed as a general labourer at Hoffmann's ball-bearings factory in Chelmsford.
Arthur subsequently re-enlisted at Chelmsford, served as 25100 in the Essex Regiment, and finally as Private 11668 Rolfe of the 56th Protection Company Royal Defence Corps. The Royal Defence Corps was composed of soldiers either too old or medically unfit for active front-line service who remained in Britain carrying out duties such as guarding important sites.
Arthur died at Oaklands Hospital in Chelmsford, aged 49 on New Year's Day 1918. He was buried in grave C.2339 at Chelmsford Borough Cemetery in Writtle Road on 7th January 1918. The funeral service was conducted by the Reverend A. G. Langdon, Military Chaplain.
Arthur is commemorated on the Civic Centre Memorial, Chelmsford.
The 1918 register of electors listed Arthur's widow at 8 Coval Road, Chelmsford (later known as 15 Coval Lane). His widow died in 1960, aged 80.
131228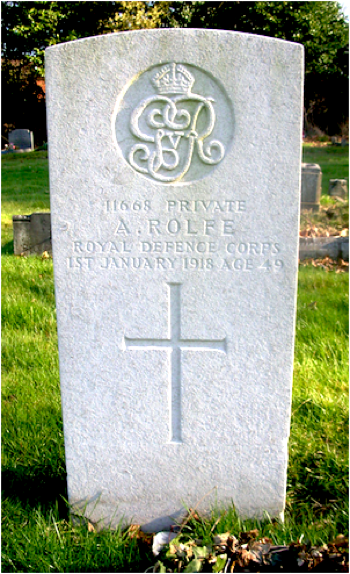 Arthur was born in Chelmsford in 1868, the son of Henry John Rolfe and Mary Ann Rolfe (nee Balls). Both of his parents had been born in 1833 in Chelmsford.
They had married on Christmas Day 1857 at St. Mary's Church, Chelmsford (today's Cathedral). At the time Arthur's father was a labourer of Chelmsford, the son of Joseph Rolfe, a dealer. His mother was also of Chelmsford, the daughter of Daniel Balls, a labourer. In 1861 At the time Arthur's parents had been living at Compasses Row, off Broomfield Road, Chelmsford.
Arthur's siblings, all Chelmsford-born, included Joseph William Rolfe (1862-1929), Mary Ann Rolfe (born in 1864), Charles James Rolfe (born in 1867), Ada Rolfe (born in 1870), and Nelly Rolfe (born c1875).
The 1871 census recorded Arthur, aged two, living with his parents and four siblings still at 2 Front Row, Broomfield Road. At the time his father was a marine store dealer.
A decade later the next census found Arthur, now aged ten, with his parents and three sisters at 45 Townfield Street, Chelmsford. His father was still employed as a marine store dealer, while his eldest sister worked in a silk factory. His father remained at the address in 1891, but was then a worker in a coal yard. He was
accompanied by his wife and daughter Ada.
By then Arthur had joined the army - on 10th January 1890 Arthur attested at Chelmsford for 'short service' (seven years with the colours and five years with the reserve) to join the Essex Regiment. His army record shows that he was 21 years and four months old, employed as a carman, and had no previous military experience.