Valentine Francis Scruby was born and raised in Chelmsford, and educated at the town's Grammar School. He was a pre-war Territorial soldier, mobilized at the outbreak of the war, who volunteered to serve overseas. He was sent to Gallipoli to fight the Turks in July 1915 but was fatally wounded and died there in October 1915. His family home was in New Street.
Valentine was born in Chelmsford on 14th February 1896, the only son of the clothier Francis Scruby and Adelaide Scruby (nee Day). His father had been born in Broxted in 1864; his mother in 1867 in Chelmsford. Valentine had an elder sister, Florence Ellen Scruby, born in 1893, also in Chelmsford.
SCRUBY, VALENTINE FRANCIS,
Corporal, 1/5th Battalion, Essex Regiment
From St. Alban's the battalion travelled to Devonport by train, and departed on board the S.S. Grampian on 23rd July 1915, with a somewhat depleted strength of 29 officers and 649 other ranks. Its ultimate destination was to be Gallipoli, Turkey to join the Allied forces participating in the campaign against the Turks which had started on 25th April 1915.
Stops were made at Malta and Alexandria in Egypt, before sailing to Mudros Bay on the small Greek island of Lemnos. From there the battalion sailed towards Gallipoli, transferred to flat-bottomed boats and were put ashore at A Beach, Suvla Bay on 9th August 1915 as reinforcements to troops that had landed there over the previous three days.
The battalion had a difficult time in Gallipoli, making little progress against the Turkish Army. Its numbers were heavily depleted by a combination of death from combat and from disease. By 18th September 1915 the battalion's effective strength had been reduced to just eleven officers and 281 other ranks. The battalion spent time in the front line near Hill 60 and in October 1915 at Hill 100, the latter also known as Laindon Hill. Around this time Valentine was wounded and he died from wounds on 12th October 1915. He was just 19 years old.
Today Valentine lies at Embarkation Pier Cemetery between Suvla Bay and Anzac Cove in Gallipoli. His precise grave location is unknown so he is commemorated on special memorial D. 27. The Embarkation Pier area was occupied by the headquarters of two divisions, and later by a casualty clearing station where Valentine probably died. The pier was made for the purpose of evacuating wounded from the Battle of Sari Bair, but it came under heavy rifle and shellfire and was abandoned after just two days. Apart from five original burials, the cemetery is made up of burials brought in after the Armistice from the cemeteries known as Chailak Dere Nos 1 and 2, Mulberry Tree, and Apex, and from isolated graves.
On 12th November 1915 the Essex Weekly News carried a short report on Valentine's death:
"Corporal Valentine Scruby, 5th Essex, died of wounds received in the Dardanelles on October 12. Deceased, who was only 19 years of age, was the only son of Mr. and Mrs. Francis Scruby, of New-street, Chelmsford, and grandson of Mr. Samuel Scruby, late of Broxted Hill, Dunmow."
The following day the Essex Newsman reported:
"Young Territorial's Death. - Corpl. Valentine Francis Scruby, 5th Essex Regt. (T.F.), who has died of wounds received in the Dardanelles on Oct. 12, was the only son Mr. and Mrs. Francis Scruby, of 40 New Street, and grandson Mr. Samuel Scruby, late of Broxted Hill, Dunmow. The young soldier was just 19 years of age. He was in the Territorials mobilised at the beginning of the war, and, volunteering for active service, went with the 5th Essex to the Eastern theatre. The deceased was a popular N.C.O., an Old Chelmsfordian, and a member of' the Park Tennis Club. While at the King Edward VI. School he was in the Cadet Corps.
Valentine is commemorated on the Civic Centre Memorial, Chelmsford and by the Chelmsford Parish Great War Memorial in Chelmsford Cathedral.
The 1918 register of electors recorded Valentine's parents at Garden Cottage, Rectory Lane, Chelmsford.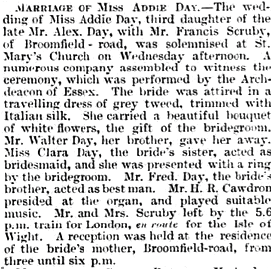 Valentine's parents had married on 5th October 1892 at St. Mary's Church, Chelmsford. At the time Valentine's father was aged 28, a clothier of Chelmsford, and the son of the late Samuel Scruby, a farmer. Valentine's mother was aged 25, of Chelmsford, and the daughter of the late Alexander Day, a clothier.
Valentine was baptised at St. John's Church in Moulsham on 22nd April 1896. At the time his father was described as a clothier living at 33 Hamlet Road in Chelmsford.
At the 1901 census five year-old Valentine was found with his parents, sister and two others (one a governess) at 52 New Street, Chelmsford. At the time his father was an outfitter clothier.
A decade later the 1911 census recorded 15 year-old Valentine living with his parents, a servant and a boarder at the same address. Valentine's 46 year-old father was a clothier. The
family was still there in 1913.
Valentine was educated at Chelmsford College and then at King Edward VI's Grammar School, Chelmsford from 20th September 1909 when he entered Form III as a day scholar. At the time his father was a clothier and outfitter. He was a member of the Cadet Corps. Valentine remained at the Grammar School until he left Form V to enter the building trade 28th July 1911 at the age of 15,.
Valentine lived and enlisted at Chelmsford into the 1/5th Battalion of the Essex Regiment in 1911, serving ultimately as Corporal 1480. The battalion was a Territorial unit formed in 1908 with its headquarters in Market Road, Chelmsford, and it contained many Chelmsford men who were to lose their lives in the war. The term 'territorial' indicated that the volunteers such as Valentine who served with the battalion were under no obligation to serve overseas, with their focus on home defence, but many like him agreed to serve abroad after the declaration of war on 4th August 1914.
At the outbreak of the war Valentine's battalion and the other Territorial battalions that formed the Essex Brigade were half way through their fortnight's annual training at Clacton. On 3rd August 1914, the day before war was declared, Valentine's battalion was initially ordered back to Chelmsford, but that was countermanded and the battalion marched for Dovercourt that afternoon. The following day mobilization papers were issued to all ranks and the battalion was allotted part of a pre-arranged defensive line west of Dovercourt.
On 9th August 1914 the battalion was sent to Brentwood. It did not stay there long, moving to north-east Norfolk by the end of the month. In April 1915 it moved to West Bergholt, before transferring to St. Alban's in Hertfordshire the middle of the following month. By then the battalion, along with three other Essex Territorial battalions formed the 161st (Essex) Brigade in the 54th (East Anglian) Division. The majority of the period since the outbreak of the war had been spent training in expectation of foreign service.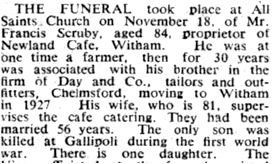 After the war his father continued to run his clothier business, Messrs, Day and Company, of Duke Street, Chelmsford, before moving to Witham in 1927. His father died in 1948, aged 84. Valentine's mother died in 1953, aged 86.
Valentine's aunt, Florence Emma Scruby (1862-1948), was married to Alexander Hoskin (1862-1932), the tenant of Boarded Barns Farm, Broomfield Road, Chelmsford when it was sold by the Mildmay family in August 1917. Two years later it was purchased by Chelmsford Borough Council and became the Boarded Barns Housing Estate.
141026