Sidney Southgate was born and raised in Chelmsford, the son of a successful florist with a shop in Duke Street. He worked as a market gardener including a spell on the Hylands estate at Widford. He married in 1906, went on to have two children, moving away to live in Suffolk by the outbreak of the war. He served in the army during the war and died from wounds in September 1917. His widowed mother lived in Rainsford Road.
SOUTHGATE, SIDNEY,
Private, 24th (Service) Battalion Royal Fusiliers (2nd Sportsman's)
(formerly of the Middlesex Regiment)
Sidney enlisted at Newmarket, Suffolk, serving as 22444 in the Middlesex Regiment. In June 1916 he transferred to the 24th (Service) Battalion of the Royal Fusiliers, part of the 99th Brigade of the 2nd Division where he served as Private 61167.
Sidney died from wounds on 4th September 1917. He was aged 41. He is buried at Calais Southern Cemetery, Pas de Calais in France (Plot H. Row 4. Grave 2), having presumably been brought there from the front enroute to hospital in the U.K.
News of his death appeared in the Essex County Chronicle of 14th September 1917:
"Pt. S. Southgate, son of Mrs. J. Southgate, 52 Rainsford Road, and the late Mr. J Southgate, fruiterer and florist, Chelmsford, died on Sept. 4, from wounds received in action. He joined the Royal Fusiliers on the 19th June, 1916, and leaves a widow and two children, who reside at Dullingham, Newmarket. He was 39 [sic]."
52 Rainsford Road (pictured) was later renumbered as 228 Rainsford Road.
Sidney is commemorated on the Civic Centre Memorial, Chelmsford and the Dullingham War Memorial in Suffolk. He was entitled to the British War Medal and Victory Medal.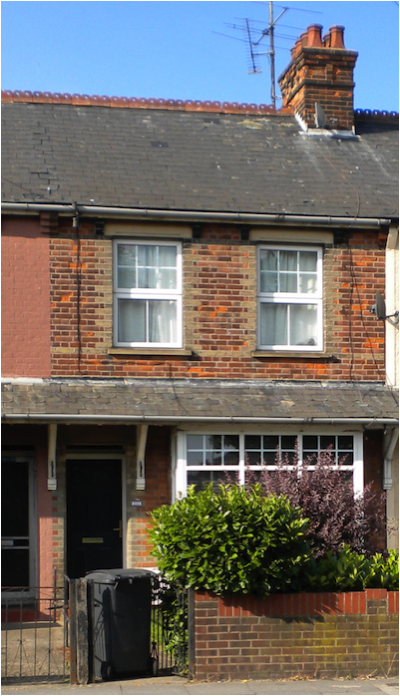 Sidney was born in Chelmsford in 1878, the son of the gardener and florist John Southgate and Elizabeth Howard Southgate (nee Harrington). His father had been born in 1841 in Langham; his mother c1844 in Manningtree. The couple, then both widowed, had married in Langham on 2nd October 1869. Two years later they had been resident at Mildmay Road, Chelmsford and Sidney's father had been employed as a gardener.
Sidney's siblings, all Chelmsford-born, included Frederick Southgate (born c1870), Alfred Southgate (born c1872). Clarence Southgate (born c1875), Harry Southgate (born c1876), and Walter Southgate (born in 1880).
Sidney was aged three at the time of the 1881 census when he was listed living with his parents and five brothers at 48 Roman Rod, Chelmsford. At the time his father was a gardener working on the Laurel Grove estate in New London Road, Chelmsford. The following year he opened a fruit shop at 88 Duke Street, Chelmsford.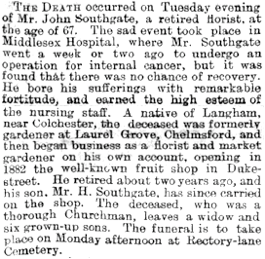 In 1891 the census found 14 year-old Sidney living with his parents and four siblings at 88 Duke Street. Sidney, his brother Harry and their father were market gardeners. The 1901 census recorded Sidney aged 22 and living with Edwin Purton in a bothy on the Hylands Estate in Widford.
Sidney married Emma Caroline Ketley in 1906. She had been born in Springfield in 1883. Five years later the census recorded Sidney, Emma and their elder child Wilfred Thomas Southgate (born in 1908 in Monmouth, Wales) living at Dullingham. Sidney was a domestic gardener.
Sidney's father died in 1909 in a London hospital, aged 67.
Their second child was Cecil S. Southgate (born 1914 in Suffolk).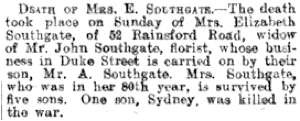 In 1922 Sidney's widowed mother died in Chelmsford.
Later in 1922 Sidney's widow and her two sons Wilfred and Cecil travelled to Canada from Liverpool onboard the SS Montcalm, arriving in Saint John, New Brunswick. Her reason for travelling was to marry her future second husband (a Mr. Bye) who paid for their passages. She had £50 in her
possession and her nearest relative was her sister, Mrs. Thorn of 93 Ridley Road in Forest Gate.
In 1929 Sidney's son Wilfred returned to England, but travelled back to Canada the following year. He is believed to have worked as a farmer in Souris in Manitoba.
140108