Henry James Staines was the eldest of four sons who served in the army during the war. Two of his brothers were killed during the conflict He served in Gallipoli and Salonica but suffered ill-health. He survived the war, worked as a railway sheet repairer and married in November 1919. Two months later he died from pneumonia. His home was in South Primrose Hill.
STAINES, HENRY JAMES,
Private, Royal Army Ordnance Corps
Henry's father died in the summer of 1908, aged 53, and two years later his widowed mother married her former lodger, Augustus William Greenfield, in the Chelmsford District. A 1913 street directory recorded them at their 1901 property, renumbered 36 in the intervening period and subsequently renumbered as 48 during the war and finally as 81 in 1946.
During the war Henry served as 07001 in the Royal Army Ordnance Corps and landed at Gallipoli on 26th October 1915. Later he served in Salonica.
His brother Austin Ewart Staines was killed in action on 15th July 1916, as was another brother, Ernest Walter Staines, on 26th March 1917.
In May 1917 Henry was reported to be in hospital in Malta.
Aged 36, and by then out of the army. Henry married Lilian Rose Tarling on 26th December 1919 at Chelmsford Cathedral. At the time he was a railway sheet repairer living at 48 South Primrose Hill. His 22 year-old bride was the daughter of Walter Tarling, a hay stray dealer. She too lived at 48 South Primrose Hill.
Sadly theirs was to be a short marriage as Henry died at the Chelmsford & Essex Hospital on 24th February 1920 from acute lobar pneumonia and heart failure. He was 36 years-old and a railway sheet repairer. His widow, who registered the death, lived at 48 South Primrose Hill.
Henry's death was reported by the 27th February 1920 Essex Weekly News:
"Ex-Soldiers Death - The death of Mr. Henry James Staines took place on Tuesday at the age of 36, after a few days' illness from pneumonia. Deceased, who was recently married, was one of the four sons of Mrs. Greenfield, wife of Mr. A. W. Greenfield, of Primrose-hill, who served in the war. Two of the brothers gave their lives during the conflict. He was at Salonica with the A.O.C., and was awarded the 1915 ribbon. Much sympathy is felt for the widow and relatives. The funeral takes place to-morrow, (Saturday) at the London-rd. Cemetery, following a service at St. Peter's Church at half-past two."
Henry was born on 27th August 1883 in Chelmsford, the eldest son of Charles William Staines and Susannah (sometimes 'Susan') Staines (nee Eve). His father had been born in 1854 in Chelmsford and his mother in 1859 in Great Waltham. They had married in 1883.
Henry was baptised at St. Mary's Church, Chelmsford (today's Cathedral) on 8th August 1885, at which point his father was a night foreman for the Great Eastern Railway, living at 6 Railway Street in Chelmsford.
Henry's siblings, siblings, all Chelmsford-born, were William John Staines (1885-1938), Charles Cecil Staines (1887-1894), Austin Ewart Staines (1889-1916). Augustus Frederick Staines (1891-1959), Lilian Maud Staines (1893-1973), Alfred Frank Staines (1894-1896), Ernest Walter Staines (1897-1917), and Sidney Charles Staines (1898-1899).
In 1890 or early 1891 Henry's family moved from Railway Street to 5 Baddeley Square off New Street, Chelmsford.The census in the latter year recorded seven year-old Henry there with his parents, three brothers and a visitor (Augustus William Greenfield). His father was a railway good foreman, and the visitor was a railway clerk.
By April 1895 the family had left Baddeley Square to live at what was then 22 South Primrose Hill in Chelmsford. The census six years later recorded Henry, aged 11, living there with his parents, six surviving siblings, and a lodger (Augustus William Greenfield) (now number 81). His father was a railway porter, while the lodger was a railway clerk.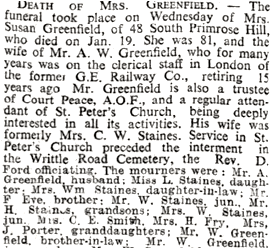 Henry is commemorated on the Civic Centre Memorial, Chelmsford, but is not commemorated by the Commonwealth War Graves Commission.
He was entitled to the 1914-15 Star, British War Medal, and Victory Medal.
Henry was one of the 'South Primrose Hill Boys'. His widow died in London in 1975.
His mother died in 1940, aged 81. His step-father died in 1944, aged 84,
140109