Frederick Gerald Thompson came to Chelmsford as a boy when his father started work at one of the town's electrical engineering firms. He also joined the industry, working as a draughtsman. He enlisted into the army after the war's outbreak and participated in the Gallipoli campaign. He was killed in action there in August 1915. His home was in Baddow Road.
THOMPSON, FREDERICK GERALD,
Sapper, 11th (Northern) Signal Company, Royal Engineers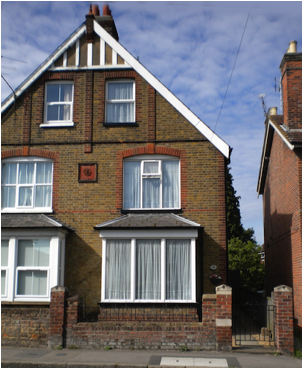 Frederick was born in Gateshead, County Durham in 1893, the son of Thomas Frederick Thompson and Mary Ann Thompson (nee Burns). Frederick's father had been born in 1867 in Gateshead; his mother c1867 in Sunderland, County Durham. They had married in north London in 1887.
Frederick's six siblings included Emily Thompson (born c1895 in Enfield Lock, Middlesex), Arthur Dale Thompson (born in 1896 at Ponders End, Middlesex), Robert J. Thompson (born 1901 at Ponders End, Middlesex), Leslie Thompson (born c1901 at Ponders End, Middlesex) and Margharita Thompson (born in Chelmsford c1904).
The 1901 census recorded eight year-old Frederick living with his parents, two younger siblings and a servant at 2 Carlton Villas, Derby Road, Ponders End. At the time Frederick's father was an assistant in an electrical factory.
Street directories show that Frederick's parents lived at 74 Baddow Road, Chelmsford (pictured) from at least 1910. The 1911 census found Frederick, his
parents and four siblings living there. Frederick was a draftsman at an electrical engineer's, while his father was an estimating clerk, also at an electrical engineer's.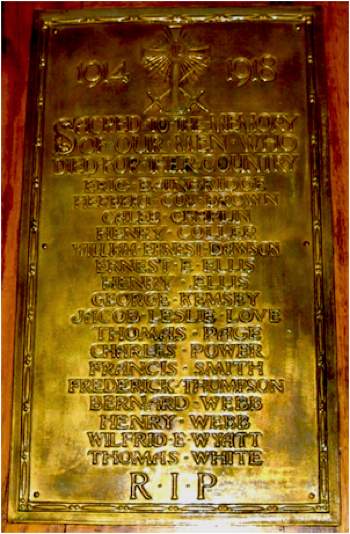 Frederick enlisted at Chelmsford after the outbreak of the war and joined the Royal Engineers. He served in Gallipoli and was killed in action on 11th August 1915 while serving as Sapper 49080 in the 11th Signal Company of the Royal Engineers. He was aged 22.
Frederick has no known grave and is commemorated at Helles Memorial in Gallipoli, Turkey on the Civic Centre Memorial, Chelmsford, and on the War Memorial at Church of Our Lady Immaculate in New London Road, Chelmsford (pictured). He was not commemorated by the war memorial at St. John's Church, Moulsham.
He was entitled to the 1914-15 Star, British War Medal, and Victory Medal.
The 1918 register of electors showed his parents remaining at 74 Baddow Road (later renumbered 236). His mother is believed to have died in 1945, aged 78.
161008