James Ebenezer Tyler was born into a military family in India where he joined the army before 1911. He landed in France in January 1915 and was killed the following September. His father lived in Rainsford Lane. An uncle killed during the war is also commemorated at Chelmsford.
James was born at Poona, India on 31st August 1890, the son of a career soldier, Mark William Tyler, and Alice Lavinia Tyler (nee Surgint). He was baptised at St. Mary's Church in Poona on 18th September 1890.
James' father had been born in Chelmsford in 1864 and is thought to have joined the army in the 1880s. He served in India with the Supply & Transport Corps.
His parents had married at St. Thomas' Cathedral in Bombay on 25th September 1889. At the time James' father was serving as a Staff Sergeant in the Commissariat Department. His bride, aged 18, was the daughter of James Surgint. Both lived in Bombay.
TYLER, JAMES EBENEZER,
Sergeant, 1st Battalion, York & Lancashire Regiment
James' father was Mentioned in Dispatches in 1916.
James' uncle, Frederick John Tyler, died in October 1915 from illness contracted while serving at Gallipoli.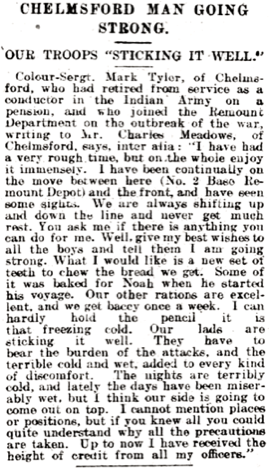 On 1st March 1910 James' mother died in Bombay from alcoholism, aged 35. At the time of her death James' father had retired from the army on a pension.
James enlisted at Quetta, India and served with the 1st Battalion of the York and Lancaster Regiment and was recorded by the 1911 the census serving as a private in the regiment at Hydrabad in India. Meanwhile his father had returned to Chelmsford and was recorded by the same census with his brother, Frederick John Tyler, at 19 Regina Road.
James' regiment was based in Jubbulpore in India when war broke out in August 1914. It returned to England on 23rd December 1914. James landed in France on 15th January 1915.
His father and uncle both served in the army during the First World War; his father joining at the Remount Section, Army Service Corps at Woolwich as Acting Company Sergeant Major on 1st October 1914 when aged 50. Four days later he landed in France.
On 27th November 1914 the Essex County Chronicle included a report of James' father's experiences in France.
James was presumed killed in action on 29th September 1915 while serving as Sergeant 9329.
He has no known grave and is commemorated on the Loos Memorial at Dud Corner Cemetery, France, some five kilometres north-west of Lens, and on the Civic Centre Memorial, Chelmsford.
He was entitled to the 1914-15 Star, British War Medal, and Victory Medal.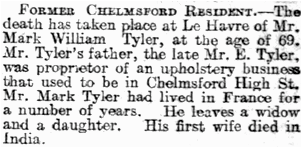 After his release from the army in 1919 James' father lived at 17 Rainsford Lane in Chelmsford. He died in Le Havre, France in 1934, aged 69. By then he had married for a second time and produced a half sister to James.
James' Memorial Plaque or 'Dead Man's Penny' is pictured below.
140916