Thomas Foskett Walker came to Chelmsford from Suffolk after his father's death. During the war he served in the army and was killed in action near Ypres on 29th October 1917. His home was in Fairfield Road.
WALKER, THOMAS FOSKETT,
Private, 1/28th (County of London) Battalion (Artists Rifles)
Chelmsford Cathedral. He was entitled to the British War Medal and Victory Medal.
Thomas left an estate of £248 13s. 2d.
The 1918 register of electors listed Thomas' widowed mother at 19 Fairfield Road. She later lived at 23 Jupiter Road, Ipswich, Suffolk.
140126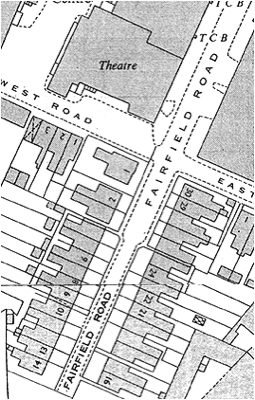 Thomas was born at Hoxne, Suffolk in 1887, the only son of the farmer Thomas James Walker and Annie Walker (nee Garrard). His parents had been born in Framlingham, Suffolk; his father in 1858; his mother in 1861. The couple had married in 1885 in Suffolk.
Thomas' siblings included Ruth Mary Walker (born in 1889 in Hoxne, died in 1973) and Marjorie Walker (born in 1891 in Hoxne, died in 1984).
Three year-old Thomas was recorded by the 1891 census living with his parents, sister and a servant at Hoxne Place in Hoxne where his father was a farmer.
He studied at Framlingham College, Suffolk from 1900 to 1903 where he is commemorated on the war memorial. The 1901 census listed 13 year-old Thomas boarding at widow Kate Austin's house in Station Road, Framlingham. Meanwhile his parents and siblings were living at Brundish, Suffolk where his father was a farmer. He died in Suffolk in 1909
In 1911 the census recorded 23 year-old Thomas as a pupil working for Herbert Harvey on Rowhedge Farm in Long Melford, Suffolk. Thomas subsequently lived at Bawdsey, Suffolk and enlisted into the army at Alderton, Suffolk.
Thomas subsequently moved to Chelmsford where he lived at 19 Fairfield Road, a property (now
demolished and site of part of the Civic Centre car park).
On 24th February 1917 he was witness at the marriage of his sister Ruth to watchmaker Frank Edward Wiseman at Al Saints' Church in Springfield.
He was killed in action on 29th October 1917 while serving as Private 761888 in the 1/28th Battalion of the London Regiment (Artists' Rifles). He was aged 30.



Thomas has no known grave and is commemorated on the Tyne Cot Memorial, Zonnebeke, West-Vlaanderen in Belgium, on the Civic Centre Memorial, Chelmsford and by the Chelmsford Parish Great War Memorial in