George John Watson (known as 'Jock') came from Middlesex and originally joined the regular army in October 1906, having been a newspaper seller and market gardener. He married in August 1909 and soon left for service in India, with a son born after he left. Plans were made for his wife and son to join him in India, but the outbreak of the war meant that Jock was recalled from India. He landed in France in October 1914 and was killed by a sniper in November 1914 less that three weeks after going into the line. His widow lived in Moulsham Street.
WATSON, GEORGE JOHN,
Lance Corporal, 2nd Battalion, Leicestershire Regiment (formerly of the Middlesex Regiment)
Jock married Florence Fanny Everett on 1st August 1909 at All Saints Church in Cheriton, Kent. She was a daughter of William James Everett and Harriet Everett (nee Skingley) and had been born in Great Waltham on 13th October 1890. Jock and Florence had a son George John W. Watson born on 21st January 1910 at Shornecliffe Camp in Kent, but by then Jock had departed with his battalion for India on 5th March 1910.
The 1911 census recorded Jock's wife and son living with her parents, grandmother and a sister at 177 Moulsham Street, Chelmsford. Jock's father-in-law was a musical instrument dealer, while Jock's wife was a laundry ironer. Jock was recorded by the same census stationed in Madras in India with the 2nd Battalion of the Leicestershire Regiment.
On 9th April 1914 Jock was appointed Lance Corporal At the outbreak of the war Jock's battalion was in Ranikhet in India where it formed part of the Indian army. His battalion was quickly recalled, leaving Karachi by sea on 21st September 1914. It arrived in Suez on 2nd October 1914 and ten days later the battalion landed at Marseilles for action in France. On 30th October 1914 his battalion went into the line near Festubert.
Jock was killed by a sniper on 19th November 1914 while serving as Lance Corporal 8491 in the 2nd Battalion of the Leicestershire Regiment. He is buried at Le Touret Military Cemetery, Richebourg-L'Avoue, Pas de Calais, France (grave: I. F. 5).
He was entitled to the 1914-15 Star, British War Medal, and Victory Medal. he had served for six years and 46 days.
The Essex County Chronicle of 11th December 1914 reported:
"Chelmsford Corporal Killed – Mrs. Watson, of Chelmsford, wife of Lance-Corporal George John (Jock) Watson, 2nd Leicestershire Regiment, has received a letter from her husband's chum that he was fatally shot in the head while carrying water to the trenches. Mrs. Watson lives with her father, Mr. W. J. Everett, the well-known musician, of Moulsham Street.
The deceased was formerly in the Middlesex, and after being bought out, re-entered military life in the Leicesters. He was serving in India, where he had been stationed for five years, and arrangements were made for his wife to join him last September, but the war upset these plans. Corporal Watson was on the ship which conveyed the Ghurkhas to France.
In his last letter home he said he had been 18 days in the trenches without a wash or shave, and was only 200 yards from the German trenches, but as long as the Germans stuck it the British would stick it, even without washing or shaving. His chum, in his letter to the wife, says" 'He was one of the unlucky ones. He was a good man, and died fighting for his people and his country. He has done his best for the country, for which he gave his life, and for his chums in the trenches. He was fetching water from a farmhouse near the trenches and was coming back when he got a bullet in the head from a German sniper.'
Corporal Watson, who was 28 years of age, leaves a widow and one bright little five year-old boy, whom he never saw, going to India just before the youngster's birth. Deceased has a brother in the Royal Artillery."
On 28th August 1915 the War Office wrote to Infantry Records at Lichfield in Staffordshire and asked that any articles of personal property belonging to Jock in their possession be despatched to his widow at 6 St. George's Road, Bedford Park in Middlesex. They responded on 1st September 1915, posting a broken gold ring, an identity disc, three certificates, post cards and letters to his widow.
Jock is commemorated on the Civic Centre Memorial, Chelmsford, but was not commemorated by the war memorial at St. John's Church, Moulsham.
In 1917 Jock's widow married Frank Duckers in Birkenhead, Cheshire. He had been born in 1892 in Birkenhead, Cheshire.
The 1918 register of electors showed Jock's parents-in-law, William James and Harriett Everett, at 177 Moulsham Street (pictured).
Jock's widow and second husband were living at 3 Harris Cottages in Widford in August 1919. On 6th June 1921 Jock's widow acknowledged receipt of his British War Medal, and Victory Medal. She died in Birkenhead in 1979. Her second husband, Frank Duckers, had predeceased her in 1957.
Jock's mother died in London in 1935; his father did so the following year.
140129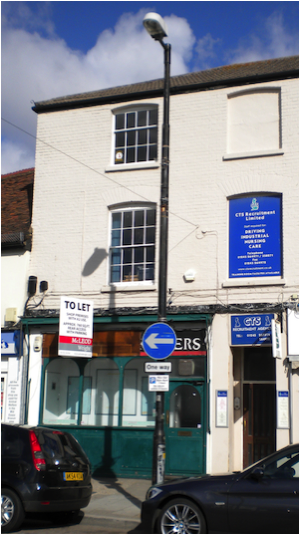 Jock was born in Harrow, Middlesex in 1888,one of 13 children of Ralph Watson and Emily Clara Watson. (nee King). Jock's father had been born in 1856 in Putney, Surrey; his mother in 1859 in Harrow. The couple had married at St. John's Church in Ealing, Middlesex on 7th January 1878. At the time Jock's father was a 22 year-old gardener. His bride was three years his junior, and both lived in Ealing. In 1881 they had been living in Harrow.
Jock was baptised at St. Mary's Church in Harrow on 22nd October 1890. At the time his father was a labourer living in the town.
Jock's siblings (all born in Harrow) included Arthur Watson (born in 1878), William Watson (born in 1879), Ralph Watson (born in 1881), Elizabeth Watson (born in 1881), Eliza Jane Watson (born in 1886), Emily Edith Watson (born in 1889), John Watson (born in 1892), Jack Watson (born c1894), Marian Martha Watson (born in 1894), Sid Watson (born in 1897) and Ada Fanny Watson (born in 1899).
The 1891 census found three year-old Jock living with his parents and four siblings at Gothic Cottage in Harrow. At the time his father was a labourer and brother William was a grocer's errand boy. Ten years later the census recorded the family at 1 Redcliffe Terrace, Wealdstone, Middlesex. Jock, aged 15, was employed as a newspaper seller. His father was a scaffolder and his brother Arthur was bricklayer's labourer. The large household consisted of Jock, his parents, eight siblings, two uncles and a niece.
On 9th November 1906, aged 18 years and
four months, Jock attested at Mill Hill, Middlesex to join the 5th Battalion of the Middlesex Regiment, a militia unit, as Private 4966. At the time he was a porter.
On 5th October 1908 Jock attested in London to join the Colours (the regular army) for seven years plus another five in the Reserves. Jock was aged 20 years and two months and employed as a market gardener. he was just under five feet eight inches tall, weighed 123 pounds, had a 34 .5 inch chest, fresh complexion, brown hair, blue eyes, and was a member of the Church of England. He qualified as a chiropodist.
Three days later Jock was posted to the 3rd Battalion of the Leicestershire Regiment as Private 8491 in Leicester. He was posted to its 1st Battalion on 18th November 1908, and to its 2nd Battalion on 5th March 1910.