Ernest Henry Wesley, said to be a descendant of the famous Methodist, John Wesley, was born in Hartford End and arrived in Chelmsford as a young boy. After leaving school he worked as a clerk for the Chelmsford accountants Messrs. Luckin and Sheldrake. He joined the army in 1914 and landed in France in November the following year. He died from gunshot wounds in both shoulders, back and left leg received at the Battle of Messines in June 1917. His home was in Coval Road (today's Coval Lane).
WESLEY, ERNEST HENRY,
Lance Corporal, 1st Battalion, Royal Fusiliers
Ernest's death was recorded by the Essex Weekly News on 22nd June 1917:
"Lance-Corpl. Ernest Wesley. Royal Fusiliers, died on June 18 from wounds received in action. He was the youngest son of Mr. and Mrs. W. Wesley, Coval-lane, Chelmsford, and, although by no means a strong lad, pluckily joined the Colours in 1914,
He received gun-shot wounds in both shoulders, back and left leg, as well as abrasions on the face and hands. Before the war Lance-Corpl. Wesley, who was 21 years of age, was in the office of Messrs. Luckin and Sheldrake, chartered accountants."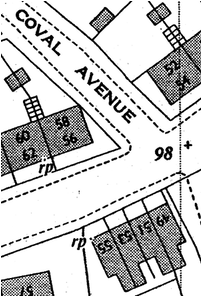 Ernest was the youngest of six children of William John Wesley and Elizabeth Wesley (nee Peatfield) and was born at Hartford End in 1896. His father had been born in 1861 in Panfield; his mother c1863 in Ware, Hertfordshire. The couple had married in 1884, possibly in a double marriage with Elizabeth's brother Thomas Charles Peatfield to Emily Clark. In 1891 they had been resident in Great Waltham.
Ernest's five siblings were William Edward Wesley (born in 1885 in Springfield), George Thomas Wesley (born in 1886 in Springfield, died in 1978), Kate Wesley (born in 1888 in Springfield, died in 1938), Lizzie Wesley (born in 1890 in Felsted) and Annie Wesley (born in 1893 in Chelmsford, died in 1984).
The 1901 census recorded five year-old Ernest living with his parents and four siblings at Coval Road in Chelmsford. His father was a brewer's drayman for the Chelmsford Brewery.
A decade later the 1911 census found 15 year-old Ernest living with his parents and sister Kate at 13 Coval Lane in Chelmsford. Ernest was an accountant's clerk; his father was a brewer's drayman.
Ernest lived in Chelmsford and enlisted at Shepherd's Bush, Middlesex. He served in the 1st Battalion of the Royal Fusiliers, a regular army battalion that was attached to 17th Brigade in the 6th Division and was stationed in Ireland at the start of the war. The battalion landed in France in September 1914, but Ernest did not arrive there until on 16th November 1915, having joined up in 1914.
Ernest's battalion participated in the Battle of Messines which commenced on 7th June 1917 - British forces launched a successful offensive near the village of Messines in Belgium. Their target was a ridge running north from Messines past Wytschaete which created a natural stronghold south-east of Ypres.
The battle was notable for the detonation of nineteen mines immediately before the infantry assault, a tactic which disrupted German defences and allowed the advancing British troops to secure their objectives. It is probable that he received wounds from which he died on 18th June 1917 during the Battle.
At the time of his death he was serving as Lance Corporal 1139 and was aged 21. He is buried at St. Sever Cemetery Extension, Rouen, France (grave: P. II. P. 6B), indicating that he had been evacuated to one of the many military hospitals situated in Rouen.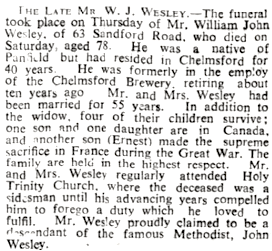 The same day's Essex County Chronicle reported:
"L.-Cpl. E. H. Wesley, R.F., of 13 Coval Lane, Chelmsford, formerly a clerk in the office of Messrs. Luckin and Sheldrake, died of wounds on June 18. He was wounded the big push about the back, shoulder, and leg, but although dangerously ill in hospital at Rouen wrote on June 13 that was getting on well and still smiling.
He was 21 years of age; a genial young fellow, a member of Canon Lake's Bible class and of the C.E.M.S., and a former member of the Cathedral Church choir. Another brother serving in France with the Mechanical Transport."
Ernest is commemorated on the Civic Centre Memorial, Chelmsford and by the Chelmsford Parish Great War Memorial in Chelmsford Cathedral. He was entitled to the 1914-15 Star, British War Medal, and Victory Medal.
The 1918 register of electors listed his parents at 18 Coval Road, Chelmsford (subsequently known as 49 Coval Lane). The site of the property, opposite Coval Avenue, is now occupied by Fairburn House.
Later they lived at 18 (later renumbered 63) Sandford Road, Springfield. Ernest's father died in 1939, aged 78; his mother in 1943, aged 80.
140201