Albert William George Wood was born in north London and was living in Chelmsford when he joined the army in November 1915. HIs home was in Navigation Road. He was mobilised in January 1916 and landed in France in November 1916. He was severely wounded in November 1917 and evacuated back to England to recover. He returned to the front in August 1918 and within two weeks he was killed in action in the Battle of Albert.
WOOD, ALBERT WILLIAM GEORGE,
Private, 1/8th Battalion, Duke of Cambridge's Own (Middlesex Regiment)
(formerly of the Essex Regiment)
Around midday on 23rd August 1918 Albert's battalion reached support trenches near Blaireville, south of Arras. The day was the final day of the Battle of Albert 1918. That evening they relieved the 1st Battalion of the London Regiment in the front line known as Boyelles Reserve, ready for an attack the following morning to capture Summit Trench near Croisilles assisted by the 1/7th Battalion of the Middlesex Regiment and the 1st Battalion of the London Regiment.
A post war history of the Middlesex Regiment reported:
"At 7 a.m. the barrage fell and at once he advance began. This [Summit] trench covered the village of Croisilles and was about 1,500 yards away. There was no hesitation as our screen of fire fell and swept the enemy's front line, and with 'A' Company on the right, 'B' on the left, 'C' in support and 'D' in reserve, the 1/8th Middlesex (Lieut.-Colonel C. H. Pank) advanced on Summit Trench. The latter was reached by 10 a.m. and consolidated, outposts being pushed forward. The Battalion had thus gained its objective at a loss of three officers killed (Captain C. J. Keeping and 2/Lieuts. G. E. Cousens and E. Child) and one (2/Lieut. W. J. Thorne) missing. The losses in the other ranks were 51 killed or wounded.
Orders were received late in the afternoon to continue the attack at 7.30 p.m., the objective being Croisilles Reserve and the Hindenburg Line along the Brigade front.
But the enemy put up a very stout resistance: the powerful Hindenburg Line was still a big proposition to tackle and such a storm of machine-gun and rifle fire broke out as the attackers advanced that their progress was soon brought to a standstill. The result of the attack was that the 1/7th and 1/8th Middlesex Battalions were forced back to their original starting positions.
The 1/8th had one officer - Captain R. F. M. Buller killed, 2 officers (Lieut. H. F. Dampney and 2/Lieut. W. H. Fuller) wounded and 117 other ranks killed or wounded."
Albert was among the battalion's dead, killed in action aged 21. He was unmarried and had served for two years and 217 days. He had been back in France for just over two weeks.
On 3rd December 1918 the army posted photos and two wallets belonging to Albert to his sister Annie Reeves. Twelve days later she acknowledged their receipt.
In July 1919 she completed an army form, listing herself and Florence as his surviving sisters - the latter living at The Village Home in Barkingside, Essex. She stated that he had brothers who were soldiers but did not know where they were. His parents were said to be dead, though his mother's sister, Mrs. Mary Ann Green was then living at 32 Burgess Well Road in Chelmsford (with her husband William Henry Green).
On 27th May 1920 the Infantry Record Office at Hanwell, Middlesex wrote to Albert's sister to advise that his body had been exhumed from its original resting place and removed to Douchy-Les-Ayette British Cemetery, Pas de Calais, France (grave: IV. F. 21), some seven and a half miles south of Arras.
Albert is commemorated on the Civic Centre Memorial, Chelmsford. He was entitled to the British War Medal (receipt acknowledged by Annie Reeves on 29th December 1920) and Victory Medal.
140209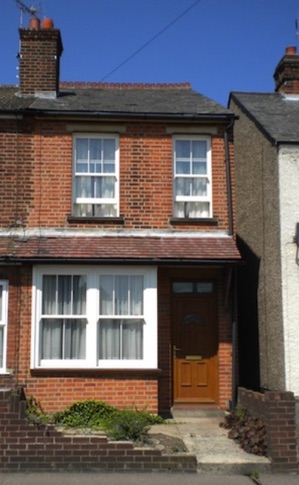 Albert was born in Edmonton, Middlesex in 1896, the son of William Wood and Mary Ann Wood.
Albert attested at Chelmsford on 22nd November 1915 to serve for the duration of the war. At the time he was 20 years and two months old, resident at 48 Navigation Road in Chelmsford (pictured) and unmarried. He worked as a tent maker for Messrs. H. & T. C. Godfrey of Moulsham Street, Chelmsford. His next of kin was his sister Annie of Rose Cottage, Victoria Avenue, Laindon Hills, Essex. He was five feet six inches tall, had a chest of 36 inches, weighed 149 pounds and had good physical development.
On 23rd November 1915 he was placed in the army reserve, until mobilised on 20th January 1916 and posted the following day as Private 5948 in the Essex Regiment. On 19th October 1916 he transferred to the 5th Battalion of the Middlesex Regiment with a regimental number of G/3444.
He crossed the English Channel from Folkestone to Boulogne on 28th November 1916. He arrived in Etaples the next day and was posted to the 18th Middlesex Regiment in the field on 9th December 1916. He was joined another battalion in the Regiment on 18th October 1917.
On 28th December 1917 he was severely wounded in action at Cambrai. He was admitted to the 1st South African General Hospital in Abbeville on 31st December 1917 and transfered back to hospital in England
on 16th January 1918. He remained in hospital at West Bridgeford in Nottinghamshire until 28th March 1918.
On 10th August 1918 he embarked for France as a member of the 13th Battalion of the Middlesex Regiment. Seven days later he was posted to the regiment's 1/8th Battalion whom he joined the following day.