Jackson Bacon came to Chelmsford from Suffolk and worked at Hoffmann's. He joined the army, married in March 1917 and three months later was killed in action near Loos trying to rescue a wounded officer across no man's land. His home was in Rochford Road.
BACON, JACKSON*,
11th Battalion, Essex Regiment
Aged 22, he married Rose Jane Bowers at Chelmsford Cathedral on 10th March 1917. At the time he was serving in the 5th Platoon, B Company in the 3rd Battalion of the Essex Regiment. then based at Felixstowe in Suffolk. His father was a chauffeur. Jackson's bride was also aged 22, the daughter of Thomas Bowers. a labourer. She lived at 10 Park Avenue, Chelmsford.
Jackson's married life was to be short. He transferred battalions. went to France and was killed in action on 28th June 1917 when serving in the 11th Battalion of the Essex Regiment.
Newspaper reports of the time gave his home address as 23 Rochford Road, Chelmsford (pictured).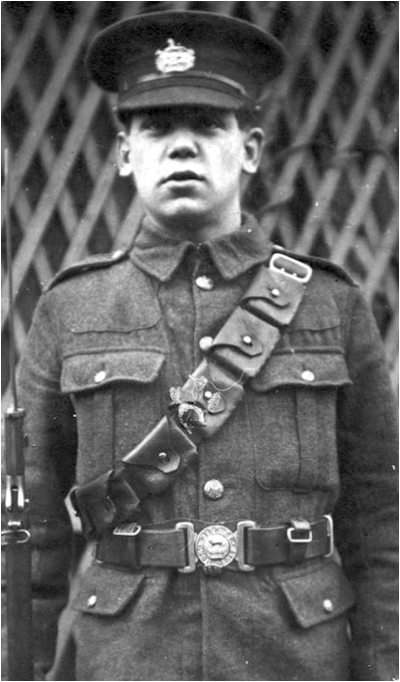 Jackson was born in 1894 in Haverhill, Suffolk, the son of Steven Charles Bacon and Julia Kate Bacon (nee Marsh). His father had been born in 1867 in Steeple Bumpstead; his mother two years earlier in Bartlow. He was one of nine children, four of whom were to died by 1911.
His siblings included Gertrude Hilda Bacon (1891-1909, Ethel Maud Bacon (born 1896), Stephen Charles Bacon (1900-1973), Ena May Bacon (1903-1971) and George Bacon (1906-1979).
The 1901 census recorded six year-old Jackson living with his parents and three siblings at 85 High Street, Haverhill. His father was a domestic coachman. A decade later the 1911 census found 16 year-old Jackson living with his parents and four younger siblings still at 85 High Street, Haverhill. He was employed as a milk boy; his father was a domestic groom; his mother a garment finisher, and his sister Maud a day girl. By then four of Jackson's eight siblings had died.
Jackson enlisted at Warley and served as Private 35760 in the Essex Regiment.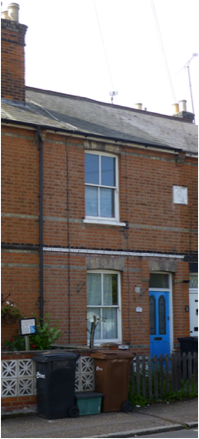 Jackson has no known grave and is commemorated by the Loos Memorial in France and Haverhill War Memorial, but his name is not among the 359 listed by the Civic Centre Memorial, Chelmsford, nor on the war memorial at St. John's Church, Moulsham.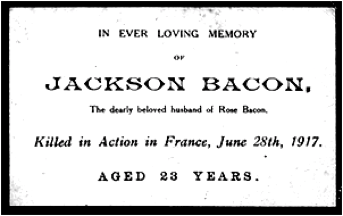 Jackson was entitled to the British War Medal and Victory Medal.
In 1926 Jackson's widow married Sidney Smith in Suffolk. His father died in 1947.
140221