Albert Charles Bausor was born and raised in Chelmsford and married in Kent in 1916. He died from wounds in May 1918. One of his brothers married his widow.
Albert was born in 1886 in Chelmsford, the eldest of four children of the baker Charles Harris Bausor and Eliza Bausor (nee Praill). His father had been born in 1853 at Great Chesterford; his mother in 1847 in London. The couple had married in 1885.
BAUSOR, ALBERT CHARLES*,
Private, No. 2 Company, 18th Battalion, The King's (Liverpool Regiment)
Albert enlisted in Liverpool, Lancashire and served as 250534 in the Lancashire Hussars Yeomanry, and later as Private 300188 in No. 2 Company, 18th Battalion, The King's (Liverpool Regiment).
He died from wounds on 1st May 1918, aged 31. Today he lies at Esquelbecq Military Cemetery in Nord, France, near the Belgian frontier, 24 kilometres north of Hazebrouck and the same distance south of Dunkirk.
On 17th May 1918 the Essex Weekly News reported:
"Pte. A. C. Bausor, King's Liverpool Regt., brother of Mr. J. H. Bausor, 55 Victoria-rd., Chelmsford died of wounds on May 1."
The day's Essex County Chronicle carried a similar report:
"Mr. J. H. Bausor, of 55 Victoria Road, Chelmsford, has received official notification that his brother, Pt. A. C, Bausor, King's Liverpool Regt., has died of wounds in France, on the 1st inst."
Albert's name is not one of the 359 remembered by the Civic Centre Memorial, Chelmsford. He was entitled to the British War Medal and Victory Medal.
Albert's brother Sergeant Harry Praill Bausor was taken prisoner by the Germans on 21st March 1918 while serving with the Essex Regiment.
The 1918 register of electors listed Albert's brother John Harris Bausor still at 55 Victoria Road. Five years later he married Albert's widow. She eventually died in 1972.
100905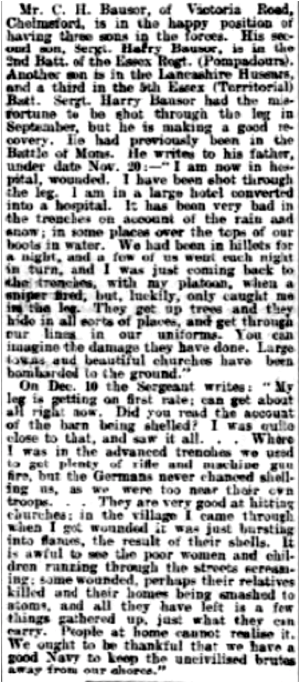 Albert's siblings, all Chelmsford-born, were Harry Praill Bausor (born on 10th September 1887, died in 1970), John Harris Bausor (born on 11th February 1889, died in 1969), and Thomas William Bausor (born in 1892, died in 1965).
Aged four, Albert was recorded by the 1891 census living with his father (a baker and corn dealer), mother and two younger brothers at 47 Duke Street in Chelmsford.
The 1901 census found 14 year-old Albert living with his parents and three younger brothers at the same address. Albert was a bread maker; his father a baker and shop keeper; while his brother Harry was an assistant in a stationer's shop.
By 1911 the baker's had been taken over by William Leonard Buxton. The census of that year found Albert's unemployed father, his mother and two youngest brothers living at 55 Victoria Road in Chelmsford. Meanwhile Albert was living and working as a coachman in White Barn, Wootton in Oxfordfordshire.
Albert's mother died in 1916 .That year Albert married Marjorie Wickens in the Bromley district of Kent; and his father died the following year.