William Henry Cook was born and brought up in Moulsham. He joined the army and died from pneumonia in January 1920 on his way home from service in Egypt. His home was in Belle Vue. His brother and a cousin also died during the war.
COOK, WILLIAM HENRY*,
Private, 17th Battalion, Royal Sussex Regiment
A decade later 12 year-old William was recorded by the 1911 census still at the same address, living with his parents and five siblings. His father was an armature winder at an electrical engineer's; his brother Frederick was a groom, his brother George was an apprentice fitter, also at an electrical engineer's, while William was at school. Arthur William Hitchen was a close neighbour at number 13 Belle Vue.
During the First World War William served as Private G/31346 in the 17h Battalion of the Royal Sussex Regiment. His brother, George Davis Cook was killed near Arras in April 1917.
On 21st January 1920 he died in hospital in Malta enroute back to England from Egypt. He was 20.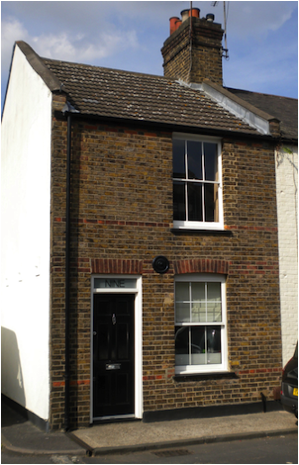 William was born in Chelmsford in 1899, the son of Charles Frederick Cook and Emma Maria Cook (nee Burlong). His father had been born in Great Baddow in 1872; his mother in Kelvedon in 1873.
Wiliiam's parents had married at St. Mary's Church, Chelmsford on 1st July 1893. At the time George's father was aged 21, a labourer of Chelmsford, and the son of George Cook, a gardener. His mother was aged 20, of Chelmsford, and the daughter of Alfred Burlong, a labourer.
William was baptised at St. John's Church, Moulsham on 1st April 1899. At that time his father was described as a winder of 11 Wolseley Road, Chelmsford.
William had six siblings all born in Chelmsford, including: Frederick Charles Cook (1893-1967), George Davis Cook (born 1896 and baptised at St Mary's Church, Chelmsford on 25th October 1896), Alfred John Cook (born 8th January 1901 and bapitsed at St John's Church, Moulsham on 2nd March 1901, died 1971);, Alice Maria Cook (1902-1923), and Arthur Cook (born 21st October 1904, died 1977).
The 1901 census found two year-old William living with his parents and three siblings at 9 Belle Vue Cottages, [Upper] Bridge Road, Chelmsford. William's father was employed as an armature winder at Crompton's electrical engineers in Chelmsford, a firm he would eventually work for for 48 years.

Today he rests in grave 171, plot F at Malta (Capuccini) Naval Cemetery.
He is commemorated by the Moulsham War Memorial at St. John's Church, Moulsham Street, Chelmsford, but his name does not appear on the Chelmsford Civic Centre War Memorial.
He was entitled to the 1914-15 Star, British War Medal, and Victory Medal.
The 1918 register of electors listed Wiiliam's parents at 9 Belle Vue (pictured).
William's cousin John Harold Cook also lost his life during the war.
William's sister died aged just 20 in 1923. His mother died in 1947. His father died in Chelmsford on 1st April 1949.