Cecil Frederick King was born in Kent the son of a bill broker. After an education including time at Charterhouse School he joined the Royal Flying Corps in 1917, going to France that September. He had a distinguished career there as a fighter ace claiming 22 kills, and was recipient of the Military Cross, Distinguished Flying Cross and Croix de Guerre (avec Palme). Having survived the war he became a flying instructor and was killed when his aircraft collided with another over Norfolk in January 1919, while still a teenager. His family home was at Springfield Dukes.
KING, CECIL FREDERICK M.C. D.F.C. Croix de Guerre (avec Palme),
Captain, 43 Squadron, Royal Air Force
The funeral, with full military honours, took place on 28th January 1919 at Docking in Norfolk. A Chelmsford newspaper reported:
"There was a large gathering of officers and men, and 400 yards before arriving at the church officers and men lined up, and the cortege passed through, the R.A.F. band, in front of the coffin, playing the Dead March in "Saul." From the lych-gate officers carried the coffin (draped with the Union Jack) into the church. The Rev. H. W. Parker, rector formerly curate of Springfield) was the officiating clergyman: there was a choir of members of the Royal Air Force; the organist also belonging to the R.A.F.
The chief mourners present, were Mr. and Mrs. F. H. King, father and mother; Mr. Everard King, brother; Miss Irene King, sister; Miss Carter, sister of Mrs. King; Col. Wilkinson, Major Balfour, M.C., and Mr. H. Daniels, M.C., personal friends of the deceased in France.
While the coffin was being lowered into the grave three aeroplanes from the deceased's aerodrome dipped thrice over the grave, the firing party fired three volleys, and the "Last Post" was them sounded by the buglers.
There was a wonderful display of floral tributes of affection, including tokens from the officers, non-commissioned officers, and men of the aerodrome, and another in shape of the wings worn by officers of the Royal Air Force."
Cecil is commemorated on the Charterhouse School War Memorial, but not on the war memorial at All Saints' Church in Springfield. He left an estate valued at £871 4s. 5d.
Cecil's brother, Edward Hamilton King, was a pre-war Lieutenant in the 5th Battalion of the Essex Regiment. In January 1915 a Chelmsford newspaper reported:
"Lieut. Edward H. King, Intelligence Corps, attached 19th Infantry Brigade, after nearly six months on active service in France has been granted eight days' leave, and arrived home at Springfield Dukes last night, where was interviewed by representative of the Essex Chronicle.
He is quite well, looking exceedingly fit and happy. He went to the Front' rom Chelmsford on August 7, and has been through all the campaigns starting at Mons, all through the retreat, Marne, the Aisne, and now in Flanders.
"And what sort a time has it been, so far?"
"Oh, all right. The retreat for about three weeks was of course the most trying experience with no sleep and very little to eat, but that was done well, I can tell you, although we had about the worst time of any brigade. The spirit of our men is always excellent. It was then and it is now in the trenches, which are in a most awful state, in places knee deep in clay and water, and other places deeper. They're a grand lot, our boys."
"And the Germans?"
"Oh, the Germans—on Christinas day we bad great fun. in the early morning, at daybreak, the Germans rolled over two enormous barrels of beer to our trenches, which were only 70 or 80 yards away from theirs, and then another fellow came along with a tremendous plate of sausages. We sent men back with bully beef, bacon, and other delicacies, and in the afternoon arranged go out and meet half-way between the trenches. We went out, and had a talk with them, and asked them what they thought about things. One Regiment (of Prussians) seemed to think everything was going well for them, and that it was only a matter of time for them to win. They understood the Russians had been absolutely beaten; that they were quite close to Calais; and that they would have no difficulty in getting to England about three months. The other Regiment (of Saxons) were absolutely fed up with whole thing and they had had enough."
"Have you been wounded?''
"No, I've not been wounded, but horse has been—shot through the nose by a bulleL"
"Have you seen any of the atrocities committed?"
"I have seen Germans advancing with women and children in front of them, and one day I saw an old woman with two small children when three Uhlans came up. They tied the old woman to a fence and cut the two children halves with their swords front of her."
Lieut. King here related how captured a dangerous spy on the 4th of November.
"On that day we found a civilian cutting our telephone wires, and he had also been seen some nights before sniping with a German rifle out a window at our troops. I searched the house, and found carrier pigeon, German rifles, German wire-cutters, and artillery fireworks. He was court-martialled next day, and was shot the day after."
"And the situation to-day?"
" Well, it's all right. Of course, it's trench fighting and blazing away at one another with artillery, with a certain amount of sniping, but in two or three months' time we are expecting to get a great move on towards Berlin!"
Edward Hamilton King was later awarded the Military Cross.
The King family left Springfield Dukes early in 1920 to go and live at Heatherton, Pembury, Tunbridge Wells, Kent.
When Cecil's father died in 1934 he left an estate valued at £169,996 5s. 2d. (about £10.5 million in today's money).
141031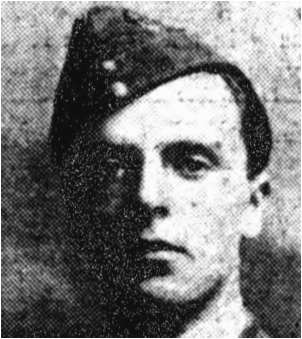 Cecil Frederick King was born on 19th February 1899 at South Park, Sevenoaks, Kent, the eldest child of Frederick Hamilton King (1855-1934) and Nora King (nee Carter) (born in 1872).
Cecil's parents had married at St. Leonard's Church in Streatham, London on 21st April 1898. At that time Cecil's father was a 43 year-old widower and 'Gentleman' living in Sevenoaks, the son of the priest Richard Henry King. Cecil's mother was a 27 year-old spinster who lived in Balham, Streatham.
Cecil's two siblings were Everard Francis King (born in 1901 in Sevenoaks) and Irene Beatrice King (1903-1943). Both were also born in Sevenoaks.
Cecil's father had previously been married to Jessie Bubb (1865-1889); their wedding taking place at St. Andrew's Church in St. Marylebone, London on 14th September 1886. At that time his father had been aged 31, a 'Gentleman', living at 2 Margaret Street, Cavendish Square, London. His father's first wife died in 1889, having
produced two children; Margaretta Jessie King (1887-1960) and Edward Hamilton King (1888-1936).
The 1901 Census found two year-old Cecil living with his parents, a visitor and four servants at South Park, Sevenoaks. At the time his father was a 45 year-old bill broker.
A decade later the 1911 Census recorded 12 year-old Cecil as a pupil at a school at Hildenham House, High Street, St. Peter's in Broadstairs, Kent. His nine year-old brother Everard was also a pupil at the school. Meanwhile their father, aged 55, was resident at Springfield Dukes in Springfield, along with their mother, sister, half-brother Edward, half-sister Margaretta and five servants. Cecil's father was still working as a bill broker. The family had been living at Springfield Dukes by September 1905.
Cecil was later educated at Verites, Charterhouse School in Surrey.
On leaving school early in 1917 he joined the Royal Flying Corps and went to France in September of that year, where he served continuously for 13 months as Flying Officer and Flight Commander; almost a record for a scout pilot. He shot down 22 enemy aircraft, 19 of which were officially confirmed; he also did fine work attacking enemy troops at low altitude with machine guns and bombs.
In March 1918 Chelmsford's newspapers reported that Cecil had been awarded the Military Cross. His citation read:
"On five occasions during a period of three months he has sent down four enemy machines completely out controL and has destroyed one other. Later, under very adverse weather conditions, he carried out a low reconnaissance, during which he engaged troops in a station, causing several casualties, fired into a body of the enemy entering a village from a height of 50ft, attacked four gun limbers, causing the teams to stampede, and finally dived on a parade of troops, who scattered in all directions. He has displayed exceptional daring and skill, which, combined with a splendid dash and initiative, have set a fine example to his squadron. Sec.-Lt. King is only 19 years of age; his brother, Capt. E. King, has also won the Military Cross."
He was awarded the Croix de Guerre (avec Palme) for services rendered to the French Army during the Second Battle of the Marne in July 1918. The Distinguished Flying Cross was awarded in recognition of gallantry in flying operations and the August 1918 London Gazette recorded:
"He is a fine leader, who at all times shows great gallantry and skill in maneuvering. His energy and standard of efficiency. He frequently descends to low altitudes to obtain good results from bombing and shooting and on several occasions has brought down enemy aeroplanes."
Having survived the war Cecil was killed on Friday 24th January 1919 in a flying accident at Sedgeford in Norfolk where he had recently transferred as a Fighting Instructor. He was flying a Camel Scout aircraft, with several other aircraft being in the air at the same time. A collision suddenly occurred and his aircraft fell to earth. The other airman said that he did not see Cecil's aircraft before or after he hit it; the aircraft being in his blind spot. An inquest held three days later concluded that he had been accidentally killed.
A fellow officer wrote to Cecil's parents after his death:
"It really seems too cruel for words that he should have come through so splendidly only for this and only those of us who have had the joy and privilege of fighting behind him can really appreciate all that he did for England. He had to an amazing extent the gifts of leadership and good-fellowship combined, and all of us in B Flight would have gone to the end of the world with him. I cannot say more in words, but I assure you that your great loss will be shared by very many of us. I don't think there was a man among us who did not love Cecil as a brother."